Oscars 2020: Recap
From Parasite's historical win to Hair Love, the 2020 Oscars showed that representation matters.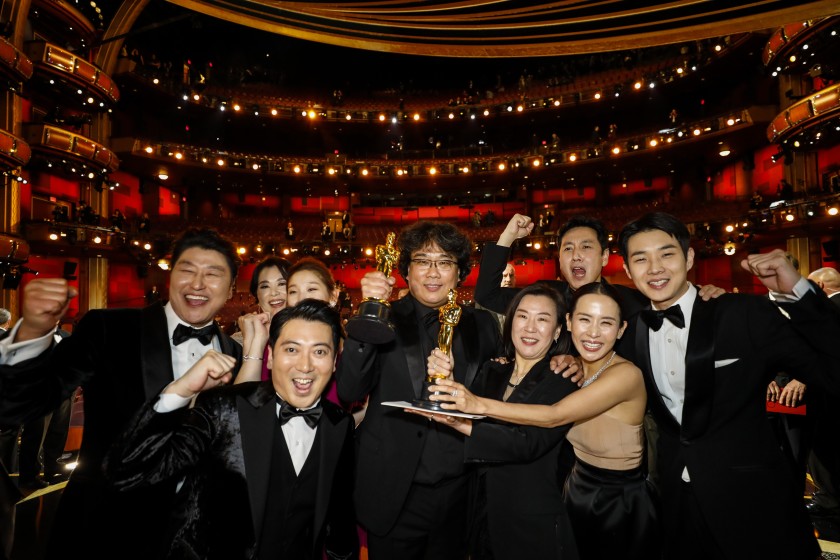 I'm not ashamed to admit it: I love award shows. I love the glitz, the glamour, the tearful speeches, everything. Around this time of year, most of my Sunday nights are spent watching different award shows, like the Golden Globes or the SAG awards. But as a self-proclaimed film snob, there is one I await with great anticipation every single year: The Oscars.
The Oscars are the pinnacle of cinema, and probably the most popular and famous awards show. (Ex: The 2020 Grammys ratings) If you win an Oscar, it pretty much means you're one of the best of the best of the best in your respective category. 
I've been following the Oscars for months now, watching movies that are potential nominees, tracking winners of other award shows, predicting nominees, etc.  
Before I start the recap, I would just like to comment on a trend I have been noticing in award shows lately. I'm sick of award shows making "edgy" political jokes and applauding a millionaire, privileged celebrity for saying one thing about climate change. Something about a room full of Hollywood elites standing in front of Jeff Bezos and making jokes about how we need free healthcare and applauding each other for being "woke" just leaves a bad taste in my mouth. 
I'm tired of the Oscars doing everything they can to prove they are "woke" after the #OscarsSoWhite debacle a few years ago. Doing a performance of "Into the Unknown" in 11 different languages, making jokes about how there is only one black acting nominee, etc. If you're really trying to be "woke", why don't you actually nominate more minorities instead of just poking fun at it?
"
Something about a room full of Hollywood elites standing in front of Jeff Bezos and making jokes about how we need free healthcare and applauding each other for being "woke" just leaves a bad taste in my mouth. "
Now that I'm finished with my little spiel, let's get onto the recap. 
For the second year in a row, the Oscars had no host. Perhaps cancel culture has gotten so bad that they can't find one comedian without a bad Tweet from 8 years ago to host the show. The show opened with Janelle Monae performing a number celebrating the movies of this year, with Billy Porter being featured. As a big fan of A Beautiful Day in the Neighborhood, I enjoyed the little tribute to Mr. Rogers in the beginning. The dancers wearing flower crowns in tribute to Midsommar did confuse me a little though, as Midsommar is arguably the most robbed movie of the year in terms of nominations, yet they had the audacity to pay tribute to it in the opening number? Otherwise, Monae and Porter performed an entertaining and solid opening for the Oscars. 
The comedic monologue with Chris Rock and Steve Martin was funny, I guess, but as I mentioned before, the political jabs were eye-roll worthy. 
The ceremony opened with the Best Supporting Actor award, which Brad Pitt won for his role as Cliff Booth, stunt double to Leonardo DiCaprio's Rick Dalton in Once Upon a Time in Hollywood. It really was not a surprise, as he also won the Golden Globe, the BAFTA, and the SAG award for that role. I was honestly rooting for Tom Hanks just because I love Tom Hanks, but his role as Mr. Rogers really isn't Oscar-worthy. 
One thing I noticed they added to the ceremony this year was the addition of presenters… for presenters? For example, Beanie Feldstein presented Mindy Kaling who presented the award for Best Animated Feature Film? I didn't really see the point of that, but okay. 
Toy Story 4 took home the Oscar for Best Animated Feature Film, continuing Disney's tight grip over the animated category in the Oscars. I personally thought Toy Story 4 was good, but not Oscar-worthy. I thought Missing Link, which won the Golden Globe, would win, but oh well. 
The various voices of Elsa in Frozen from different countries performed "Into the Unknown," which was… interesting. I thought it was a desperate reach by the Academy to seem "diverse" or "woke" by integrating different cultures. The sound mixing was pretty bad, and the song just isn't a good song period. Also, they brought in someone to sing the weird "hoo-hoo" noises which I thought was kind of ridiculous. They really couldn't use the pre-recorded version? Granted, the song was performed in a different key, so maybe that's the reason why. Idina Menzel definitely did redeem herself, though, from her 2014 performance of "Let It Go," where the whole "Adele Dazeem" debacle happened. Also, I thought all of the Elsa's sounded great with the material they were given. 
Laura Dern won Best Supporting Actress for her role as divorce lawyer Nora Fanshaw in Marriage Story, which was expected, as she had won the Golden Globe, BAFTA, and the SAG award for it. Personally, I don't think her role was Oscar-worthy, and many others agree with me. She was on screen for what, a total of 20 minutes? Her role was very similar to the role she played on Big Little Lies, and her character just didn't have that much of a significance to win an Oscar for, in my opinion. I was hoping for Scarlett Johansson to win for Jojo Rabbit, but maybe it's just because I like her German accent. 
There was a musical performance from every single Best Original Song nominee, which I found to be a bore. Chrissy Metz of This is Us fame performed "I'm Standing With You" from Breakthrough, to which I said, "What is this song and why is it playing on my TV right now?" Randy Newman performed, "I Can't Let You Throw Yourself Away" from Toy Story 4, which was… okay? Elton John performed, "I'm Gonna Love Me Again" from his biopic, Rocketman, which was my favorite performance because… Elton John. Cynthia Erivo, the only black acting nominee from this year, performed, "Stand Up" from her movie, Harriet, which I thought was a fine performance. As a Broadway veteran, she can sing. 
Taika Waititi won Best Adapted Screenplay for Jojo Rabbit, making him the first indigenous person to win an Oscar in the screenwriting category. He took the time in his speech to recognize that the Oscars take place on native lands. 
Joaquin Phoenix won Best Actor for his role as the Joker in Joker, which was once again, just like every other acting win this year, expected. He had won the Golden Globe, BAFTA, and the SAG award for it. I haven't seen Joker yet so I don't really think I should comment on it, but let me say that I do think it is a little problematic as it can be seen as validation and sympathy for violent glory seekers… Anyways, Joaquin Phoenix is an extremely talented actor and he deserved it 100%. His acceptance speech was a little odd, as instead of thanking the people that got him where he is, he instead criticized cancel culture and advocated for social justice. He even apologized for being "selfish" and "hard to work with" in the past. 
Renée Zellweger won Best Actress for her role as Judy Garland in Judy, which once again, was no surprise as she had won every other major award this year for it. There were literally no surprises or upsets in the acting categories this year, which was a little disappointing. I was very happy about Renée's win, though. I thought she was amazing as Judy Garland. Also, I just have to say that Awkwafina was robbed of a nomination for her role in The Farewell, which she won a Golden Globe for. 
Now, for the biggest sweep, upset, and win of this year's Oscars: Parasite. I just have to say before I get into the recap that I loved Parasite. I've seen it twice already and I think it's the best movie of the year. I also have to say I am a little biased because I'm Korean and I like to see other Koreans win. Parasite caused the biggest and most positive uproar of the night by winning the three major awards for movies: Best Original Screenplay, Best Director, and Best Picture. It additionally won Best International Feature Film. Parasite was the first foreign language film to ever win Best Picture at the Oscars. This was the best and biggest surprise because no one expected the Academy (which is made up of mostly white American males) to vote for a foreign movie, and no one expected the Academy to actually vote for the Best Picture, as the Oscars have a track record of voting based on politics/campaigning (Ex: Green Book, Shakespeare in Love). Bong Joon-Ho, director and writer of Parasite, won Best Director over legends like Quentin Tarantino and Martin Scorsese, even paying tribute to them in his acceptance speech. 
When Parasite won Best Picture, the crowd gave a standing ovation, and when the Oscars cut their acceptance speech off by dimming the lights on the Parasite team, the crowd cheered until they brought the lights back on so that the Parasite team could finish their speech. 
Parasite is a big win for minorities, especially Asians, who have rarely ever seen themselves represented at the Oscars. In fact, there have only been two actors of Asian descent in the 92 years that the Oscars have existed who have won an Oscar. We can only hope that Parasite's big win isn't a fluke and that it is the beginning of a new normal when it comes to diversity at the Oscars. 
Another important win for representation was the short film Hair Love, which tells the story of a black father who must learn how to style his daughter's hair. This win was an important moment for people of color, especially at a time where students are being suspended from school for having their natural hair.
Some say 1917 was robbed for Best Picture which I can somewhat agree with, but I'd say the main appeal of 1917 is its cinematography and special effects, which it won both of those Oscars for, so I wouldn't say it was completely robbed.
Another snub I noticed was the absence of Greta Gerwig in the Best Director nominations. Little Women was extremely well-directed, and it definitely matched up to expectations after the success of Gerwig's Lady Bird two years ago. Some may even say Little Women was better directed than Lady Bird. Gerwig managed to demonstrate Little Women's non-linear plotline in subtle yet clear ways such as changing color schemes between the past and the present, yet one of the Oscar voters still said, "with Little Women, the timeline was ridiculous — I was really confused sometimes, and I know I'm not the only one." I, a sixteen year old with no formal film education, was able to understand Little Women better than an actual Academy voter. Seems legit. In fact, there were no female directors nominated this year.
"
We can only hope that Parasite's big win isn't a fluke and that it is the beginning of a new normal when it comes to diversity at the Oscars. "
The 2020 Oscars was an eventful ceremony that certainly did live up to expectations, in my opinion. From Parasite to Joaquin Phoenix, this year was full of surprises and well-deserved wins. Now, go out there and watch Parasite, now available to buy and rent on Amazon.
About the Writer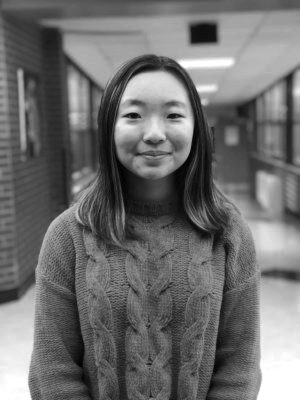 Sally Cho, Staff Writer
Sally Cho is a sophomore at NAI and is very excited to be writing for NAEye this year. Outside of writing, she enjoys theatre, playing the piano, and volunteering...