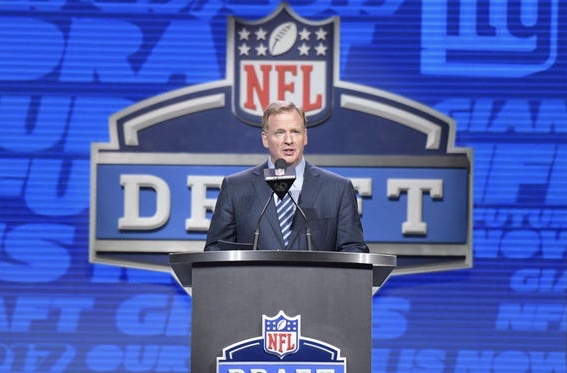 The NFL Draft is slated to begin on Thursday April 23 and conclude on Saturday April 25. Every year, the draft is a highly anticipated event which rakes in loads of money and attention for the NFL. This year's draft class may be one of the most interesting in recent years, adding to the excitement surrounding the event. However, due to the CoronaVirus pandemic, the draft is set to take on an unfamiliar form that has never been seen before.
NFL commissioner Roger Goodell has announced that the upcoming draft will not be taking place in Las Vegas, but instead, he stated that the draft shall commence completely in a virtual format. While this announcement hasn't come with very much surprise, it did raise a lot of questions. How is an event that has always been live in the past supposed to carry on in this fashion?
Teams will be forced to conduct the draft outside of each of their individual facilities due to all facilities being closed. General managers and their staff will have to communicate via phones and computers in order to choose what players they will draft. They will need to call in to submit their pick, and that information will be relayed to Roger Goodell as usual. It will just be different this year because Goodell won't be on some grand stage when he announces the pick.
Not only that, but there will be no shots of conference rooms full of executives trying to decide who to pick. The top players will not be there in person to shake hands and be congratulated, and there will be no enthusiastic fans in the crowd ready to cheer or boo depending on whether or not they like the pick their team just made.
Also, Goodell recently stated that he would be announcing the picks from the basement of his home in Bronxville, New York. This is sure to be an interesting backdrop compared to the large venues packed with crowds of people. There is likely to be camera shots of players at their houses after they get drafted as well. This isn't that different from normal, but it will be strange for the number one overall pick to not be present at the draft.
Aside from how the draft will take place, there are other things to analyze about this year's class. This group of players is about to be one of the most electric in recent years. There are incredible prospects at just about every position. Besides maybe the number one overall pick, no one really knows the order in which the other players will get drafted. Even some of the best players are slotted to not go until the second or third round because the talent level is just so superb.
This leads to the next point. The number one overall pick is essentially the only set and stone pick of the draft. In the minds of many, there is zero doubt that LSU product Joe Burrow will be the first pick. Burrow is a quarterback from Louisiana State University who lit up the football world this year. In the 2019 season, Burrow threw for 5,671 yards with a 76.3 percent completion percentage. He also racked up 60 touchdowns and only threw 6 interceptions. That put him at third all-time in yards and first all-time in touchdowns for a single college football season. Those stats are completely mind-boggling, and that is why Joe Burrow is sure to be the first pick of the 2020 draft.
For someone to see who the lucky team is that possesses the number one pick, they would have to look at the draft order. The order for the first round of the 2020 NFL Draft is listed below.
Cincinnati Bengals 2. Washington Redskins 3. Detroit Lions 4. New York Giants 5. Miami Dolphins 6. Los Angeles Chargers 7. Carolina Panthers 8. Arizona Cardinals 9. Jacksonville Jaguars 10. Cleveland Browns 11. New York Jets 12. Las Vegas Raiders 13. San Francisco 49ers 14. Tampa Bay Buccaneers 15. Denver Broncos 16. Atlanta Falcons 17. Dallas Cowboys 18. Miami Dolphins 19. Las Vegas Raiders 20. Los Angeles Rams 21. Philadelphia Eagles 22. Minnesota Vikings 23. New England Patriots 24. New Orleans Saints 25. Minnesota Vikings 26. Miami Dolphins 27. Seattle Seahawks 28. Baltimore Ravens 29. Tennessee Titans 30. Green Bay Packers 31. San Francisco 49ers 32. Kansas City Chiefs
Looking beyond Joe Burrow, there are many other impressive prospects as well. The consensus top five quarterback prospects are as follows: 1. Joe Burrow (LSU) 2. Tua Tagovailoa (Alabama) 3. Justin Herbert (Oregon) 4. Jordan Love (Utah State) 5. Jacob Eason (Washington)
There are also some top notch wide receivers in this draft. Regarding wide receivers, the consensus top five prospects are as follows: 1. Jerry Jeudy (Alabama) 2. CeeDee Lamb (Oklahoma) 3. Henry Ruggs III (Alabama) 4. Tee Higgins (Clemson) 5. Justin Jefferson (LSU)
Pertaining to the final skill position, the running backs this year are potent too. This year, the consensus top five running back prospects are as follows: 1. D'Andre Swift (Georgia) 2. Jonathan Taylor (Wisconsin) 3. JK Dobbins (Ohio State) 4. Clyde Edwards-Helaire (LSU) 5. Cam Akers (Florida State)
The stage has been set for the 2020 NFL Draft, and obviously, this is turning out to be one of the most interesting drafts of all time. From the bizarre circumstances surrounding the draft to the star-studded draft class, fans are highly anticipating the event, and April 23 can't come soon enough.