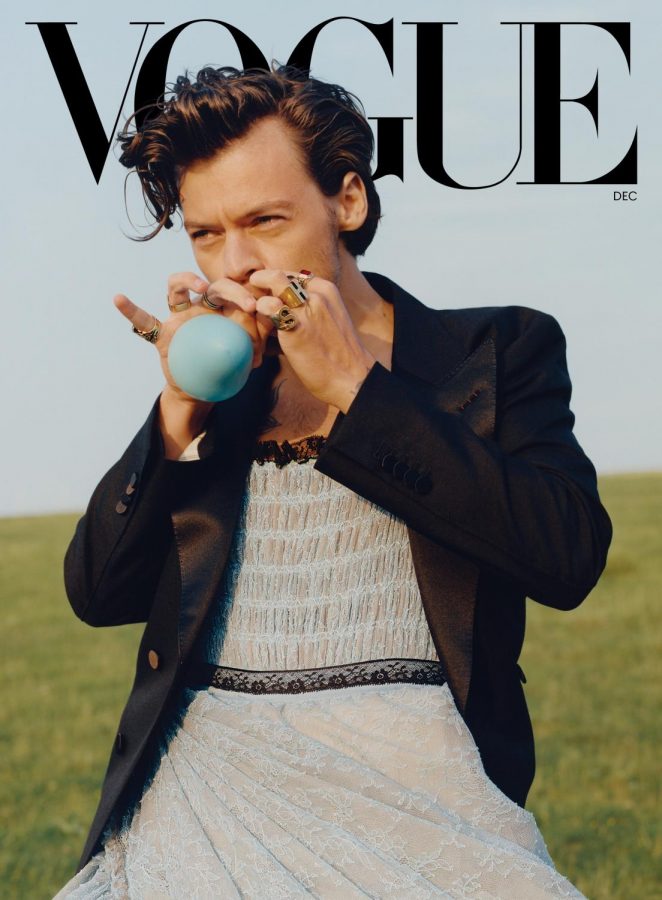 In December of 2020 Harry Styles made history as the first man to model alone on the cover of Vogue magazine. However, when the photos from the shoot were released, there were mixed reviews. The controversy revolves around the outfits Harry wore for his shoot, including ball gowns, dresses, and long skirts.
Debates over what attire is "acceptable" for specific genders to wear are not new. The recent emergence of both men and women dressing in non-traditional clothing has sparked a lot of debates. Many people who have a large following are speaking out about how they believe it is wrong for Harry Styles to wear a dress.
In response to the controversy, Styles made a statement about why he wears what he wears. He said, "To not wear [something] because it's females' clothing, you shut out a whole world of great clothes."
Styles doesn't seem bothered by the hate and he doesn't seem like he's going to change his fashion choices anytime soon. However, there are still many people who are voicing their negative opinion about Styles. 
The loudest of these voices is Candace Owens,  a well known political pundit, who has made multiple posts across social media about how "dresses are made for women" and also coined the saying "bring back manly men", which is confusing because manly men never left.
History may disagree with Owens' opinion.
In the 1800's and even before that, dresses, heels, and makeup were worn by men and were considered products for the wealthy and success. While the social connotations have shifted, men wearing dresses have been around for longer than we think. The only reason why people are so bothered by men in dresses today is because societal beauty and gender standards tell them to be.
As recently as the 70's and 80's, talented singers such as Freddie Mercury and Elton John have worn feminine clothes and makeup yet they are never talked about for how their fashion choices were "bad" or "wrong." Freddie Mercury is even praised to be a fashion icon. Harry Styles has said he has been inspired by Freddie Mercury and Elton John with his fashion choices. 
More currently, Conan Gray, a popular singer, wore a skirt in his music video for his hit song "Heather", and Candace Owens didn't post an eight minute long video then. So why is Harry Styles being targeted with so much hate for the same thing?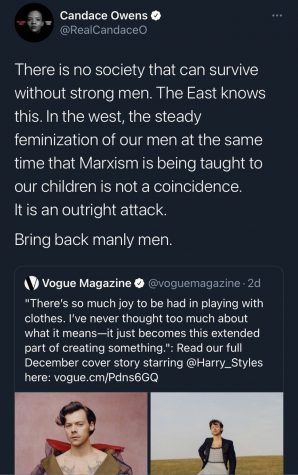 Harry Styles has even worn feminine clothes in photoshoots prior to modeling for Vogue, but there wasn't nearly as much dispute then. This may have to do with Harry Styles modeling for a magazine as influential as Vogue and being the first man to do it alone. His photoshoot is a huge step forward for gender equality, which may be why it is facing so much resistance.
So why is Harry Styles the sole target of so much hate? The simple answer to that is mainstream media. Harry Styles' photos are everywhere, and seeing it so much is making some other men feel "embarrassed" by Harry Styles wearing a dress.
Because of how viral the photoshoot pictures went, people were forced to form an opinion. Even if they had no real connection to Harry Styles or didn't actually care about men in dresses, many fell back on their "expected" political side. Bias that may have been adopted from older family members or friends may have played a huge role in how people viewed Styles' shoot, and once this bias is formed it is very difficult to break away from.
In today's world, reaching gender equality is a big conversation topic. The goal is for both males and females to be on a level playing field, not one being greater than the other. This change is already apparent in the acceptance of women wearing traditionally masculine clothes like suits, but if we want to reach this goal we need to normalize men dressing feminine as well.
How someone dresses doesn't determine how strong and manly or how feminine either gender is.