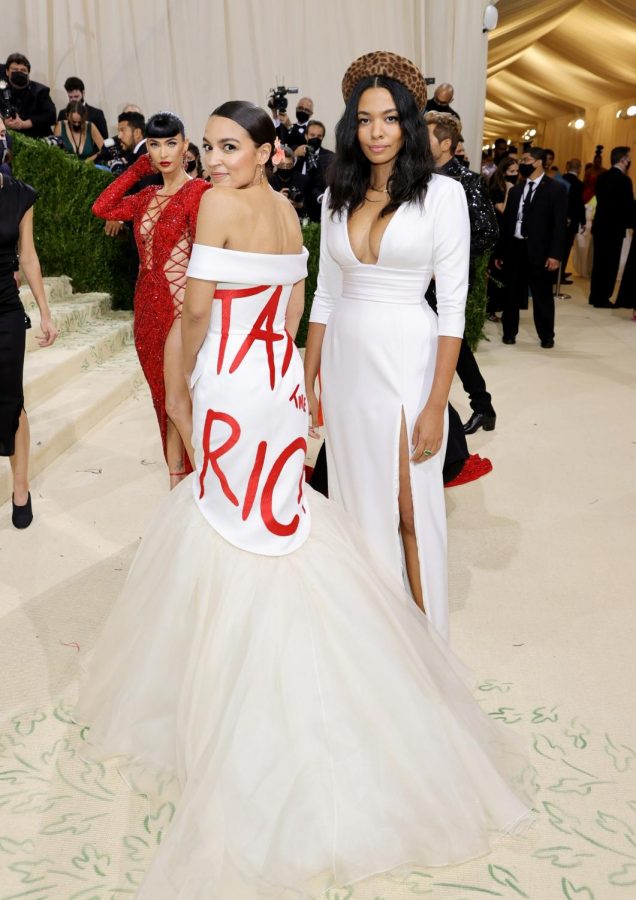 Vogue
After last year's Met Gala being canceled due to Covid, excitement for this year's, with the theme of American Independence, was at an all-time high. However, fans have expressed through social media their disappointment in the execution of the theme. 
Gigi Hadid went classic in Prada, in her strapless dress with leather gloves. She also decided to sport dark red hair and pastel blue eyeshadow, showing off US colors.  Kendall Jenner's gown was a clear tribute to Audrey Hepburn in My Fair Lady. 
Some less-discussed but incredibly beautiful looks were Jackie Aina in Barbie pink and Jennifer Lopez with a top hat similar to the logo of America's favorite game, Monopoly.
This year, a number of political figures and activists were invited to the event, such as US Representative from NY Alexandria Ocasio-Cortez. Her dress bore the words "Tax the Rich" in bright red letters. Critics said her message was muddled by the fact that the event was hosted by only the most affluent celebrities, and she was even criticized by some of her supporters. 
Another activist and model, Quannah Chasinghorse, wore garments that honored her Indigenous heritage. Chasinghorse is a 19-year-old Native of Han Gwich'in and Ogala Lakota tribes. Currently, with Native American rights and lands being put in jeopardy by potential government action, her representation was important and relevant.
There were many captivating looks but another hotly debated one was Kim Kardashian. Her all-black ensemble, designed by Balenciaga, completely concealed her face. Kardashian described her look as "symbolic of American beauty standards and the objectification of women's bodies". Although no one could see any discernible feature of hers, she was able to be identified exclusively by her silhouette. 
This look gives significance and media time to an important issue while also being unique. However, it is ironic considering she has raised these standards herself, through editing her photos and repeatedly denying getting any enhancing surgeries. Thus, she criticizes the industry for the beauty standards that she, her friends, and her family have helped to create. 
This year a small number of social media influencers were also invited such as Emma Chamberlain, Addison Rae, and Madison Beer. As a traditionally exclusive event, this was criticized on social media such as TikTok and Instagram. Addison is well known for her friendship with Kourtney Kardashian and was even featured on an episode of Keeping Up with the Kardashians.
It was rumored that her connection to Kourtney was how she was invited to the Gala. There's also speculation that she wore an old Christmas dress of Kourtney's. It was also Olivia Rodrigo's first Met Gala after her rise to fame for her #1 album Sour and her appearance on High School Musical: The Musical: The Series.