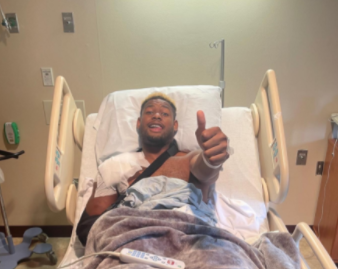 Twitter
Juju Smith-Schuster, a wide receiver for the Steelers, suffered a season ending shoulder injury in the week 5 matchup against the Denver Broncos. This injury later led to surgery on October 13th, 2021.
Smith-Schuster was running the ball in the second quarter, when he faced a Bronco defender. He dropped his right shoulder to break the tackle, but instead it cost him the season. Smith-Schuster was taken back to the locker room and then to a nearby hospital for further testing.
Smith-Schuster ultimately underwent surgery on October 13th. Later that day he posted a tweet where he mentioned that he was, "Blessed to have had a successful surgery this morning. There's no other way to say it, but I'm heartbroken that I'm going to be out for the rest of the season. It kills me to have worked hard all year to help our team on the field and now have my season cut short five weeks in…"
The Steelers responded with a win against the Seattle Seahawks in week 6, which was the first game after Juju's injury. 
Going forward, Smith-Schuster's injury will allow wide receiver Chase Claypool to step up and take a leadership role on the field. This is Claypool's second season in the NFL and he is currently ranked as the 27th wide receiver in the League. 
Along with Claypool, Najee Harris will also be able to impact the Steelers offense. Currently he is ranked as the 13th running back in the league. He is a rookie, graduating from The University of Alabama. Hopefully, Claypool and Harris together will set the Steelers offense on fire and lead the Steelers to many victories in the future. 
This injury may also add more pressure onto the defense, as the offense may not be scoring as much as they were previously, it really comes down to the defense to hold the opponents from scoring. Currently the Steelers are ranked third in the country for their defense and they are looking to improve even more in the coming weeks. 
Although the Steelers offense may not perform to the standard it has been, their defense still has the potential to pull through tough games.