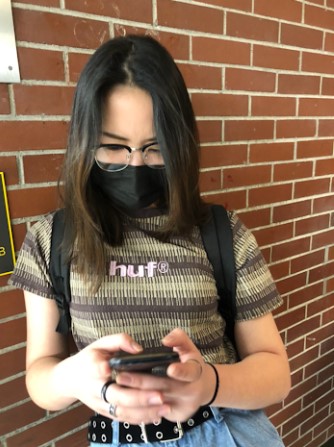 Isabella Gauntner
Despite the stereotypes regarding teens and social media use, high school students say they do recognize that there is good and bad to using social media. 
At the moment Tiktok is the most popular social media among teens. Many teens use it to record fifteen second videos of themselves lip syncing to popular songs. However, teens may also use tiktok to leave hate comments on others videos. 
Snapchat and Instagram are also popular forms of social media. However, on Snapchat teens can turn on their locations, which can give others access to their location. This is dangerous because strangers can use this to locate the teens. 
And Instagram has been criticized because of the way it promotes unhealthy comparisons such as teens comparing anything from looks to life styles. 
Instagram can also allow teens access to inappropriate content.
4th grader Ava Gauntner said, "At times I do feel myself comparing myself to others, but seeing others do certain things made me feel that I could do it too." 
Sophomore Harrison French does say that he is not constantly comparing himself. However, at first Gauntner said, "I used to compare myself, but not anymore. Social media actually gives me ideas now." 
Gauntner and French went on to talk about their experiences with the many forms of social media. From the good to the bad. 
Gauntner says, "It's made my life worse. Well, I wouldn't say it's made my life worse. But it definitely keeps me on my electronics more than usual. I think that it's made very jealous."
Many teens have experienced strangers and others contacting them, as well as sending them bad things. 
French says, "Random people have sent me things, bad things from people I don't know." 
But both Gauntner and French say social media has not necessarily lowered their confidence. 
French said, "My personality is definitely different, but I'm not actively trying to change. I am just different around other people." 
However, both Gauntner and French don't feel as if they're trying to be someone they are not. They both also feel that social media hasn't made them insecure.
They both say that they aren't on social media as long. French says no more than an hour or two and Gaunter said, "Just about an hour."
They both briefly mention that being on social media less does help a lot. Gauntner said, "Social media can be very, very negative. But, you have to look at it in a good way, you know. Like I use it to get creative, and I just learned how to make a specific type of bracelets so that's cool."