Top 7 Restaurants Near NAI to Visit
The NAEye staff visit and provide you with our favorites!
Hang on for a minute...we're trying to find some more stories you might like.
If you've been waiting for a great burger or craving a sweet, rich milkshake, then Burgatory is the place for you! Located in Mccandless crossing, this restaurant is famed for its delicious milkshakes, with flavors such as salted caramel, s'mores, brownie, and more! The Burgatory has won "Pittsburgh's best burger joint" from Pittsburgh City Paper for multiple years in a row, so this is definitely a must-hit spot for burger fanatics!
NAEye staff favorite: S'mores Milkshake
For brunch and lunch lovers, First Watch has something for everyone! The cafe's endless menu features everything from french toast and pancakes to tasty sandwiches and quinoa bowls! The inside has the cutest touches, like chalkboard menus and an atmosphere guaranteed to put you in a good mood! First Watch is also located in McCandless Crossing, next to Paint Monkey.
NAEye staff favorite: Floridian French Toast
Like First Watch, Waffles Incaffeinated is also a breakfast destination, however it is more focused on brunch foods. The menu features tasty foods like strawberry nutella crepes or the funky monkey waffle, which is a waffle loaded with fudge and peanut butter sauce, chocolate chips, and bananas. All the items taste amazing, and look equally as good (perfect for snapchat stories)! Waffles Incaffeinated is located to NASH's left.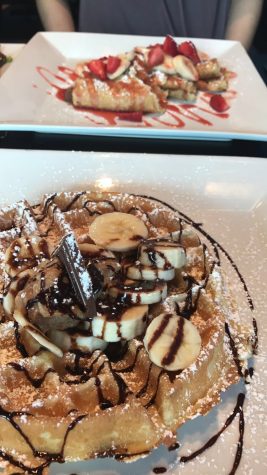 NAEye staff favorite: Funky Monkey Waffles
With an endless menu with many options, BJ's has almost every food you could think of, and all of it will be delicious. If you eat there, make sure to save room for dessert, because their Pizookie will change your life! If you've never heard of a pizookie, it's warm, baked cookie dough in a pan with ice cream, and features flavors for you to choose from such as salted caramel, s'mores, white chocolate chip macadamia nut, and several others! (it's basically a Conley Cookie from Montocellos, except with flavors to choose from) BJ's is next to Bone Fish in Mccandless Crossing.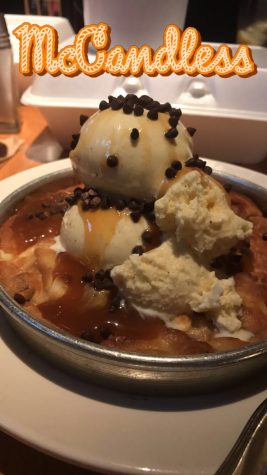 NAEye staff favorite: Salted Caramel Pizookie
With a wide range of menu items such as sundaes, smoothies, and frozen yogurt, Handles homemade desserts will definitely satisfy your sweet tooth. Their menu items are fresh made on site every day, and has been running since 1945! The establishment has over 106 ice cream flavors, and even was featured in USA today. You can find their cold treats near IHOP at Simon Way.
NAEye staff favorite: Pina Colada Smoothie
Just recently opened, Longo's is a cafe/coffee shop with delicious food and great deals. Each day has a special dal, such as half off macchiatos and mochas! If coffees not your thing, they have ice cream too! One of their must-try items is gourmet ice cream inside of a warm pretzel bun! Additionally, their decor and set up is lovely. Longos is located on Perry Highway.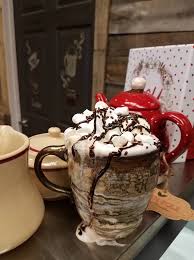 NAEye staff favorite: White Raspberry Latte
H.D Dudts Bakery is the perfect destination for donuts, sweet pastries, or a cake. Besides the fact that they are delicious, one donut is only 80 cents! They have a wide variety of donuts, such as cream filled, coconut, sprinkles, glazed, and so many more tasty options! The bakery is conveniently located next to Longos, enabling you to get coffee and a donut in only one stop.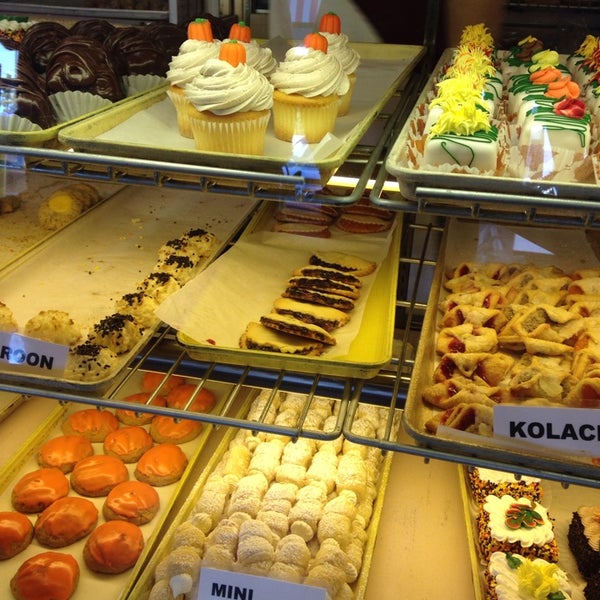 NAEye Staff favorite: Almond Torte Cake