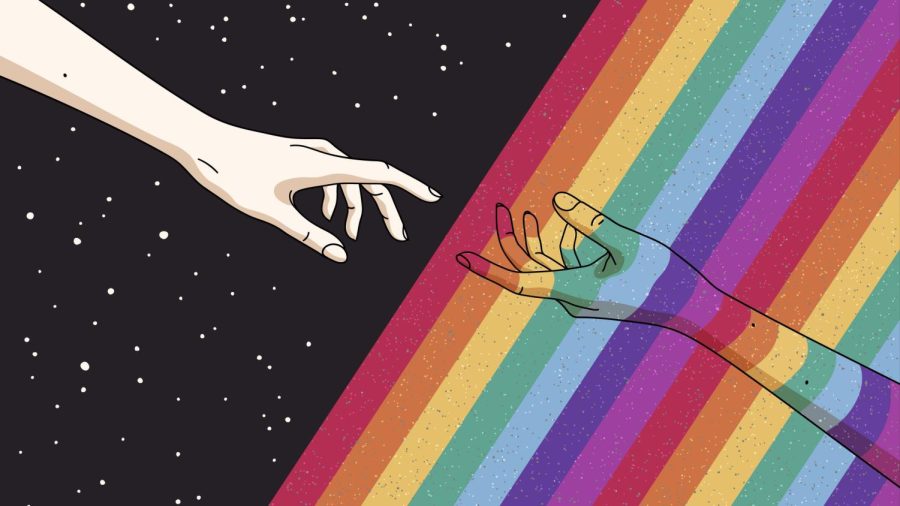 Jenna Huwe
Many bisexuals, myself included, have been told that we need to choose a side, to pick, because we can't like both. 
Homophobia is something we all know of and something that most of the LGBTQ+ community has experienced at some point. Something that's just as common but not as well known or discussed is biphobia, something that occurs in both the LGBTQ+ community and the straight community. 
While gays and lesbians still have struggles, society has been working towards being more accepting, but for whatever reason, people truly struggle to accept and understand bisexuals. I've heard numerous times that I'm just confused or that I'm lesbian and just don't want to admit it. When I started dating my first girlfriend, my cousins automatically labeled me as a lesbian, even after I repeatedly told them I was still bisexual.   
I've been told that I'm not truly a part of the LGBTQ+ community because I still like boys and I've been harassed by straight males telling me they can 'set me straight' because I like girls. This imposes the question of where are bisexuals truly accepted. 
Plenty of stars, like Teen Vouge model Olivia Ponton and actress Kristen Stewart have come out as bisexual and got hate for it. Stewart stated in an interview with ThinkProgress, "I have fully been told, 'If you just like do yourself a favor, and don't go out holding your girlfriend's hand in public, you might get a Marvel movie.'" 
This isn't the first time an actor or actress has been told by fellow co-stars to hide who they really are from the public eye. Actor Elliot Page best known for his role in Umbrella Academy also stated something similar happened to him after he came out in 2014,"I was distinctly told, by people in the industry, when I started to become known: 'People cannot know you're gay.'"
This standard isn't upheld to straight couples in the public eye. We don't see couples like Kylie Jenner and Travis Scott hiding away from the press, but it took almost a year before fans found out about Kristen Stewart and her ex. 
Just recently it was released from DC that the new superman comic, Superman: Son of Kal-El, will have Superman's son written as a bisexual and his main love interest is a male journalist. This isn't the first time DC has included LGBTQ+ characters, but this is the first confirmed bisexual character. 
Biphobia also frequently occurs in shows without people even realizing it. Shows like Glee, Sex and The City  and Insatiable are three shows where a character that is bisexual came across as perverted, confused, unstable, dumb, clueless, or reckless.  
In Glee, the character Britany figures out that she's in love with her best friend and fellow cheerleader Savannah. After she has this revelation, it all goes downhill. She becomes very uncertain about all of her relationships and starts to shut people off. She becomes somewhat obsessed with Savannah and even starts taking her things. After confessing to Savannah, she is completely ostracized by her fellow cheerleaders. Throughout the show, Britany was shown to be dumb and oblivious, but many fans pointed out that after she came out, this characterization went too far and created a negative depiction of bisexuals
Recently Kohei Hoikoshi, creator of My Hero Academia, revealed that the character Minoru Mineta is bisexual. 
Many fans were outraged by this because all throughout the series Mineta is portrayed as extremely perverted. He frequently harasses female characters and makes highly inappropriate sexist comments. And his motivation for becoming a hero is to become popular with women, not because he cares about people. 
As a result, he's hated both in the show by fellow characters and outside the show by fans. Many members of the Bisexual community were offended by the revelation, stating that it was feeding into the stigma surrounding bisexual people and was a rather large way of showing a negative bias towards the bisexual community, making the only perverted character bisexual.  
In these ways, the media contributes a great deal to what people think or feel towards bisexuals. By  portraying us as dumb, clueless, confused, unstable, and even perverted,  the media shines light on bisexuals in a negative way. People automatically label us as confused about our sexuality and unsure about who we are or highly sexual people that want the 'best of both worlds'. 
Before I came out to my mom I was terrified that she would think that I was just confused about my sexuality and decided to 'experiment'. At the time I was obsessed with the show Glee, and started to wonder if I was just confused like Brittany was. I had a serious dip in my mental health and when my mom asked me about it I panicked. Even though my mom is very supportive of the LGBTQ+ community I was scared she wouldn't accept me or just label me as lesbian for her own convenience. 
Media portrayals of bisexuals have a personal impact on those that are subjected to it.
Until we fix biphobia in the media, we will never be able to fix daily biphobia. Shows like Glee and My hero Academia that have millions of fans contribute to the hate, podcasts and YouTube channels, news reports, and books all contribute to biphobia. The problem runs so deep it's normal, you might not even realize it's biphobic at all.