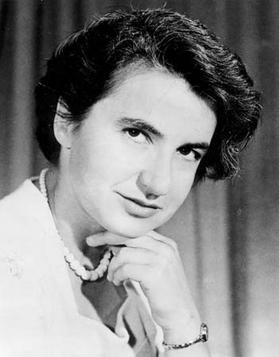 Wikimedia
Rosalind Elise Franklin was born July 25, 1920 in London England, the second of 5 children, to Muriel Waley and Ellis Franklin. As a child she attended St. Paul's Girls School before going to study physical chemistry at the University of Cambridge. After graduating in 1941, Rosalind was offered a fellowship at Cambridge to continue her research in physical chemistry. 
When World War 2 hit, Franklin gave up her fellowship to work with the British Coal Utilization Research Association where she investigated various usages of coal and carbon for the war. Later, she was able to use this work in her doctoral thesis and, in 1945, was given her doctorate from Cambridge. 
Rosalind then worked on X-ray diffraction technology with Jacques Mering at the State Chemical Laboratory in Paris from 1947-1950. Then in 1951, Franklin joined up with the Biophysical Laboratory at King's College in London as a research fellow. While there, she applied X-ray diffraction methods to DNA. During this time very little was known about DNA, so Franklin's discoveries changed the game. 
Franklin was able to discover that DNA existed in a helix formation and its density. These discoveries led James Watson and Francis Crick to suggest that DNA's structure may be a double-helix polymer. 
From 1953 to 1958, Franklin worked in the Crystallography Laboratory at Birkbeck College in London. It was here that she completed her work on coals and DNA and started to study the molecular structure of the Tobacco Mosaic virus, which greatly impacted plants and had the biggest effect on tobacco plants. 
She collaborated on studies of RNA contained within the virus inside the protein and not in the central cavity. During this time she also discovered RNA was a single strand and not a double-helix structure like DNA found in more complex organisms and bacterial viruses. 
Sadly, Rosalind never got to complete her work due to her untimely death on April 16 1958, at age 37 of cancer.  
In life outside of work, she lived with her mother into adulthood and never married or had children.