College Football Playoff Preview: New Faces
Every year the College Football Playoff has two teams who get in year after year. Alabama, and Clemson. This year there is a big shock, as neither team has gotten a bid into the final 4 spots of the College Football Playoff. With these teams gone, the playoffs look for a new super power.
Some of the blue bloods of college football are having a down year, like Alabama. Alabama has only missed the playoffs twice since its creation  in 2015: 2019, the year of a historic LSU team who beat Alabama in the regular season and went on to win the 2020 national championship, and is regarded as one of the best teams ever, and now 2022. 
This year Though, Georgia holds the reins. A constantly great program overshadowed by Alabama's success year after year has finally found their spot at the top. Going 28-1 over the past 2 seasons and as reigning national champions who is going to challenge them this year?
The SEC this year was quite the rollercoaster. Seeing the Vols of Tennessee bursting onto the scene with super senior Quarterback Hendon Hooker, and beating Alabama with a game winning field goal were both  surprises. All hail Alabama, we thought. The Crimson Tide were still confident they could make the playoff until another last second loss to LSU on another field goal basically put them out of contention.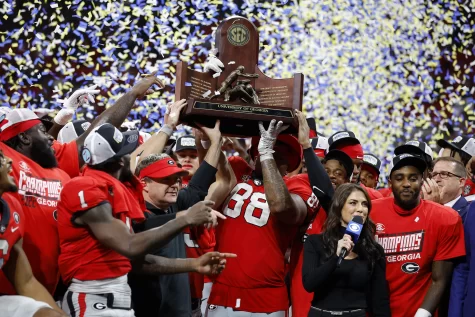 Everyone thought Tennessee was the real deal going into a marquee matchup with Georgia, until they got routed 27-13. Tennessee also lost another surprising matchup against well known upsetters South Carolina, and lost their star QB Hendon Hooker, who would go down with a torn ACL in that game. South Carolina would later beat Clemson, knocking them out of the CFP race as well. Georgia won the SEC by going 13-0 and being widely known as the best team in the country. They claimed the number one spot in the College Football Playoffs.
With three more spots open, one has been claimed by Big12 shockers, TCU. Being in a competitive conference with well known teams like Texas, Oklahoma, Oklahoma State, Kansas State, and last years winner, Baylor, TCU managed to stay undefeated up until the Big12 championship game where they fell in overtime to Kansas State. Many thought that a 10-2 Alabama squad could squeeze into the playoffs over the Horned Frogs, but they managed to stay in and captured the 3 seed in the playoffs. Max Duggan, a heisman finalist looks to lead this squad into its first ever playoff appearance.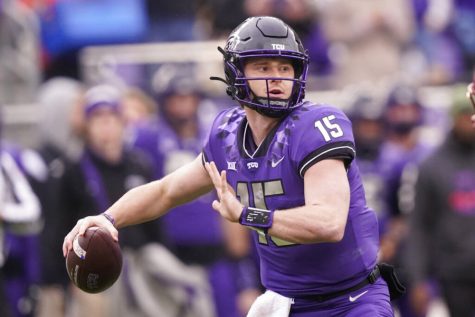 The Game. The widely known matchup between Michigan and Ohio State would basically determine which team is locked into the College Football Playoffs. In Columbus, third ranked Michigan without their Heisman contending running back knocked off the second ranked Buckeyes with ease, 45-23. Ohio State's Playoff hopes were not dead yet though, as all they needed was a USC loss to get in. And that they got.
In the Pac-12, USC seemed to hold control over the conference all year, going 11-1. Their only loss was to Utah in a heartbreaker in October. And with a rematch with Utah in the Pac-12 championship, USC controlled their own destiny. But it seems as though they just unraveled as a team losing once again to Utah 47-24. This loss officially knocked them out of the playoff race and opened the door wide for one loss Ohio State to come walking in.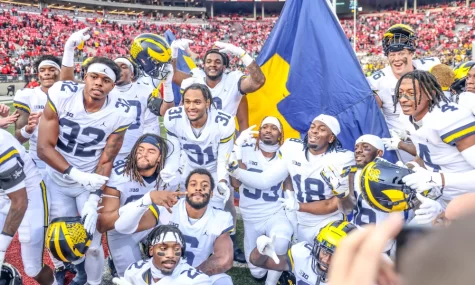 Clemson, Tennessee, Alabama, and USC all sitting on the doorstep as 2 loss teams looking in from the outside of the playoffs. And for the first time in CFP history, two Big-10 teams are in the playoffs. Georgia, Michigan, TCU, and Ohio State all made the playoffs. Michigan seeks revenge from last year's 34-11 loss in the semi-finals to Georgia, but on the other side of the bracket is a very good Ohio State team with a big chip on their shoulder. Can they get past undefeated Georgia though?
Predictions
On December 31st, Michigan plays TCU, and I think Michigan will cruise past the Frogs. TCU showed major weaknesses in their loss to Kansas State, and Michigan's defense can stifle Heisman candidate Max Duggan and TCU's stellar offense. It will  come down to young Michigan QB, J.J. Mccarthy though, as no Blake Corum will definitely hurt them down the road. 
On the other side, you have Ohio State and Georgia. I think Georgia barely gets past Ohio State in a great New Years Eve game. Ohio State's defense has been questionable this year, and Georgia's generational defense is going to be a challenge for Ohio State. Hopefully Georgia's offense lead by veteran Stetson Bennett can show out. The Bulldogs offense is questionable, if the run game gets stopped by Ohio State, they may struggle having to rely on Stetson Bennett. Ohio State's CJ Stroud is definitely a generational talent but he is just no match for this Georgia Defense. Georgia will win this game in a tight one.
On January 9th 2022, undefeated Michigan will face off in a rematch against undefeated Georgia. It will be a close game with both defenses showing out, but Georgia's defense will take advantage of a young, inexperienced JJ Mccarthy and take this game and become back to back National Champions.
This college football season had a never-before-seen amount of upsets, surprise teams, underdogs and dominant teams. It will be fun to see how the playoffs and all bowl games play out. It is definitely a new group of playoff teams this year without some of the big names of college football. Hopefully, we see a new winner and 3 great playoff games.