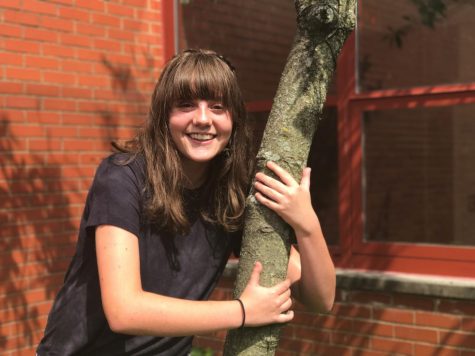 Grade:
10
Years on staff: 
2
Role:
Staff Writer
Life soundtrack: (song)
"Where is my Goat" by Taryn Southern
[video credit=""Where is my Goat" by Taryn Southern" align="left"]https://www.youtube.com/watch?v=luqh0NCYCng[/video]
hobby/ sport/ clubs / pastime:
S
low-pitch softball, Key Club, German Club, Sweets for Souls, and passionate hacky sack enthusiast
Short bio:
She enjoys e
ating at inappropriate times, and loathes any and every type of exercise excluding softball. She also likes debating with people about pertinent topics, watching Netflix, and spending what little time she has not engaged in schoolwork with her family and friends playing four-square and hacky sack. She strongly urges people of all ages to take part in these liberating games of greatness.
Meg Patterson, Staff Writer
May 24, 2019
Apr 17, 2019

Safety at NAI: Officer Metzger Addresses New Concerns

(Story)

Mar 21, 2019

Crazy Bus Stories

(Story/Media)

Feb 14, 2019

Times They Are a-Changin'

(Story)

Jan 11, 2019

Cultural Cuisine with Meg and Emma: Hungarian Kakaós Csiga

(Story)

Nov 20, 2018

An Unlikely Marriage: Technology, Biology, and Politics

(Story)

Nov 12, 2018

Cultural Cuisine with Meg and Emma: Indian Gulab Jamuns

(Story)

Oct 03, 2018

Cultural Cuisine with Meg and Emma: Venezuelan Arepas

(Story)

Apr 18, 2018
Mar 26, 2018

A Freshman's Perspective: Friends

(Story)

Mar 15, 2018

Snapshots: NAI Walkout

(Media)

Mar 07, 2018

The Typical Teenage Friday Night at NA

(Story)

Feb 15, 2018

8 Disney Movies You Need to Be Reminded Of

(Story)

Feb 05, 2018

Fresh(Wo)man's Perspective: Sleep

(Story)

Jan 19, 2018

Group Projects: Helpful or Painful?

(Story)

Dec 22, 2017

Top 5 Christmas Fails of NAI

(Story)

Dec 14, 2017
Dec 13, 2017

A Fresh(Wo)man's Perspective: Physical Education

(Story)

Nov 25, 2017

A Fresh(Wo)man's Perspective: Lunch

(Story/Media)

Nov 03, 2017

A Fresh (Wo)man's Perspective: Homework

(Story)

Oct 12, 2017

Slow Pitch Softball Seeks More

(Story)