The spelling of "Pittsburg" with no 'h' at the end dates this card of the park's Old Mill from before 1911, as it was between that year and 1890 that Pittsburgh was spelled that way. It's a long story, but the basis is that the US Postal Service was attempting to standardize place names, and as most other "Pittsburghs" in the country are spelled without the 'h,' Pittsburgh's name was changed to conform. Of course, though, it is well known that Pittsburghers aren't fans of change, and the 'h' was restored in 1911. The Old Mill is arguably the oldest attraction at Kennywood, undergoing a wide variety of re-themes over 100+ years. It is scheduled to return under its original name for 2020. The ride trough was demolished and rebuilt in 1926, so the image shown here is not the current building.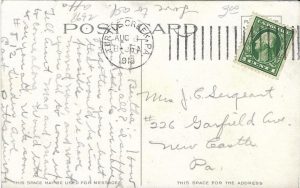 _______________________________________________________________________________________________________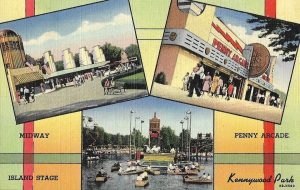 "Not to visit Kennywood is not to know Pittsburgh" is stated on the back of this card, even though Kennywood isn't technically in Pittsburgh! It's actually in West Mifflin, just outside of the city, but I get what they're trying to say here. This card is my personal favorite, with its bright design and colorized illustrations. I would guess 1940s on its date. Looking clockwise, we have the Tower refreshment stand and the Sportland games building, both of which have been replaced with different structures but still serve the same purpose. You can see the miniature railroad entrance in the far background. Next is the Penny Arcade, which sadly has a newer building and facade now; but once again, it's still an arcade! The picture at the bottom is of the park's lagoon, which was once used for circus acts. Today, it's the loading area for the Skycoaster attraction. You can also glimpse the station of the park's wooden Racer coaster in the background.