Teaching Biology in a Theatrical Way!
It was an honor to interview Ms. Ochs, and I would not have chosen a better candidate for my first interview.
Ms. Ochs was the perfect candidate because her enthusiasm and passion for teaching biology piqued my curiosity, and so did her humming. Students can tell she has a bubbly, outgoing personality, and it is not an everyday sight to witness a teacher humming so freely in class.
Megan Ochs is a ninth grade biology teacher at North Allegheny Intermediate High School. She is a North Allegheny alumni, and her graduating class was 2014.
Her education journey started off by graduating from NA district. Then, she applied to the University of North Carolina for her undergraduate degree and a bachelor in science biology, and throughout college, she changed from pre-med to pre-veterinary medicine.
After working as a veterinarian technician for seven years, she contemplated if she wanted it to be her continuous occupation. She came to the conclusion the career path she had taken wasn't right for her, so she chose a profession based on advice from other people in her life, who enjoyed their jobs.
Teaching was a career option that stuck in the back of her head, but the encouraging and supportive words from the people around her cemented her decision in becoming a teacher. She fancied the idea of influencing student's lives in a positive way, and she has had a fascination with biology since her high school days.
This drove her to enroll in a masters program at University of Pittsburgh for a masters in art of teaching with a specialization in secondary science instead of attending veterinarian school.
Ms. Ochs worked for Avonworth High School as her first student teaching position before she came to be a NAI teacher, where she taught ninth and tenth grade biology. She chose to teach at North Allegheny because it was her calling. She felt connected to this school and thought it was the perfect place for her because she lived near here, went to this school, and loves the building and its staff.
She loves ninth grade because they are in a position where they are transitioning into adults, and she wants to be a part in molding their futures. In ninth grade, students get their first introduction to biology. 
Researching is one major skill students use in science to learn new information, and one of the things she is looking forward to educating her students is being a good digital citizen. She wants her students to understand what is or isn't fake news, finding high-quality information, knowing when someone is trying to manipulate their opinion, and being open-minded as well as being critical and skeptical.
During the end of her educational journey is where one of her proudest achievements happened. Earning her masters degree and graduating with honors was her most prominent accomplishment because the one-year program was fast-paced and vigorous.
For her students this year, she wants them to know she has an open door policy where she wants to create an impactful relationship where they can trust her. With that trust, she wants to guide her students to find their own passions just as she found her passion for teaching.
One of her favorite hobbies is singing and acting. She was involved in Les Miserables, Peter Pan, Footloose, and Shreck musicals at NA, and performed in many musical performances throughout college.
Although Ms. Ochs doesn't have stage fright as a common phobia, she is afraid of any type of violence or traumas that could possibly happen to the people she cares about. 
The Shawshank Redemption is her favorite movie. It is about a guy sent to prison for a crime he didn't commit and is based off of a 1982 Stephen King novella. She recommends people to watch it because it has many great life lessons shown throughout the movie..
The closest person she would consider to be a celebrity idol is the politician, Alexandria Ocasio-Cortez. Alexandria Cortez is someone she agrees with her policies, and she admires her way in changing people's lives for the better. Ms. Ochs believes we should appreciate celebrities' work, but we shouldn't idolize them.
At the end of a school day, she comes home to two small dogs named, Zoey and June, waiting for her at the door. They make her laugh or smile everyday just because of their presence and company.
Leave a Comment
About the Contributor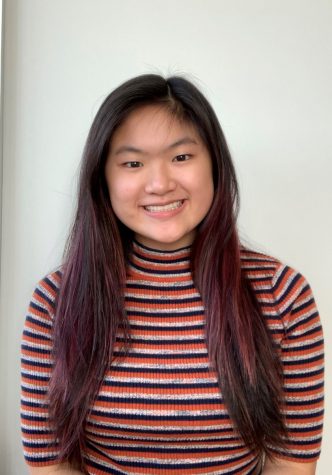 Dana Pitell, Staff Writer
Dana is a freshman, and it is her first year as a writer for the NA Eye Newspaper. She can't wait to try out the different positions for the newspaper,...