Collin Wang
NAeye: What sport do you play?
CW: "I play golf."
NAeye: How long have you been playing?
CW: "I have been playing for 7 years on and off, but only started playing seriously this year."
NAeye: What was your highest achievement in your sport, this season?
CW: "This season, I have beaten my personal best score three times. Coming into the season, my best score on nine holes was 39, and I shot a 38, 37, and 36 during the season."
NAeye: What are some challenges you face in your Sport?
CW: "The hardest challenge I face in golf is keeping my mental game in check. When playing, it is easy to let your bad shots get into your head. Keeping bad thoughts out is key to me playing better."
NAeye: How do you keep in shape during your off seasons?
CW: "During off seasons, I go to the driving range a lot to work on my swing, as well as play with my dad on the weekends. Golf courses and ranges are open almost year round, so it is very easy to train."
NAeye: Why did you decide to stick with this sport and what do you love most about this sport?
CW: "I first got into the sport because my dad played it, and played it casually for a few years before I started playing water polo. Then in my eighth grade year, I decided to come back to the game and I realized that I loved hitting good shots and making putts."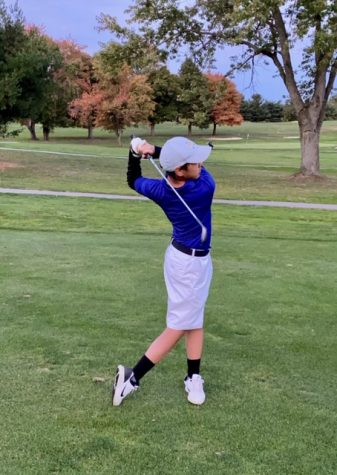 NAeye: How do you prepare for your matches?
CW: "I usually will go to the driving range the day before and make sure my swing is in good shape for the match. A couple of days before, I will look up the course we are playing at and give myself a rough idea of the conditions and how to play the course."
NAeye: What is your training like? 
CW: "The season starts before school starts and it flies fast. There are three days of tryouts in mid August. Each day we play 18 holes and the cumulative score is what determines your place. Usually top 8 are selected into varsity, but this year we kept 10. The season starts the day after tryouts. We have around three matches every week and the other days are usually practices. All matches and practices are nine holes."
NAeye: What are some of the goals you would like to achieve in the future?
CW: "Next year, I would like to place in the top 10 for WPIAL Individual Finals, and qualify for states. It's a pretty lofty goal but I think it can be done."
NAeye: Do you have any superstitions or routines you do before your matches?
CW: "On the first tee, I always take three practice swings."
NAeye: What is your favorite snack to eat before matches?
CW: "I don't like to eat before matches, I just drink lots of water." 
NAeye: What is your favorite thing to eat after your matches?
CW: "The traditional snacks for golf are hot dogs, so I love a good hot dog after a match."