Thank You, Mrs. Holland (MathKath)
Everyone's favorite math teacher is helping students enjoy math one last time after 34 years.
NAEye: Who/What inspired you to become a teacher?  
MathKath: "I was in Mechanical Engineering for 3 years and didn't love it.  I had some professors and a father who were amazing teachers, as well as the teachers I had when I went to North Allegheny. I started to love math when I began tutoring. I love helping people feel confident." 
NAEye: Is there any reason you chose to teach tenth grade?
MK: "I have taught everything from seventh through twelfth grade.  Each grade is so different. I just seem to be able to communicate with that grade. Tenth graders are old enough to talk to and laugh with. Teaching Algebra 2 is one of my absolute favorite subjects to teach and that is mostly taken in tenth grade."
NAEye: What is your main goal as a teacher?
MK:  "Besides getting my students to appreciate math, I love helping them feel confident and taking pride in all that they do.  I also feel that it is important to be a good role model, be kind, and to set good examples. I also love to laugh and have fun while I teach."
NAEye: What is one word you think of when you think about teaching? 
MK: "Ever-changing"
NAEye: What/who is most important to you?
MK:  "Family and doing things for people.  It always feels good to do whatever you can to be kind to someone and help them."
NAEye: What do you do outside of school?
MK: "I love to bake, travel, and spend time with my family.  I also love being outside. I love being in the sun. In addition, I really like riding on the back of my husband's motorcycle."   
NAEye: What made you interested in motorcycle riding?
MK: "My husband always has loved motorcycles.  I love being on the back because I can see everything and appreciate and take in nature which you can't see when you are driving."
NAEye: Do you have any hidden talents?
MK: "I can play a few songs on the harmonica and the organ."
NAEye: What is one thing no student knows about you?
MK: "I have a pinball machine that I love to play! I also have three tattoos!"
NAEye: How has NAI changed since you started teaching? 
MK: "First of all, I was once among the youngest and now am among the oldest.  The students and school have also definitely changed in regard to technology."  
NAEye: What will you miss the most about  NAI?
MK: "I will certainly miss my colleagues and friendships that have been formed.  I will truly miss being around students all of the time."  
Do you have a favorite memory of Mrs. Holland? We're sure you do! Use the comment section below to let her know.
About the Writer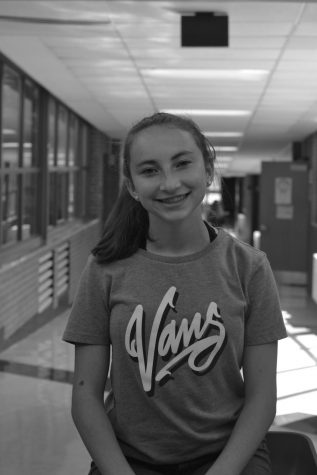 Macy Seymour, Staff Writer
Macy Seymour is a sophomore at NAI. This is her first year contributing to the NAEye. In her free time, she enjoys dancing on the North Allegheny Dance...