NAI's 2019 "Hour of Code"
Students explore the arts of computer science and technology before Winter Break.
Before students said goodbye for the holidays on December 20th, students had an opportunity to participate in NAI's annual "Hour of Code". It has been a special event at NAI and NASH each year since 2015.  
Each year, the activities were changed for the better and Mrs. Oliver, the leader of "Hour of Code", continued making changes to help things run as smoothly as possible. This is Mrs. Oliver's second time leading the event at NAI after lead four of the events at NASH.
 "My goal was to expose students to various types of computer science" Mrs. Oliver emphasized. To do so, multiple activities were provided for students to participate in. 
There were cyber safety videos that students were able to watch and put their thoughts forward about about a certain situation. iPad were up for grabs for a coding game called "Coding with Awbie". They could also create bracelets for fun or as a great last minute Christmas gift. 
Another game that students had fun with is "The Makey Makey". The game was a way to not only learn about how circuits work, but also how circuits control student's laptop keys.  Students played games such as "Tetris" or "Super Mario Bros." by creating a circuit and using the circuit board to control their computer's spacebar and arrow keys.   
Mr. Ringer, a Computer Science teacher at NAI, talked to students about coding and had them do activities to help them get a better idea of what was being taught. 
NAEye had a little fun of their own. Students who do podcasting for NAEye held the first all-day podcast, interviewing one teacher for each period of the school day. Mia Simmons (sophomore) and Katelyn Klinefelter (freshman) were in the studio for most of the school day making sure the podcast went as planned.
The podcast was also broadcasted live on Instagram. While there were some technical difficulties at the beginning, the first all-day podcast was a success.
"
"I think the podcast went really well. Great teachers brought very interesting stories.""
— Ashlynn Harrison
After the podcast ended in the final hour of the last school day of 2019 before students returned in the new decade, Mrs. Oliver gave a huge thank you to many different teachers and staff members.
She gave a shoutout to NAI's principal, Mrs. Ewing, Mrs. Fraser, and Mr. Morey for their support with the event. She gave "mad props" to Mrs. Ferruchie, an English teacher at NAI, for assisting Mrs. Oliver in organizing the day and lead a session. 
Mrs. Oliver gave a list of teachers and staff members that she said the day wouldn't be possible without their contribution to the sessions and helped in the reflection/planning process: Mrs. Logan, Mr. Hull, Mr. Geibel Mrs. Steele, Ms. Gaudino, Ms. Cribbs, Mr. Anticole, Mr. Ringer, Mrs. Gatesman, Mrs. Gibson, Dr. Morrow, Dr. Gallo, Ms. Becker, Ms. Comas, Ms. Bereseford, Mrs. Kroenke, Mr. Banks, Ms. Grecco, Ms. Dixon, Mrs. Munson (Mrs. Ferruchie's mother), Ms. Grace, and Mrs. Marshall.
Also, Gene Natali from Troutwood and Tim James from Google was recognized for coming to NAI and speaking to students about their professions.  
Mrs. Oliver would also like to thank all the students who participated in Hour of Code and learned something new and for making NAI's 2019 "Hour of Code" a great success. Many can say it was a great way to end the decade and say goodbye for the holidays.
About the Writer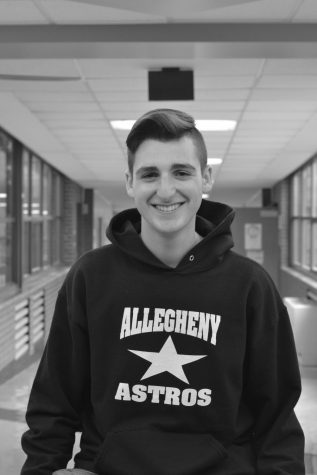 Anthony Durzo, News Editor
Anthony Durzo is a sophomore at North Allegheny Intermediate High School and this second year as a staff writer for NAI's student online newspaper, NAEye....