The Race of a Lifetime
Within the fiery heat of our current political climate, it is vital to pay attention.
2020 is finally here, and one of the most influential presidential elections is just around the corner. The results could spell out the future of our country, so it is vital for us, even as teenagers, to be paying attention. 
The Democratic primaries are underway as well. Four candidates are currently leading in the polls- Bernie Sanders, Joe Biden, Elizabeth Warren, and Pete Buttigieg. There is still a multitude of other candidates running for a chance to face Donald Trump, and popular candidates including Cory Booker, Julián Castro, Kirsten Gillibrand, Kamala Harris, and Beto O'Rourke have already dropped out of the race.
Most of the candidates are running on similar platforms, and are working toward one common goal. This goal, to put it simply, is getting President Trump out of office. To differentiate between the candidates, it is necessary to dig deeper into their individual platforms and experiences and to hone in on the current priorities of democratic voters and all Americans. 
Bernie Sanders served for 16 years as a US representative before later being elected to the Senate where he has since represented Vermont. He is the longest-serving independent congressman in its history, but his views most often align with democrats. 
His most popular policy proposals are free tuition at public colleges, universal healthcare, and a raised minimum wage, ideas that are already implemented in many other developed countries. His name is very well- known, and he has a large network of donors helping him to raise millions of dollars. 
Joe Biden served as Barack Obama's vice president for 8 years after representing Deleware in the US Senate for 36 years. He is very concerned about Donald Trump, saying "If we give Donald Trump eight years in the White House, he will forever and fundamentally alter the character of this nation – who we are. And I cannot stand by and watch that happen."
He faced backlash after a number of women claimed that he made them uncomfortable by doing things such as awkwardly touching them or sniffing their hair. Despite the controversy, he is doing rather well in the polls and is the most popular candidate among Democrat-leaning African American voters according to a Washington Post/Ipsos national poll.
Elizabeth Warren has taught law at many different universities and was a Harvard professor as well. She has represented Massachusetts in the United States Senate since 2013. If she is elected and is able to defeat Trump in the election, she would go down in history as the United States' first woman president. 
 After controversy regarding her claims of Native American heritage, Warren has recently apologized and sparked discussion about policies aimed at Native American communities. She said, "I know I have made mistakes. … I am sorry for the harm I have caused. I have listened and I have learned a lot, and I am grateful for the many conversations that we've had together."
Pete Buttigieg is the current mayor of South Bend, Indiana. He attended Harvard College and Oxford University and is a Rhodes scholar. He also served as a Navy intelligence officer in Afghanistan. If he becomes president, he would be the youngest and first openly gay man to do so.
In the aftermath of a police shooting in South Bend, racial tensions in this town were exposed. Controversy arose because the police officer's body camera was turned off. This made many people question whether or not Buttigieg would be able to handle problems like this at a much larger level. 
According to the Pew Research Center, Democratic voters' priorities are reducing health care costs, improving education, protecting the environment, and securing Medicare. The same survey suggested that Republicans and Democrats differ most when it comes to the environment. Policies that differ greatly between the two parties in the current political climate are also reproductive rights, gun control, and health care.
Democrats are also united through their longing to get Trump out of office. 93% of Democrats and Democratic-leaning independents said they disapproved of Trump's performance, including 81% who said they very strongly disapproved.
It is completely possible that a Democrat could win. This is because of how the Democrats were able to flip the House back to having a Democratic majority in 2018. This shows that it is possible for them to change the minds of those who would not normally "vote blue." Although a win is possible for them, it is not guaranteed.
"
The results could spell out the future of our country, so it is vital for us, even as teenagers, to be paying attention. "
A win for Donald Trump is also very likely. While he is the incumbent, in spite of the fact that it could have nothing to do with him, the economy is strong, unemployment is low, and he has not started any wars (despite some close calls). He also has an advantage in the electoral college, seeing that he lost the popular vote but won the electoral college vote in the 2016 election against Hillary Clinton. 
The Iowa Democratic caucuses will take place on Monday, February 3, 2020, and it will be the first of many nominating contests that will determine who will be facing off against Donald Trump in the presidential election. Bernie is leading in the polls there, but it is going to be very difficult to predict the winner, even by observing the polls. 
Only time will tell the results of the Democratic primaries and the presidential election, and we will have to wait until November to see which side will get what they want.
Leave a Comment
About the Writer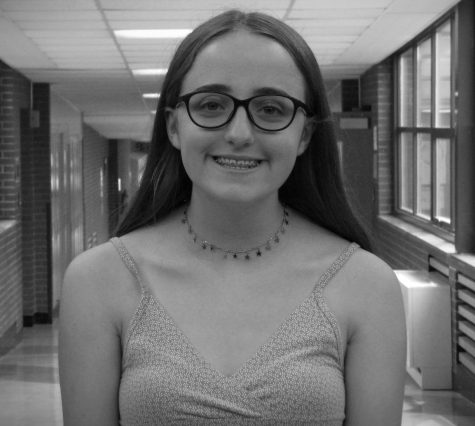 Quinn Volpe, Opinion Editor
Quinn Volpe is a sophomore and this is her first year on the NAEye Staff. She likes music, political activism, volunteering, writing, cheese ravioli, and...