Why Football is Killing Itself
Football participation is at an all time low as injuries in the sport become more and more common.
Youth football participation has been on a decline for years and people are desperate for a solution. In 2006, over 8.4 million kids in the United States played tackle football. In 2017, participation was down to 5.2 million. So what's the problem?
Football has the second-highest concussion rate of any sport with 2.5 concussions per 1000 athletic exposures (games/ practices) and is second only to rugby with 3 concussions per 1000 exposures. Numerous concussions can lead to Chronic Traumatic Encephalopathy or CTE. CTE is a brain disease that is caused by repeated head trauma over time. It causes memory loss, depression, impulsivity, and even long term dementia.
CTE cannot be diagnosed in a living person, and a person can only be diagnosed when their brain is studied after death. A study by Dr. Ann McKee, a neuropathologist, studied the brains of 111 NFL players. 110 of those brains were found to have CTE. CTE was discovered in 2002 and is the reason that most parents are not allowing their kids to play football.
The lack of participation isn't just kids. NFL  legends like Rob Gronkowski, Luke Kuechly, Calvin Johnson and Andrew Luck all left the game before the age of 31 due to the risk of injury and the numerous concussions they endured during their time in the league.
"
110 of those brains were found to have CTE."
— Dr. Ann McKee
In an interview with CBS, Gronkowski said, "I went through it. I had nine surgeries, probably had like 20 concussions in my life, no lie. I remember five blackout ones." After the Patriots Super Bowl Victory in 2019, Gronkowski said he couldn't celebrate his victory. He took a hit to the quadriceps and had the deepest bruise he'd had in his life. All he did was lay in bed in tears because of the excruciating pain. He spent weeks unable to walk correctly and was only sleeping 20 minutes a night. Gronk knew then that it was time to retire.
NBA legend Lebron James played football in high school but said he will not allow his kids to play football because of the risk of injury. Lebron is one of the thousands of parents not allowing their kids to play football.
In contrast to declining interest in football, sports like volleyball have seen an increase in numbers. The fact of the matter is that kids and parents don't want to risk long term brain damage or other injuries when they could play another sport and be much safer. 
The sport may not be completely doomed. In recent years technology has improved to keep athletes safe on the field. Tacklebar football is a new alternative to tackle football that helps encourage safe and proper tackling techniques while also preserving traditional aspects of football. Players play in full pads but wear a harness with 2 foam bars on the lower back. To make a tackle, the player must wrap up the opponent and pull off the foam bars. This teaches players proper tackling and prepares kids for the next level of competitive football. Helmet technology has also improved dramatically.
With technology improving to keep players safe, hopefully, the sport of football can thrive for years to come.
About the Writer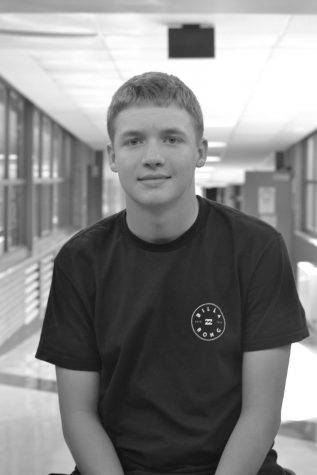 Flynn McGurrin, Sports Editor
Flynn McGurrin is a Sophomore at NAI who enjoys golfing and playing, watching basketball games and arguing about sports.