NAI's 2020 Spring Play: Clue
High school students bring their acting talent and energy to bring a great showing of "Clue" to the North Allegheny community
It's mostly known as a board game but NAI is turning it into their 2020 spring play. Actors and directors are proudly presenting the high school edition of Jonathan Lynn's screenplay, Clue.  
The story behind Clue is a group of people who are accused of committing a list of murders but the question is who killed who. When the truth comes out at the end, it will leave the audience in shock. 
Auditions were held in late December and production began the first week back from winter break in January. Cast, directors, and stage crew stay after school and rehearse for their shows on NAI's stage from 2:30 to 4:00 on Monday, Wednesday, and Thursday for the first three weeks of production. 
On Monday, tech week began where everyone stays after school until 5:00 every school day. When tech week concludes on Friday, dress rehearsals will begin on Monday, February 17th, from 2:30 to 9:00 where students will be in full costume and will have their microphone on as if they are putting on a real show in front of an audience.
The play is run and financed by NAI's counselors, Mr. Kiggins and Mrs. Feliciani, along with the help of seven student directors from NASH who have also participated in NAI's plays in previous years. 
Opening night for the show is on Thursday, February 20th, at 7pm. Other showings include Friday, February 21st, at 7pm, Saturday, February 22nd, at 2pm and the final show takes place that night at 7pm. They also will put on a private show for senior citizens only. 
You can buy your tickets for $8 at the auditorium doors of North Allegheny Intermediate upon arrival.  After a month and a half of practice and rehearsals, the actors and directors are ready for the community of North Allegheny and their families to see a great high school production of Clue. 
Cast
Wadsworth: Gannon Sprinkle

Miss Scarlett: Cassandra Pultorak

Professor Plum: Ben Balbach

Mrs. Peacock: Zoë Sage Tracey

Mrs. White: Sally Cho

Colonel Mustard: Lorenzo Zottolli 

Mr. Green: Seys Walker

Yvette: Anna Parsons

Mr. Boddy: Noah Lego

The Cop: Sarah Weller

The Motorist: Julia Berger

The Cook: Tyler Prosser

Singing Telegram Girl: Maeren Quirke

Agent 1: Anthony Durzo

Agent 2: Sharon Li
Student Directors
Julia Moose

Ian Rampton

Aleni Antalis

Skylar Rogers

Grace Elliot

Lucie Flagg

Daniel Schaub
Stage Crew
Joseph Ebbert

Ryan Clarkson

Emily Guarajdo

Lily Owens

Sharon Li
About the Contributor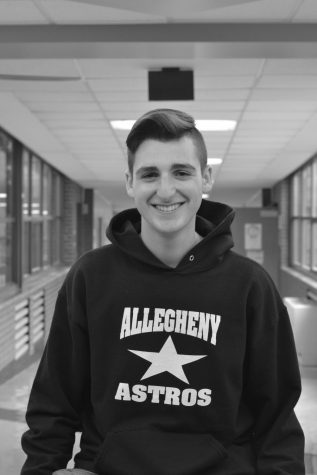 Anthony Durzo, News Editor
Anthony Durzo is a sophomore at North Allegheny Intermediate High School and this second year as a staff writer for NAI's student online newspaper, NAEye....