A Peek Through Time
Taking a glance at fashion over the last five decades.
Music, television, games, people, and so much more has changed over the decades. What about one of the most significant differences… fashion? Not only the clothes, but patterns, colors, accessories, shoes, and every other aspect in the fashion industry have drastically changed throughout the years.
Each decade had something new to show, and although some trends never left, many of them have burnt out. The evolution of fashion is something that does not only relate to one person, but it can be associated with everyone.
The 1960s was a decade full of babydoll dresses, gogo boots, and vibrant patterns. Women wore pantyhose and textured tights to match their long, vibrant dresses with white cuffs and collars. These outfits could be spotted on any woman throughout this decade.
Much of the fashion in the '60s was inspired by clothing in the '50s. For example, shift dresses were inspired by previously popular pencil dresses. These were casually worn around the house, the beach, or even to run errands. 
Hairstyles were all the focus during this time. In the early 1960s, women showed off Guiche curls to make them look like a babydoll. During the middle of the decade, many women styled short bobs and curled hair.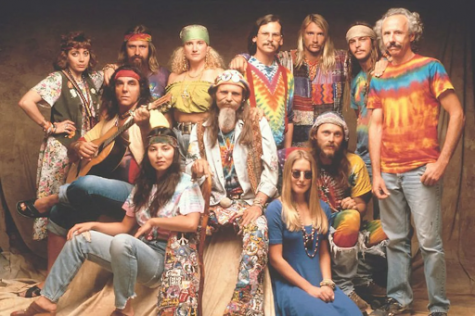 The late '60s held the time of the Hippie Movement which began as a result of the Vietnam War. Hippies were known as people that weren't necessarily involved with politics. However, soon people loved the style and beliefs of Hippies like peace and modesty.
Most hippies grew their hair extremely long. They wore loose, possibly handmade, clothing with flowy blouses. Tie-dye and colorful clothing began to show as the new style.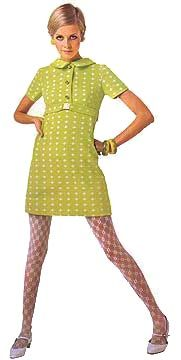 One of the biggest fashion inspirations of the 1960s was Twiggy. Twiggy was an extremely successful model and trendsetter who was known for her bold looks and iconic pieces. She was recognized by her cropped hairstyle, exotic makeup, and her multicolored shift dresses.
Vogue described the 1970's as a time when "There were no rules in the fashion game." Throughout the decade, pantsuits, denim, and more of an effortless look were featured. Many trends came and left, but added everlasting influences in the fashion world. 
Throughout the 1970s, the color palette included warm, earthy tones, not including vivid blues, oranges, and greens. Bright colors were not common at this time, and much of the light pastels had disappeared. Floral was a widely used print at the time, thanks to the late 1960s and, of course, the Hippie Movement that led into the early '70s.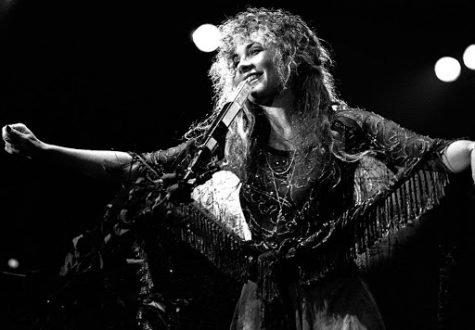 One woman who changed the 70's fashion game forever, was Stevie Nicks, a member of the band Fleetwood Mac. Her style incorporated boho and rock and roll, two predominant themes of the decade. Many fans took after her influence throughout the 1970s. 
Transitioning into the mid-1970s, hippie fashion was long gone and the style had moved on to fitted graphic tees and high waisted pants. This was a time in which the number of women entering the workforce skyrocketed. Many females wore "manly" pantsuits and trousers to compete with their men coworkers.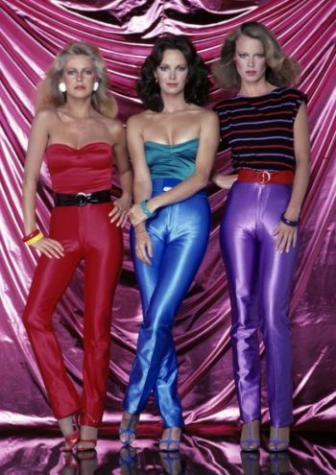 The last fad to grace the 1970's was the disco phase. During this time, women wore sequin tube tops, high slit skirts, and chunky heels. The somewhat vibrant colors in these late '70s outfits paved a way for the upcoming '80s fashion.
The 1980s-also referred to as a time of bold styles, colors, and silhouettes. Trends spanned from ripped tights to leather to oversized blazers. Due to greater access through technology to networks such as MTV, celebrities fashion was much more accessible to fans and viewers. Obsession with these celebrities brought fashion into the spotlight of pop culture. 
 Many describe the 80's as completely identifiable. Previous decades included one or two dominant styles at a time. However, the 80s' included several trends sharing the spotlight during lengthy periods.
 Everything was bigger and brighter. From the neon colors and leg warmers to the extremely high jeans that were ripped in the knees, this decade was extremely memorable. Style, as always, depended on the person, which of course led to new trends being created each day. 
Hair was big. Perms, mullets, and crimped hair with headbands were all displayed throughout the '80s. Accessories ranged from rubber bracelets to scrunchies to fingerless gloves, and although these seem unnatural now, some agree that fashion peaked during this time. Some of the accessories from this era can still be spotted today.
As one of the most noticeable fashion eras, the '80s undoubtedly left an everlasting effect on style. Many look back at the '80s and laugh at the diverse trends, while others take the opportunity to modernize them. Trends in the 1980s paved a way for a whole new decade, and a whole new wardrobe.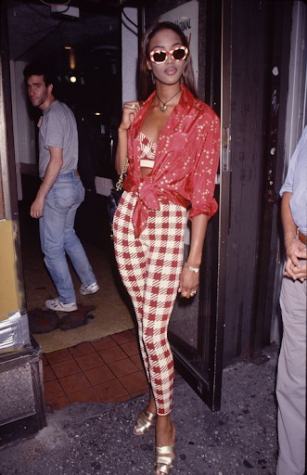 The 1990s flourished with crop tops, chokers, flared jeans, hoop earrings, scrunchies, and every pattern of Doc Martens. Most of the 90's fashion was considered to be edgy and daring. Much of these looks were distinguishably updated from previous looks.
Many aspired to look and dress like their favorite celebrities. However, instead of copying exact looks, individuals would attempt to recreate them in more of a modern way. The attitude, unique style, and exclusive fashion were almost at a whole new level from the '80s.
Almost everything was inspired by pop culture. At the start of the decade, supermodels greatly influenced common clothing. Naomi Campbell was one great supermodel of the '90s.
 Naomi not only inspired fashion in the '90s but is still inspiring many today. Her fashion sense influenced many of the clothing worn back then and even today. From little boys and girls to Gigi Hadid aspiring to be like Naomi and obsessing over the clothes she wears. 
90's fashion has managed to stick with modern society more than any other decade. Styles and trends such as chokers, mom jeans, and vans are still prevalent today. In almost any popular clothing store you can find some essence of the 90s.
The 2000s was a fashion era described as an international mashup. Previous global and vintage style made a return, as well as extremely diverse outfits from many subcultures. Hip-hop fashion was seen as the most popular choice among people at this time, as well as retro and boho. 
Environmental and eco-friendly clothing, like fake fur or recycled clothing, were extremely visible. Many of the trends throughout these years would strike big, but burn out extremely quickly. As the 2000s continued, fashion took examples from more looks in the 1960s.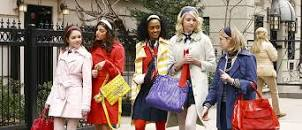 From low rise jeans, yoga pants, and capri pants to cowl-neck shirts, dresses over jeans, and chunky belts, the variety of fashion worn by people of all ages was endless. Women even wore ballet flats, platform boots, and jelly bracelets. Men repped bootcut jeans, classic rock t-shirts, fitted cowboy shirts, and seersucker suits.
Toward the end of the decade, babydoll, bubble skirt, and sweater dresses were in. Vivid colors, ripped acid wash jeans, and animal prints were reintroduced from the '80s. Everyone was inspired by everyone, which paved the way for older trends making their return.
Fashion trends have come and gone, and without previous decades and their dominant styles, our pop culture would be extremely different today. Although many trends are now burnouts, many of them still remain visible. Next time you look at your wardrobe, think about how many of your outfits are influenced by previous decades.
About the Writers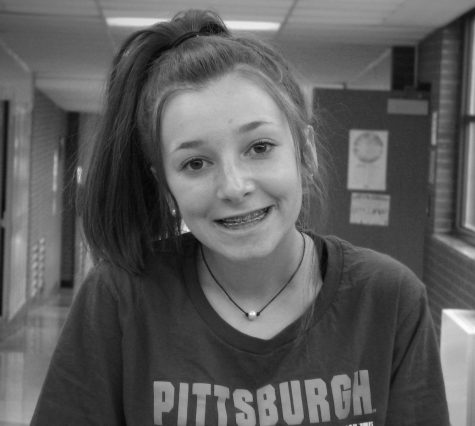 Dylan Dayton, Staff Writer
Dylan Dayton is a freshman at NAI. She plays lacrosse for the North Allegheny Girls Lacrosse team and a member of the student council. She is an honor...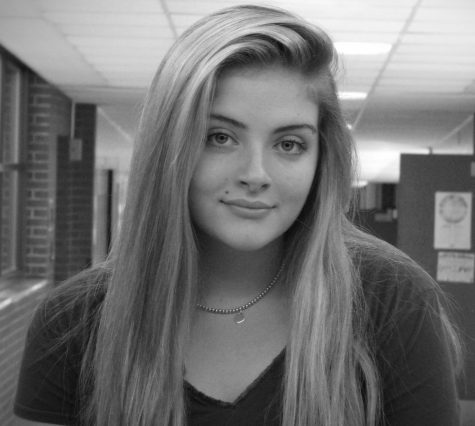 Ava Malfregeot, Staff Writer
Ava Malfregeot is a NAI freshman this year. She is a boxer for MAC gym and trains weekly. She enjoys writing, art , fashion, music, and her six dogs.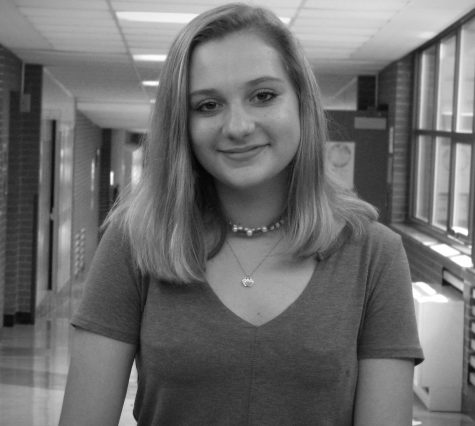 Annalise Arnold, Staff Writer
Annalise Arnold is a freshman at NAI. She is a passionate writer, and loves to create stories. She is a competitive Irish dancer. She loves taking her...