NAI Spotlight: Emily Gierczynski's Etsy
In a new series on the NAEye, we feature students with extraordinary abilities who take their passions to the next level.
North Allegheny is known for its talented people with many passions and unique backgrounds. Specifically in 10th grade, Emily Gierczynski, is very talented at painting. She has taken her painting to the next level and started an Etsy account where she sells the paintings she makes.
NAEye: How long have you been painting?
Gierczynski: I have been painting ever since I was very little.
NAEye: How did you get into painting? 
Gierczynski: I grew up with painting and grew a love for it beyond that. I remember doing art in elementary school and outside of school. 
NAEye: How long have you been on Etsy? 
Gierczynski: I have been on Etsy since the summer so less than a year. 
NAEye: How did you hear about Etsy and decide it was the best? 
Gierczynski: My mom told me about Etsy and I've also seen ads for it as well. 
NAEye: Was your plan to always go on Etsy? 
Gierczynski: No, when I had joined Etsy I had been painting a ton of Bob Ross paintings and doing mini paintings as well. I also figured that I could make some money off of it so I started selling. 
NAEye: What kind of paintings do you sell or do you have any themes? 
Gierczynski: I paint a lot with oil paint and do most paintings from that. I also do Bob Ross and mini paintings as well. 
NAEye: Was it easy to get on Etsy? 
Gierczynski: It was a lot of work to set up and very confusing especially getting the payment method set up. 
NAEye: What have you sold so far? 
Gierczynski: I have sold one painting to someone in Texas. It's been difficult to get the word out since there are so many people on Etsy already. But I have sold paintings to friends and people around. I expected business to be slow since Etsy is a really big website. 
NAEye: How do you come up with painting ideas?
Gierczynski: I usually just go off of things that I like and Pinterest is a big help!
NAEye: Do you have a lot of free time to paint? 
Gierczynski: During the school year, no. But doing the summer, yes. 
NAEye: Do you intend to keep painting as a part of your future?
Gierczynski: Yes I do, but not necessarily as a job. For now, painting is just a hobby. 
NAEye: What would you tell someone who is interested in painting or starting an Etsy account?
Gierczynski: You need to expect failure. You may not sell a lot in the beginning and that's okay. Just go with it and it may be hit or miss.
NAEye: What's been the hardest thing about having an Etsy and painting?
Gierczynski: Coming up with ideas is the hardest part about painting. The visions in my head are different than what I want sometimes so that can be hard. It can also feel like sometimes I'm doing the same things over and over since Etsy is a big website. 
NAEye: Is there anything you want to add about your Etsy? 
Gierczynski: People should go check it out! @EmilyLynnAesthetics on Etsy. 
NAEye: What does painting mean to you?
Gierczynski: Painting means expressing yourself without words and being able to put anything on a canvas.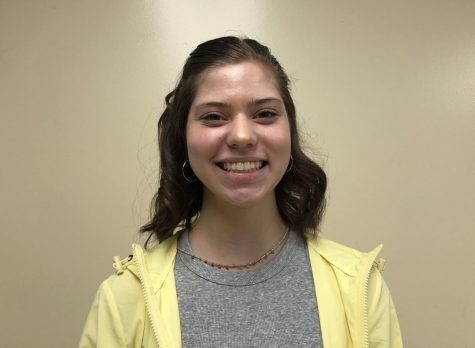 Emily took her skills and turned it into a business. She's an inspiration to others to pursue passions and other goals. And even though it may have taken her down a path she didn't expect, she is excited to see where this new route will take her. 
Leave a Comment
About the Writer
Madyson Cieszynski, Staff Writer
Madyson Cieszynski is a sophomore and this is her first year on the NAEye staff. She is a member of Key Club and the choir. Outside of school, she has...
Benjamin Pizon, Guest Writer
Benjamin Pizon is a sophomore at North Allegheny Intermediate High School. This is his first year being apart of the NAEye, creating artwork for articles....