How The Coronavirus Stimulus Bill Impacts This Country
While Washington D.C. has been pretty hectic and divided over the past few months and years, legislators finally came together to help Americans in need during this crucial time.
Recently, President Trump signed the Coronavirus Aid, Relief, and Economic Security (CARES) Act on March 27, 2020. It was sponsored by Rep. Joe Courtney (D-CT) and passed by the House and Senate after countless negotiations between the two parties. Then, it reached the president's desk where it became law. There is a significant amount of information in this piece of legislation that should be reviewed in order to understand in a nuanced way how it personally affects businesses and families across this country and at North Allegheny.
One of the main issues addressed in the bill is how income affects how much a person would receive in a stimulus check. Provided by the government, $1,200 will be given to adults who earn an at most annual income of $75,000. Couples that earn a combined annual income of $150,000 will receive twice the amount, $2,400. An additional amount of $500 will be sent for families with children under the age of seventeen, accounting for each child. April 16, 2020 is the expected date of a direct deposit payment if the IRS has access to bank information.
For those seeking unemployment insurance, $600 per week will be collected for the next four months. One of the most helpful assets when it comes to this topic is the expansion of benefits accessed to freelancers, contractors, and those who are self-employed. A brand new, provisional department called the Pandemic Unemployment Assistance program will assist any American who cannot work up until the end of 2020.
From now between September 30, 2020, federal student loan payments will be offset for borrowers if requested. In tax-free student loan repayment benefits, employers may provide close to $5,250. Fortunately, a 0% interest will remain on all loans until that date as well. A similar system will apply the forbearance of mortgages.
When covering small business, a maximum of $10 million can be loaned to business with less than five hundred workers. This money comes through the Paycheck Protection Program as a forgivable loan. There will also be $10 billion for grants of up to $10,000 provided as emergency funds for small business because they are currently inoperable.
Mid-size businesses and nonprofits will be receiving money allocated by the Treasury Department if they are based in the U.S. and have somewhere between five hundred to ten thousand employees. In the next six months, payments and interest will be absolved as long as employees retain 90% of their workforce.
Big businesses and corporations get significant funding along with local governments. The largest prize aids the Federal Reserve with $454 billion. $46 billion will be handed out to commercial airliners, cargo carrier airliners, and specifically Boeing because of its vital role in national security. Any business that is given loans is not permitted to buy back stocks or issue dividends. The loans only last for less than five years and companies must obtain 90% of their own employment levels.
The public health of this country will also be improved by supplying hospitals and the medical industry. $100 billion will assist hospitals for pandemic expenses and $27 billion will be provided for resources that are responsible for vaccine development. Because of the $80 million in FDA funding, drugs and masks are to increase in availability, as well as Coronavirus test kits. Medicare payments will increase to hospitals by 20% for people with confirmed cases. Veterans will be properly taken care of in the new $20 billion granted to their health care program. The CDC will be issued $4.3 billion, which can be distributed to others responsible.
The subject of fighting child hunger and encouraging child nutrition is addressed for schools to accommodate meals to students that would normally receive them in school. $8.8 billion will be allocated to assure that will happen. Food stamps are also supported in the Supplemental Nutrition Assistance Program (SNAP) with relief of $15.5 billion. This funding benefits not only states, but also territories like Puerto Rico, American Samoa, etc. Community food bank will also pocket an additional $450 million.
An important part of this bill satisfies what most Americans want—the absence of government corruption. To establish a check and balance on this new stimulus bill, a special inspector general is to be appointed to monitor the effects of the bill and the entire recovery of this pandemic. A committee will also oversee taxpayer money and loans to assist the inspector general. The president, vice president, members of the administrative Cabinet, and members of Congress and Senate are also ineligible to benefit from corporations and other institutions. This incentive came about after learning that four senators—Richard Burr (R-NC), Kelly Loeffler (R-GA), Dianne Feinstein (D-CA), Jim Inhofe (R-OK)—dumped stocks in their portfolio after being briefed of the negative economic impacts of the coronavirus. This is considered insider trading, which is illegal.
Overall, this legislation consists of a $2 trillion package, the largest and most expensive stimulus bills in history. This is the most simplified overview of the package.
| | |
| --- | --- |
| Key funded elements inscripted in CARES Act | Amount of funding being dispersed |
| Provided to hospitals for ventilators, PPE equipment, etc. | $127 billion |
| Funds to state and local governments. | $150 billion |
| For expanded unemployment insurance. | $260 billion |
| Given in direct handouts to qualified taxpayers. | $290 billion |
| For grants and loans that support small businesses. | $377 billion |
| Recent expanded lending for big businesses. | $510 billion |
"
What is in the CARES Act that is beneficial to your family?
"It will help my family in the economic fallout caused by the coronavirus by ensuring that my family's business will be stable."
Were you happy this bill passed?
"Yes, because without the act, my family would not be supported financially."
Does this calm any anxieties you may have amidst this crisis?
"Yes, it ensures that American families like mine will be able to keep their businesses and not run out of money to survive."
— Interview with Adit Singh, Freshman at North Allegheny Intermediate High School
About the Contributor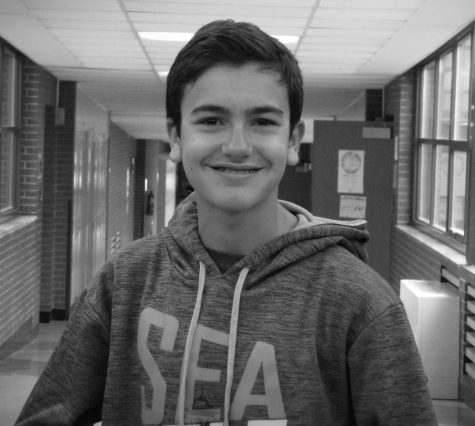 Matthew O'Connell, Staff Writer
Matthew is a runner, a student, a writer, a political junkie, and a human being.