COVID-19 on the Field: NAI's Student Athletes Play On
North Allegheny students remain eager to get back on the field.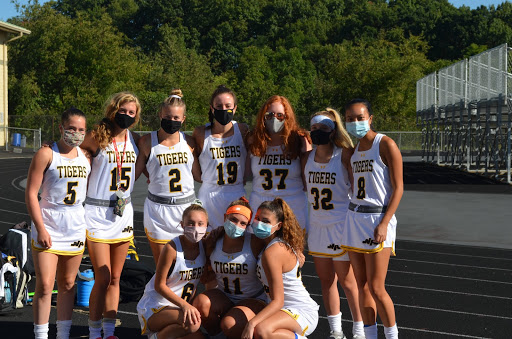 Since the COVID-19 outburst, sports have had to take drastic measures to keep a healthy environment. Although the season may have changed, players are working to keep a normal atmosphere. North Allegheny's staff and coaches have taken precautions to keep the players safe while still being able to participate in their sports.
The basic precautions that are taken in every sport in the district are, temperatures are taken at the beginning of games, and are always asked the 3 crucial questions (Have you tested positive? Have you been around anyone that has tested positive?  Have you had any symptoms?) When on the bench, waiting to play or getting ready to run, masks are worn while also staying 6 feet apart.
"
I miss being able to have normal races with everyone being able to run at the same time"
— Lizzie Bauer, Sophomore
Freshman football coach, Mr. Howell, said, "We haven't had any cases that needed to be shut down. We try to keep groups small and isolated and to keep the team as healthy as possible. During the game, it's challenging to social distance- unavoidable, but we keep players socially distant on the sidelines."
Since the start of school activities this year, wearing masks have been a mandatory rule for students to participate in their sport. The growing demand for sports and games has allowed our school to start exploring our options. North Allegheny, along with other school districts, have recently allowed games with spectators, as long as safety precautions are followed. Masks have been an effective way of staying safe while allowing our players to continue pursuing their sport.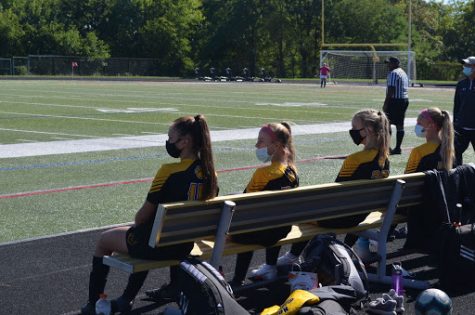 One of the biggest upsets with the coronavirus pandemic is that some sports are not allowed to have spectators at all. Girls and boys soccer are allowed to have 150 spectators at each game. The JV football team isn't allowed any spectators but for varsity, football seniors have 2 tickets for their parents. 
Players have expressed that they are thankful to have a season, but are upset about some of the mandatory restrictions that need to be followed. Although the rules are crucial to all teammates staying safe, Players have shown that they are upset about the limited spectators and social distancing rules.
Lizzie Bauer, a sophomore on the cross country team, has shared some of her opinions on the season. Lizzie had commented saying, "I miss being able to have normal races with everyone being able to run at the same time."
Overall, The changes in sports due to covid have made players work hard to maintain a "normal" season. 
About the Contributors
Elizabeth Heckert, Staff Writer
Elizabeth also known as Libby is a sophomore and has recently just started writing for the NAI news paper. Some of her interests are hanging out with her...