The Show Must Go On: COVID 19's Impact on National Football
The repercussions of COVID-19 have been tremendous when it comes to this year's football season.
It is no secret that COVID-19 has flipped our world upside down. From school to sports and everything in between, a lot has changed. Luckily, one thing has remained constant, and that is football. As of now, NCAA football and the NFL are forging on through the adversity to be able to play their seasons this fall. While football will still take place, there are many changes that are causing the seasons to take on an almost unrecognizable form. 
The NCAA is all over the place when it comes to this subject. Some of the football conferences are playing near-full seasons, some are playing an abbreviated season, and some teams are unfortunately not playing at all this year. The Power Five conferences will all be playing this year. This includes the ACC, SEC, PAC-12, Big-10, and Big-12. However, each one of these conferences has an altered schedule for their teams. ACC and SEC teams are scheduled to play 10 conference games, Big 12 teams are scheduled to play 9 conference games, Big 10 teams are scheduled to play 8 conference games, and PAC-12 teams are scheduled to play 6 conference games.
Originally, the Big-10 and PAC-12 were not planning on playing their seasons. The conferences cancelled their football seasons a few months back. Luckily, they each turned back on these decisions and decided to hold shortened seasons. This came as a huge relief to all the Penn State fans in the area considering Penn State is in the Big-10.
On top of this, some top players around the NCAA have already decided to opt out of this year's season for COVID-related reasons. Most notably, the number one wide receiver prospect for the 2021 NFL draft from LSU, Ja'Marr Chase, is not playing this year. He isn't the only one however, and many teams are suffering because of this. These players' decisions will prove to cause some shakeup in college football this season.
The other big part of these games is the number of fans allowed to each of the different stadiums. Some teams are allowing thousands of fans to come watch the game, some are only offering up a few hundred seats, and some are completely restricting in person attendance. These inconsistent decisions have put a sort of damper on the mood of college football this season. Gone are the packed stadiums with tens of thousands of rowdy fans cheering on their favorite team. Fans were always a big part of college football, so it's quite sad to see that no teams are allowing full capacity attendance for this year. 
Problems have also sprung up pertaining to the spread of COVID-19 within many of these teams. There has already been a number of cancelled games due to players being exposed to COVID-19. Just this past weekend, the highly anticipated LSU vs Florida game was cancelled because of a COVID-19 outbreak within the Florida team. Unfortunately for some of these teams, there is no reschedule in sight since there are such tight scheduling restrictions for this year.
Overall, NCAA football has been greatly affected by this pandemic, and this season is shaping up to be one of the strangest in history. This is not to mention the NFL though. It is debatable that the NFL has been affected even more than college football in its efforts to carry out as normal of a season as possible.
"
These inconsistent decisions have put a sort of damper on the mood of college football this season. Gone are the packed stadiums with tens of thousands of rowdy fans cheering on their favorite team."
There was one question on everyones' mind whenever the whole shutdown first started. What will things look like when the NFL is slated to start up again? Well, this question has been answered, but it is likely not the answer people were hoping for.
Luckily, the NFL is playing a full schedule this year, and shockingly, the part where people are actually playing football remains largely unchanged. However, there have been many setbacks when trying to find a way to play safely this season. From players opting out to empty stadiums, this season has seen it all.
To start, a plethora of players have opted out of the 2020 NFL season to avoid exposure to COVID-19. Star players such as Nate Solder, Eddie Goldman, CJ Mosley, and Dont'a Hightower have all chosen not to play. These players, as well as the countless others who have opted out, will definitely make a difference this season. The teams with the highest amounts of players to opt out are at the biggest disadvantage. Meanwhile, there are only three teams with no players opting out including the Pittsburgh Steelers, Atlanta Falcons, and Los Angeles Chargers. This may give an advantage to these teams over some of the other teams.
Another huge development for this season is the fan attendance policies. At the start of the season, very few teams were allowing fans into their stadiums. Now, a good majority of the teams are allowing fans into their stadiums, but they are only doing this with greatly reduced numbers. The average number of fans allowed to attend a game is typically under ten thousand. This is a large contrast to the normal average of about 70,000 fans.
Furthermore, COVID-19 has set other restrictions on the league this year. Masks are an exponential part of the 2020 season. All fans in attendance are required to wear masks, and coaches and other team personnel can constantly be seen wearing masks on the sidelines. There are no large press events before and after games, and obviously players are encouraged not to attend events where they are at risk for contracting the virus. Also, non-limited team practices are much fewer and far between.
Despite the league's best efforts to keep everyone safe, the spread of the virus within teams was bound to happen. In the days following the Tennessee Titans' win over the Minnesota Vikings on September 27, a number of people associated with the Titans tested positive for COVID-19 including a few players. This sent the league into a frenzy as the Titans game against the Pittsburgh Steelers that was supposed to be played on October 4 was cancelled. Schedules started to get shuffled around, and this created many headaches for league officials. On other teams, a few more players started testing positive and had to quarantine, and there was even a rescheduled game between the Tennessee Titans and Buffalo Bills that gave fans the first ever edition of Tuesday Night Football.
Evidently, this fall season is turning out to be one of the weirdest in recent memory. While some of the fun of the football season has been stripped away due to COVID-19 guidelines, it is great to see teams back out on the field again, and everyone is hopeful that normal seasons will be able to take place in 2021 without any restrictions.
About the Writer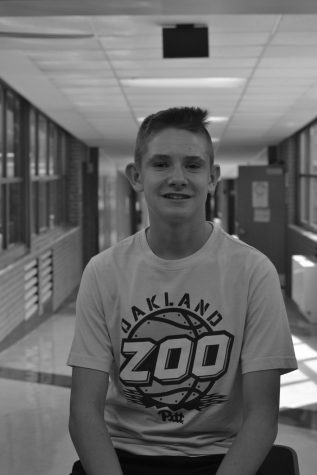 Dane McDermot, Staff Writer
Dane McDermot is a sophomore at NAI. An activity he enjoys is playing soccer with the boys.