Democracy in Limbo
With the 2020 presidential election right around the corner, both candidates fight for the position of power.
Over the course of the past several months, presidential candidate Joe Biden and current president Donald Trump have been partaking in altercations regarding the present and future leadership of the country. Within the last several debates, it has become drastically more evident that one candidate may not be fit for this position of power. 
Although the first official debate was held September 29, it was nothing more than a 90 minute childish squabble between the candidates consisting of mudslinging, name-calling, and persistent intrusions made frequently by Trump and occasionally by Biden. Moderator Chris Wallace of Fox News asked several questions regarding COVID-19, the economy, race, and many other pressing topics, however, very little headway was made due to both men's public disregard for each other's opinions. 
The second official debate was scheduled for October 15, however, president Trump contracted COVID-19 beforehand and was unable to attend the debate. The option of attending the debate virtually was presented, though, Trump declined due to the severity of his diagnosis. Trump has publicly announced his stance on masks, and was found wearing a mask for the first time in July, about four months after Trump declared COVID-19 a national emergency. 
Trump and his wife, First Lady Melania Trump, were reportedly diagnosed with the virus on Friday, October 2, roughly 24 hours after Hope Hicks, one of Trump's closest aides, was confirmed positive for the virus. Trump was then admitted into Walter Reed National Military Medical Center later Friday night, where he received supplemental oxygen along with other medications. While recuperating in the hands of Water Reed's finest medical staff, Trump openly announced that he was administered a dosage of Regeneron, an experimental drug showing promising outcomes in those diagnosed with COVID-19. 
After receiving top quality care, president Trump returned to the White House just several days after his diagnosis. Following several negative tests, Trump was able to safely attend the debate on October 22, where moderator Kristen Welker introduced a new tool to the candidates.
"
And I'm going to say, as I said at the beginning, what is on the ballot here is the character of this country, decency, honor, respect, treating people with dignity, making sure that everyone has an even chance"
— Biden
Due to the immaturity of both candidates at the first debate, a "mute button" was set in place to essentially 'mute' the candidates when necessary. When Biden was called upon to give an answer, president Trump's microphone would be muted to give Biden a fair and proper chance to answer, and vise versa. The mute button allowed for a more proper and mature debate that resulted in both candidates having an equal chance to state their arguments. 
With the use of the mute button, several statements were made by both candidates involving COVID-19, healthcare, and the border, as well as other pressing concerns. Trump continues to believe that the pandemic will "go away," while Biden states that "people are learning to die with it (COVID-19)." 
Just before the debate concluded, each candidate was asked one final question, which drew a stark contrast between the men. Both candidates were asked to give a statement as to what they would say to anybody who didn't vote for them. In response, president Trump once again deterred the question by reiterating that Biden is planning to raise tax, while Biden confidently answered the question at hand, by stating that he will represent all opinions. 
About the Writer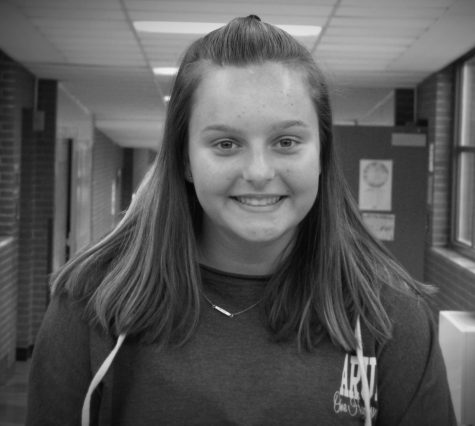 Abbey Kautzman, Staff Writer
Abbey is a sophomore, and this is her second year writing for the paper. She is on the NA majorette team, and she competes on the Sensations majorette...