NFL Playoff Preview
The addition of one extra team in each conference is sure to spice up the postseason this year.
The 2020-2021 NFL season was unlike any season before it. From COVID-19 issues to a plethora of injuries, this season has been one to remember. At times, there were doubts that the season would even finish due to the ever changing nature of this pandemic and the dangers that come with it. Luckily for fans around the league (especially fantasy football owners), every team in the league was able to complete 16 games. Now, it is time for the playoffs with a brand new 14 team format, so let's take a look at the contenders for this year's Lombardi Trophy.
Kansas City Chiefs
The Kansas City Chiefs showed out this year, proving they are hungry for another trophy after their Super Bowl win in the 2019-2020 season. The Chiefs have now clinched the number one seed in the AFC for the third year in a row with Patrick Mahomes under center. Their total regular season record during these past three years has been 38-10, showing how formidable of an opponent they are. This year, the Chiefs have once again rode the golden arm of their superstar quarterback Patrick Mahomes in order to achieve this feat. However, a stout rushing attack highlighted by Clyde Edwards-Helaire and Le'veon Bell has complimented this high flying passing offense, and the defense has had good enough play to solidify Kansas City as the team to beat in this year's playoffs. 
Buffalo Bills
The Buffalo Bills have arisen this year as one of the leagues top teams as their quest for a Super Bowl trophy begins. Young quarterback Josh Allen has proved any of his doubters wrong this year with his incredible stats and ability to lead this offense to new heights. Buffalo had one of the best passing offenses in the league this year with the help of Allen and the newly acquired Stefon Diggs to headline the wide receiver position. These two have emerged as one of the best pass-catching duos in the league, and I look forward to seeing what they can do in the playoffs. Besides just offense, the Bills' defense has played well enough throughout most of the season to keep them as a top contender, but they haven't been the lights out group that took the field in the 2019-2020 season. Despite this, the key to Buffalo's playoff success is going to be if Josh Allen can perform under the pressure in only his second career trip to the postseason and aid in fulfilling coach Sean McDermott's vision that was put into place when Allen was drafted back in 2018. 
Pittsburgh Steelers
After a two year playoff drought, the Steelers are returning to the postseason in quite interesting fashion this year. Pittsburgh got off to a hot 11-0 start this year before dropping three games in a row to very beatable teams. While they finished the season atop the AFC North, there were many people questioning just how good the Steelers are. Clearly, their record setting defense has been one of the best units in the NFL this season, but injuries and some spotty play as of late has shown that they are not unstoppable. On the other hand, the offense has looked rejuvenated after last season's disaster with "Big" Ben Roethlisberger back under center. The Steelers attack dominated teams during the first half of the season, but as of late, they haven't been able to get in top form due to inconsistencies in the passing game and a stagnant rushing attack. While the Steelers showed flashes of brilliance early on in the season, many are wondering whether they will be able to do enough to make it back to the promised land and earn Big Ben his third ring. 
Tennessee Titans
After a Cinderella run to the AFC championship game in last year's playoffs, no one knew what to expect from the Titans this year. Some people thought that last year was a fluke and the Titans would ultimately fail to live up to the hype while others pegged them to do even better than last year. Well, I would say they exceeded expectations with their division title this year. All season, Tennessee has rode the legs of freight train running back Derrick "King" Henry, allowing him to amass over 2,000 yards and 15 plus touchdowns on the ground. Pair that with Ryan Tannehill's continuous stellar play, and that is one offense to fear. If that unit is firing on all cylinders come playoffs, the Titans are going to be a scary team to face.  
Baltimore Ravens
Following a 14-2 season that ended in disappointment after a Divisional Round playoff exit last season, the Baltimore Ravens were hopeful to repeat that success. However, this hasn't quite happened. The high flying offense led by dazzling young quarterback Lamar Jackson has been largely stagnant this year with Jackson scoring less touchdowns, causing more turnovers, and totaling less overall yards. This could be seen as a bit of an overstatement as the Ravens are certainly still able to score points thanks to their well balanced and fierce rushing attack featuring Mark Ingram, Gus Edwards, JK Dobbins, and Lamar Jackson. While the offense has been less productive, the defense might just be more dominant than last year's group. With the additions of Calais Campbell, Yannick Ngakoue, and Patrick Queen, this defense is as scary as ever, and I pity whatever team has to face it on Wild Card Weekend. 
Cleveland Browns
For the first time since 2002, the Cleveland Browns have qualified for the NFL Playoffs. This remarkable feat has not been achieved without trouble, however, as the Browns have had to go through numerous embarrassing seasons including a 32 game stretch in which they only won one game in order to make it to this point. After an injury to star wideout Odell Beckham Jr. caused things to look grim for the Browns, they rallied and went on a hot streak to put themselves in playoff position. With a Baker Mayfield led offense headlined by probably the best running back duo in the league in Nick Chubb and Kareem Hunt, the Browns are sure to light up the scoreboard. As long as that happens, their defense led by an unsuspended Myles Garrett are able to do just enough to finish off the job. This season has been one for the history books for Browns fans, and I look forward to seeing what Cleveland can do in its long awaited return to the postseason.
Indianapolis Colts
The retirement of Andrew Luck prior to the 2019-2020 season put the Indianapolis Colts in a tough spot going into last season. For the entire year, they had to start career backup Jacoby Brissett at quarterback which ultimately led them to a disappointing season. This year however, the tide has changed for the Colts as they are now staring down a return to the playoffs. The addition of veteran Phillip Rivers, multiple defensive studs, and a couple of great draft picks have proved the Colts are now ready to contend for a title. Their shutdown defense paired with an offense that can consistently move the ball have displayed Indianapolis as one of the most balanced teams in the NFL this year, which should prove momentous during the playoffs. 
"
The 2020-2021 NFL season was unlike any season before it."
Green Bay Packers
The Green Bay Packers have gone 13-3 for the second season in a row, garnering their second consecutive first round bye. Critics have said that last season was all luck and Aaron Rodgers is getting too old. However, this season has proved them very wrong. Green Bay proved to the world why they deserved the number one seed in the NFC, and Aaron Rodgers has posted a MVP caliber season, proving himself an ageless wonder. After the Packers drafted quarterback Jordan Love in the first round of the 2020 NFL Draft, Rodgers was furious as he feared the organization was going to try to push him out. Therefore, many feel as though this anger is what allowed Rodgers to pull off such an incredible season with the help of star wideout Davante Adams. Alongside this, Green Bay's defense has proved it is able to keep the Packers in games, and the unit plays very well with momentum. Given they are able to play at home in Lambeau Field throughout the playoffs, the Packers are going to be a formidable foe to face come that time. 
New Orleans Saints
The team that many expected to be the number one seed got off to a rocky start in 2020. New Orleans started the season at 1-2 after three games, but they quickly went on a hot streak, winning nine games in a row. Despite the fact that the Saints typically look to their offense to carry the load, it was actually the Cameron Jordan and Marshon Lattimore led defense that allowed the Saints to win so many games. Their defensive unit was one of the best this team has had in quite a few years, and they had to especially rely on the defense this year due to key injuries to star players such as quarterback Drew Brees and receiver Michael Thomas. Luckily, running back Alvin Kamara was able to carry the offense to new heights, solidifying his spot as one of the game's top running backs, and he was able to make Taysom Hill's job easy when he came in to start for Drew Brees for four games. As usual, New Orleans is looking like a title contender again this year. However, I wouldn't get too excited about their chances as they have a history of heartbreaking playoff exits in recent years. 
Seattle Seahawks
Russel Wilson has led the Seattle Seahawks to yet another impressive season as he continues to work his magic. After a flashy 6-0 start, the Seahawks lost three consecutive games, but they were able to finish out the season at 12-4. Seattle's lethal passing attack has carved up numerous defenses this year led by Wilson, Tyler Lockett, and DK Metcalf, and it is a unit any defense that has to face it should fear. Wilson output multiple MVP caliber performances in games this season, but it is going to be crucial for him to bring some of that play to the postseason. The other major factor in the Seahawks' potential success is their defense which has played very inconsistently. If their defense led by recently acquired Jamal Adams can hold down the fort, then Seattle should have no problem making a deep run in the playoffs. 
Washington Football Team
Washington Football Team. A very unusual new name for the team that resides in Landover, Maryland may prove as a change in times with Washington's first playoff appearance since 2015 coming this year. The Football Team has shown that they are contenders with their performance this year, and they have been an inspiration to football fans across the country. Their potent defense, led by second overall pick Chase Young, has been a stone wall against teams, and this group is the main reason for their successes. On top of this, first year head coach "Riverboat" Ron Rivera has shown both his skills as a coach and his character as a person. Rivera was diagnosed with cancer shortly before the season started in August, but he still decided to coach this year during his treatments because of his love for coaching. Furthermore, quarterback Alex Smith has resumed his role as a starter following a nearly two year absence due to a gruesome leg injury back in November 2018. Washington was so confident in the return of Smith that they released first round quarterback Dwayne Haskins in December. The offense has also been assisted in its valiant efforts by second year wide receiver "Scary" Terry McLaurin and unknown rookie running back Antonio Gibson. While the Football Team isn't expected to win even one game in the playoffs, they are a great underdog story that everyone can't help but root for. 
Tampa Bay Buccaneers
Tom Brady's Tampa Bay Buccaneers are certainly one of the more intriguing teams in the playoffs this year. They were easily the most hyped up team coming into the season, and I would say that they largely lived up to the hype. In head coach Bruce Arians' first season last year, the Bucs performed decently while finishing at 7-9. What followed was a rather impressive offseason in Tampa Bay. Tampa signed legendary quarterback Tom Brady from free agency, signed running back  Lesean "Shady" McCoy, drafted lockdown safety Antoine Winfield Jr. out of Minnesota to bolster their defense, brought superstart tight end Rob Gronkowski out of retirement in a blockbuster trade, picked up young tailback Leonard Fournette to round out their backfield, and pulled talented wide receiver Antonio Brown out of retirement in a move no one saw coming. To say the ceiling was high for these Buccaneers prior to the season would be a major understatement. After 12 games they had a respectable but not incredible record of 7-5, but they finished the season with four straight wins to go 11-5. With a favorable matchup against the Washington Football Team in the first round, Tampa Bay is going to be the wild card team to watch out for this year. 
Los Angeles Rams
Sean McVay makes his return to the postseason with the Rams after missing out on January action last year. Los Angeles finished 10-6 this season to lock up the second wild card spot in a very solid 2020-2021 campaign. The Rams were able to achieve this feat with likely one of the more balanced sides in the NFL including playmakers on both sides of the ball. Their defense, led by Aaron Donald and Jalen Ramsey, was unstoppable as they clobbered most offenses that went their way. Meanwhile, a three man rushing attack, headlined by rookie Cam Akers, paired with the passing attack, featuring Jared Goff, Robert Woods, and Cooper Kupp, was an excellent combination in helping the Rams towards success. However, the X-factor for Los Angeles in the playoffs is whether or not someone on the offense is able to make the big plays when they need them to. Obviously the defense is capable of doing so, but the offense needs to prove its capabilities. 
Chicago Bears
Chicago had a strange road to the playoffs. Despite losing their final game and finishing at 8-8, they were still able to sneak in with the final seed. The Bears began the season at 5-1 before dropping 7 of their last ten games. They saw uninspiring play from both Mitchell Trubisky and Nick Foles at quarterback as each tried to find their footing. Trubisky was named starter at the beginning of the year before being benched in favor of Foles. However, that experiment failed as Nick Foles played awfully, and Trubisky came back with some slightly better play that allowed the Bears to stumble into the playoffs. Aside from glaring issues at the quarterback position that have squandered potential success, Chicago is a tough opponent. They have a classic Bears defense which is fierce and very talented. The offense contains playmaking wide receivers Darnell Mooney and Allen Robinson II, and second string running back David Montgomery has played marvelously following a season ending injury to starter Tarik Cohen. For this Chicago team, their final performance is going to be largely independent on how well Trubisky plays. If he can perform, then the Bears may be able to do great things in the playoffs. 
Clearly, the 2021 NFL postseason is preparing to be quite an exciting affair. After a wildly entertaining season, 14 teams remain to battle it out this January. Underdogs, powerhouses, and others are all striving for the same goal of a Super Bowl victory, and I wish good luck to all the teams in their endeavors.
About the Writer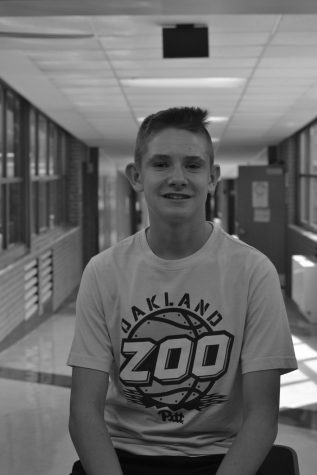 Dane McDermot, Staff Writer
Dane McDermot is a sophomore at NAI. An activity he enjoys is playing soccer with the boys.