Quarantining Questionnaire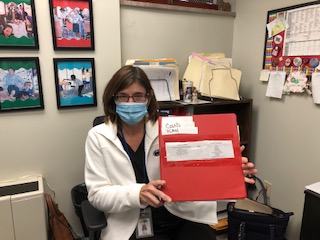 Recently we interviewed a person at NAI on the frontlines of the long persisting covid struggle. Our own Nurse Kelley. We had the chance to sit down with Nurse Kelley and ask her all the pressing questions, we assume, the students and parents of NAI have had…
To preface  Nurse Kelley along with being the resident nurse at NAI is also the President of the Pennsylvania Association for School Nurses and Practitioners. She has been a part of the state task force, on returning to school during covid and has testified before state congress and the PA education committee on back to school protocols, for this year.
Do you have any personal thoughts on covid?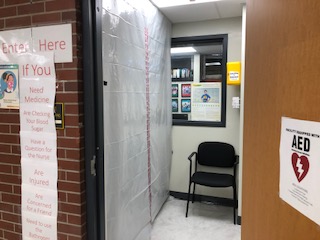 Nurse Kelley: "I think these times are stressful for families. Quarantining, shutdowns and the chance of catching the virus causes fear. However, I find it fortunate that young people seem to do well when they contract covid. Because our clients here are young people. However, I do have concerns about the staff or bringing illness home to more vulnerable members of families.
I am blessed to work in North Allegheny, as the administration has been very cautious in keeping the community safe and healthy. The nurses have been very well supported."
Who is incharge of prepping the school?
Nurse Kelley: "Myself and the other nurses in the district spent the summer watching webinars, educating ourselves reading research, and advice from the PA department of education, the PA department of health and the CDC, we had to do a lot of learning. So when we come in contact with students who have, or are affected by covid we have the most updated information, to help in the best way possible. As well as learning how to set up our offices, you may have noticed the plastic separating a sick side and a good side (add a picture of partition here) to try to keep students, who may have covid aside from those coming in for regular things. We have a lot of PPE(add gown picture). We have signed on keeping safe through the hallways. And a specific covid plan(insert binder picture). All in all we have had a layer of extra preparation this year."  
How do you know when there is an influx of cases?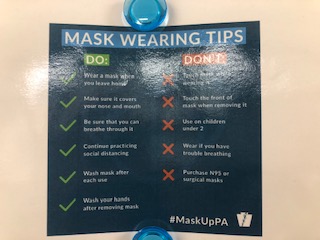 Nurse Kelley:  "North Allegheny has a tracker. It divides up the cases per school or department and shows the number of quarantine staff and students and active and inactive cases. As a North Allegheny community member, one can look at this tracker and be aware of the covid situation. And while most cases have been at the high school level, North Allegheny Administration has been proactive on keeping the tracker updated for everyone's knowledge."
 What are the quarantine measures and requirements?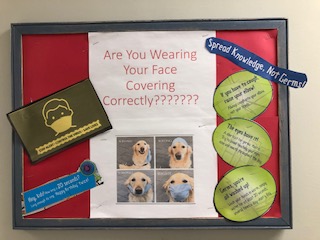 Nurse Kelley: "If we find someone showing symptoms of Coronavirus, they would have to be isolated for ten days, after the start of symptoms, the person would have to be symptom-free for twenty-four hours before the isolation is lifted. Someone living with an isolated person would have to quarantine for fourteen days after the first isolation ends, to ensure that neither the person with symptoms nor the people they live with still carry or feel covid. The whole thing is a lengthy process and takes about twenty-four days in total. Even if a person was just around an asymptomatic or sick person, and they take a test that comes back with a negative, they would still have to quarantine."
What is the contact tracing process?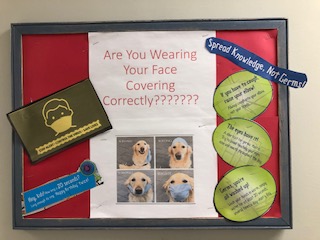 Nurse Kelley: "If we find that a student had come into contact with or is a person, with a positive test, the first questions would be if they have any siblings in the district. Who they've had contact with for fifteen minutes or longer in the twenty-fours, starting two days before they showed symptoms. After those questions have been answered and those people have been given proper instructions on what to do. NA Admin has mandated, we ask everyone they have classes with, if they're on a team, their teammates, all to quarantine for fourteen days. Athletic activities especially, as they have a higher risk due to not wearing a mask during games and practices."
For Clarification: the person who has a positive covid test must be quarantined, then all the people they have come into direct contact with are also quarantined. Indirect contact (like siblings classmates, would not have to quarantine, even though the sibling does)
What is the quarantine Cutoff?
Nurse Kelley:" If a person comes in with symptoms, they would then be checked out and asked about any known contacts with covid after we assess the situation. They would then be sent home and would have to request to take a covid test with their doctor because their symptoms are suggestive of covid. The PA Department of Health has given a list of specific symptoms to look for and has categorized them on similarity to covid and necessity of speed of action (insert covid binder picture left column-more covid specific, right side-less specific)."
For Clarification: If a person comes in with symptoms, that is assessed as similar enough to specifically covid, they will need to get tested and if it comes back positive, then the above contact tracing process begins.
We sincerely thank Nurse Kelley for all her help both in answering our questions and in keeping us safe in school.  Also, Nurse Kelley would like to reiterate that North Allegheny is following the most recent and updated guidelines on the CoronaVirus, to meet everyone's needs appropriately.