Lil Nas X Finds His Voice on "Montero"
Lil Nas X released his long-awaited album Montero on Sept.17, 2021.  He first announced he was working on the album in February, 2021
Lil Nas X's real name is Montero Lamar Hill.  He dropped his first song "Old Town Road" in 2018.  He was just 15 years old, but his first song blew up the internet.  
Since then, Nas X has used his platform to bring attention to the representation of black queerness in the music industry, and the world.  Nas X also uses his songs to bring attention to homophobia in the hip-hop Industry.
Montero is Nas X's debut album.  The first track on Montero is "MONTERO (Call Me By Your Name)".  Nas X said that "Call Me By Your Name" is a "comedic clapback" to critics.
Nas X said, "My intention was always to be as entertaining as possible, I'm not like trying to comfort anyone, or their children."  
In an interview with NPR,  Nas X said "I'm still getting used to writing personal stuff in songs, and being open to people about things happening in my private life.  But I really want to be honest with fans, remind people that I'm a human being and we all have the same situations in different forms."
When asked how the homophobia in hip hop has affected his relationship with it, Nas X responded, "There's a long build of homophobia, not even just in hip-hop but in the world.  It's something that has been molded for a very long time, and I understand that it takes a lot for people to unlearn."
Nas X even admitted, "I've thought that way in one point in time – it's the reason that there's still a lot of people who are extremely racist."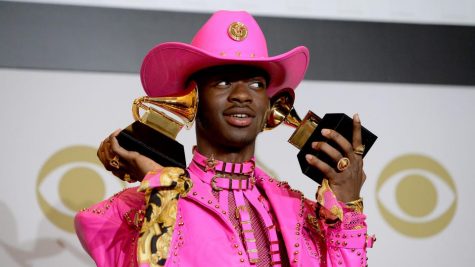 The eleventh track on Montero is "SUN GOES DOWN".  In an interview with Genius, Nas X said that he got the title from his own experience: "All these thoughts, they would, like, manifest in the night time for me."
As a child, Nas X had to deal with racism.  One line in "SUN GOES DOWN" is "Since ten, I've been feelin' lonely; Had friends but they was pickin' on me; Always thinkin', "Why my lips so big?" Was I too dark?".  Through the song, Nas X talks about how he dealt with bullying.
Nas X admitted to having depression and suicidal thoughts, as a result of the bullying he experienced in his youth.  He used music to feel at peace, especially Nicki Minaj, and said he felt safe expressing his feminine side while listening to Minaj.  Music gave him the confidence to be who he truly is.
Nas X also said quarantine helped him realize he wanted to be more authentic in his music.  Now he is more confident in his music, life, and sexuality.
Rapper Jack Harlow (featured on "Industry Baby") says Nas X is giving a voice to many kids and adults who need it.  Nas X hopes that Montero helps kids who went through the same thing as him feel confident.