Best Hiking Trails Near NAI
The McCandless area of Pittsburgh is known for its many attractions.  There are malls, car dealerships, and shopping centers galore. But tucked away in the woods just about surrounding the area, there is an abundance of hiking trails. The area has hiking trails hidden from the public eye. These trails usually offer a more quiet, peaceful experience than the busy suburbia nearby.
In the woods near NAI, gym teachers sometimes take their students on the school's hiking trails. These trails are well preserved and overall pretty private, an excellent setting for an early morning hike. But while you hike some of these pathways, all you can hear is the overpowering sound of cars and pedestrians from the busy roads nearby. To many, these noises can transport you out of the wilderness and back into a walk near the school.
Physical Education teacher David Schmidt, on the other hand, disagrees, saying "I wouldn't say too noisy, but they're definitely not as nice and peaceful as other trails are." But Schmidt still admits that the trails may not be perfect. "One of the nice things about hiking is getting away from the noise, so if you're hiking here you're still getting a lot of peace and tranquility," he said, "but you're getting lots of traffic noise, construction noise as well."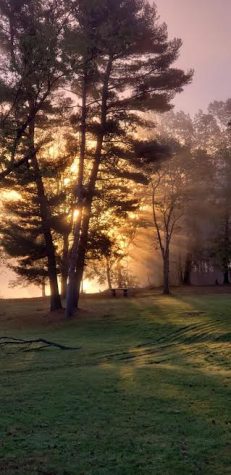 The Rachel Carson Trail, which is just an eight-minute drive away from the school, is an absolutely beautiful hike. It's accessible every day of the year, but the best time to hike it is late fall, when the trees have all turned into their autumn colors.
There is, however, just one problem with this trail. It's 45.7 miles long, stretching from Harrison Hills County Park to North Park. The start of the trail is a whole 41-minute drive away from NAI. The path does have parking lots along the way so that you can start at places other than the head of the trail, but I digress. The trail is, overall, a wonderful experience in nature.
Last but certainly not least there are many, many hiking trails of North Park. According to trailpittsburgh.org, the park has over 43 miles of trails, not including unofficial ones made by visitors. The park and its trails are both close in proximity and are isolated in nature, the perfect recipe for a great hike. The wildlife is simply spectacular. Some smaller trails are great for birdwatching, a fun activity to do while you hike. I can't really find any big cons to hiking at North Park. The trails are quiet, clean, and overflowing with life.
Even though the weather is changing, it's still a great time to hike. The trails may be snowy, but there's almost a guarantee that there will be little to no people. It's perfect for a peaceful moment in nature.