NAI Students Celebrate Learning to Drive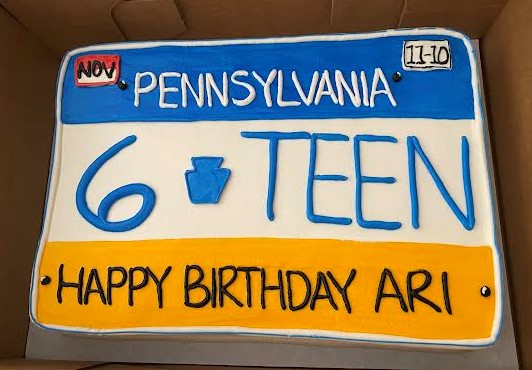 On November 10th, sophomore Ari Stuart was finally able to relax since she received her driver's permit after five long weeks of studying for the permit test.
Stuart said this milestone is "Kind of surreal, nerve-racking, and exciting all at once." 
Often one of the most exciting things for many teens turning sixteen is getting a driver's permit and starting to learn how to drive. As they begin to turn 16, sophomores like Stuart are beginning to get their driver's permits.  
Stuart studied for her test using the PA drivers practice test app that allowed her to prepare for the real permit test. She felt that the process was pretty dull, but when other people helped her out, it was more enjoyable. Her mom is teaching her how to drive in the parking lot behind St. John Neumann Church whenever they can, but she's looking forward to driving around on the streets, acknowledging that she holds a lot of power when she is behind the wheel.
Likewise, sophomore Andy Lewis got her permit on October 21st, the day after her birthday. Lewis says, "[I was] Honestly kinda nervous. I didn't want to miss more than three questions on the permit test and then have to retake it."
Although the process of studying for a permit test will allow teens to get a license, learning to drive is something different entirely. Driving becomes a reality after receiving a permit, which can be somewhat alarming for teen drivers. After all, there are many cases where teen driving ends in car wrecks.
"
[It is] a little scary but as long as you are careful and focus on what you are doing you should be fine."
— Andy Lewis
The CDC reported that almost 2,400 teens in the United States from the ages of 13–19 were killed in 2019 from motor-vehicle accidents. However, this does not deter Lewis, and she says, "They are a little scary but as long as you are careful and focus on what you are doing you should be fine." Although the statistics about teen driving can be intimidating, many accidents can be avoided by having more practice and experience with safe driving. 
Even though they'll be able to learn to drive in many different settings. students at NAI do not have the option to drive to school like students at NASH. Stuart agrees with this rule, and says, "For the size of the parking lot…I feel like it's more practical to say that no one can drive to school since there isn't enough parking space. I can get behind their reasoning for it."
Some people think NAI students should not drive to school because it is too much responsibility to give to sophomores. Stuart says, "I'd say it really depends on the student and whether or not they can handle that."  
Lewis agrees because she thinks that "Even students who have their permit are still extremely inexperienced so it is a danger to anyone on the property." She thinks that having students drive to school right after getting their permits would be an inconvenience for everyone else because they do not have the same experience their peers that drive at NASH have.
While the rules may change one day and allow sophomores to drive to and from school at NAI, they stay firmly in place now. Students who start driving during their sophomore year will have to stick to parking lots and neighborhoods for a while and leave the driving to school to NASH students.
The milestone of learning how to drive remains very thrilling for most teens. Despite the daunting statistics about teen driving, inability to drive to school, and many lessons to learn. Learning how to drive is still an exciting coming-of-age experience for many teens.