NABA Season Comes in Stronger than Ever
North Allegheny Basketball Association is all the rage during winter.  NABA Athletes enjoy the stressless outlet of basketball.
North Allegheny students love participating and competing against each other.  There is a girls NABA league and a boys league.
In NABA, there is a draft to form the teams.  One or two of the players' parents are the coaches.  In high school, the teams consist of freshmen and sophomores, or juniors and seniors.
Their games are 40 minutes on a running clock.  They play on weeknights and weekend afternoons.
NABA sophomore player, Stone Gaertner, said that NABA is a "stress-free game that is more fun than high school" and fellow NABA players Evan Lyon and Will Hahn agree. Sophomore Shauna Maenza, a girls NABA player, said that "[NABA] has equal playing time, teams are smaller, there is no stress, and we don't practice every day".  
Maenza said the main reason she loves NABA is because of her friends. She enjoys playing with and against some of her best friends.
Hahn and Maenza have only one complaint about NABA.  They both said the late weeknight games give them less time to do their homework.  Late games also interfere with their sleep schedule.  
Hahn said, "The late games interfere with club volleyball", this means students who play winter sports have back-to-back practices, or can't even compete in NABA if they wanted to.
Not only do the players love NABA, but all North Allegheny students also do.  Peers go to the games to cheer on their friends and classmates.  The fans get really into it.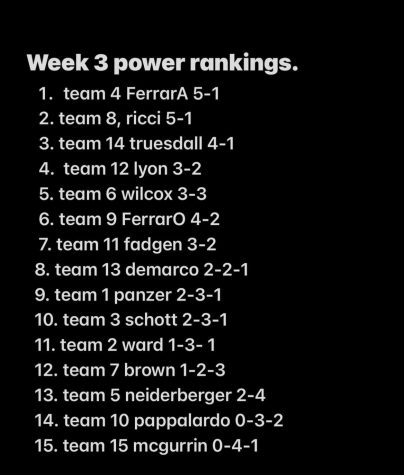 A couple of NABA super fans took it to an extreme.  They thought that everyone should get to know the highlights and outcomes of the games, so they created the @nabaofficial21 Instagram page.
The people who run this account post interviews of the players after games, and game-winning shots.  277 NAI students follow this account.
Many students show up to the games to support their favorite team.  @nabaofficial21 posted a ranking of the 9-10th grade teams.
All together, NABA is a fun, stress-free community that helps the athletes and the fans have fun.