Serving Up The Inside Scoop On NAI Teacher's Ice Cream Truck
NAI teacher Greg Geibel's dream of having an ice cream truck was made real by the power of his 'what if…" mentality. Playing the guitar, cars, photography… ice cream truck?
Geibel, a 10th grade English and Yearbook teacher, is a self-described "old car person." He and his wife share the interest and enjoy going to car shows, always hoping for the possibility of having their own "old school, slick ice cream truck," as Geibel described it. Last year, the couple had an opportunity to make their wish a reality.
"In May, driving down McKnight road, we saw, behind the dry cleaner, an old truck that fit our visions. So, we brought this old truck," Geibel said, "and then spent the last four or five months making it into an ice cream truck."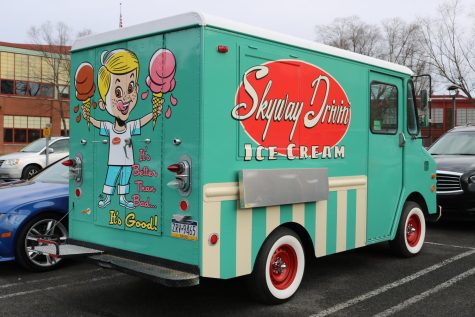 Geibel's grandparents owned two drive-in movie theaters. Growing up, he worked at Skyway Drive-In, in Butler PA, which became the inspiration for the truck.  "Using that name as a bit of an homage to my grandparents, we changed the spelling a bit: Skyway Drivin' Ice Cream."
The truck was not in good shape and needed many renovations. A window was put in for serving the ice cream. New tires and wheels were added as well. One of his friends works in a body shop and gave the truck a paint job. Another friend did the logo. After some hard work, the truck was all fixed up.
Geibel had a soft open last year, going to some neighborhoods and giving ice cream out for free. At NAI, they held a fundraiser, and teachers were given free ice cream if they donated to the James R. Wall Scholarship Fund, which raised $663. Bigger occasions like this one are Geibel's goal.
"We're looking to do maybe some events, parties, birthday parties, weddings, homecoming dances, and things like that," he said. He also mentioned catering football games and festivals.
The ice cream truck will sell prepackaged, novelty ice cream. He listed Spongebob bars, Spiderman bars, and ice cream sandwiches as examples. Geibel explained the reasoning for this, saying, "the permits and licenses are not quite as strict."
"
This is just one of those things that for ten years we've said 'wouldn't it be cool if' and now we have it."
— Greg Geibel
Having two jobs can be time-consuming and difficult, but Geibel is sure that he will have a good balance between his teaching and ice cream selling.
"I think what's nice about the ice cream truck is that it's a summertime activity. Come fall and winter and spring, nobody really is excited about ice cream, so it'll be fun."
Geibel added that his ten-year-old daughter is looking forward to the truck and jokingly said that it will be her responsibility, though many friends offered to volunteer.
Geibel credits a 'what if' mentality for making his dream come true.
"I think magical things can happen if you begin sentences with 'what if'. 'Wouldn't it be cool if'," he said.  "This is just one of those things that for ten years we've said 'wouldn't it be cool if' and now we have it."
---