Availability of Live Music Aggravating Teenagers
The pandemic has added to the difficulty of seeing artists live.
Live music is a place of sanctuary that makes people feel as thrilled as ever, but musicians can't tour every city and country across the world. 
When the public's favorite artists or bands don't come to their hometown, they proceed in many different ways. 
When asked if her parents would allow her to travel for a concert, Sophomore Ayah Sabil, said that she "wishes" but her parents would "never let traveling happen".
Many people, especially teenagers, are or have been in the same situation. Their decision would be to travel if they could, but they aren't allowed.
Traveling, however, can get expensive depending on how far the trip is. Plane tickets, gas money, hotel rooms, concert tickets, and how it's being paid for all have to be taken into consideration.
Many teenagers don't have jobs, as they are busy with other events such as sports, academics, clubs, etc. According to the U.S. Bureau of Labor Statistics, 9.6% was the unemployment rate of teenagers from 16-19 years old in July 2021.
Sabil is one of these teenagers, as she says she would have "no way to earn the money" to travel for a concert. This results in a major problem for many people around the world.
During the Covid-19 pandemic, concerts were performed rarely or not at all. In the early stages of the pandemic, vaccinations weren't out at all. This forced fans like Ayah to miss out on an experience of a lifetime.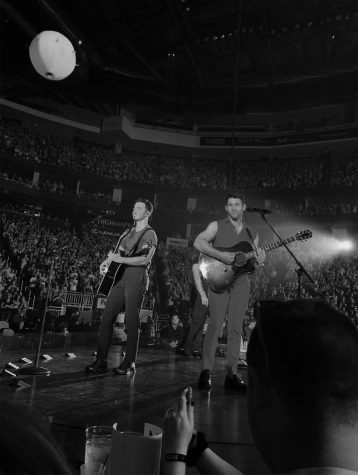 As stated in an article reported by Vulture, popular artists' concerts have been canceled or postponed such as Taylor Swift, Harry Styles, and Billie Eilish have been canceled or postponed. This can cause an extreme amount of people to be upset because they are some of the most known artists across the nation.
As more people get vaccinated, both fans and musicians are yearning for live music, but there could be many reasons why artists still don't come to a city.
According to By The Barricade, the city might not be big enough, there isn't a suitable venue, or Covid-19 has impacted the population too greatly.
Living in Pittsburgh, Ayah doesn't typically have to worry about these problems because she has a large city and many venues such as Heinz Field, PPG Paints Arena, and PNC Park. This leaves the possibility that Covid-19 is the reason for a decrease in live music.
When asked how much she relies on music, Ayah says that she "rarely goes anywhere without AirPods". Many people have difficulties at home. Music is one of those things that helps people like Ayah escape from the world around her.
Covid-19 has affected the availability of live music, and hopefully, as people recognize how much music has made an impact on people, there will once again be growth in live music across the world.