Freshman Golfer Chris Hoffman Shines in Stellar First Season
Among the names in the most recent class 3A WPIAL Golf Championship, one freshman's name stands out from the rest, North Allegheny's own Chris Hoffman. 
Hoffman was one of just four freshmen in the tournament, competing against the best sophomores, juniors, and seniors in the WPIAL, a huge accomplishment for himself at such a young age.
Hoffman started his high school golf career by shooting a 76 at North Park Golf Course on the first day of tryouts. He then followed it with an 89 on a rainy day at Suncrest Golf Course and finally a 40 on nine holes at North Park. He finished as the number one golfer by one stroke.
But when the season began, Hoffman got off to a rather slow start by his standards. He said, "I was nervous at first, but once I met the team I started to feel comfortable about my game." Once he became situated, the good scores came rolling in.
Out of the 17 matches the team competed in, he finished first or tied for first in nine of them. Additionally, he led the team in scoring average, averaging 39.5 strokes on nine holes. This was 1.5 strokes less than the next team member.
Despite his heroic efforts, the NA team did not advance to the WPIAL playoffs. However, Hoffman's season continued in the individual postseason. A round of 78 at Shannopin Country Club placed him in 4th in a challenging field of Section 3 golfers and easily propelled him into the semifinal round.
In the semifinal, Hoffman again faced tough competition. He needed to place in the top 36 out of 72 in order to qualify for the final round. Hoffman rallied a round of 81 with four birdies to finish 25th. For him, the wait after the round was a nail biter, hoping that his score would hold up and indeed, it did. He then set his sights on the next round.
In the days leading up to the individual final, Hoffman played frequently but made sure to say, "I was careful and didn't change anything I was doing at the time." When the day finally came, the result was far from what he hoped for. Although he did not qualify for the state tournament, Hoffman still had a lot to be proud of this season.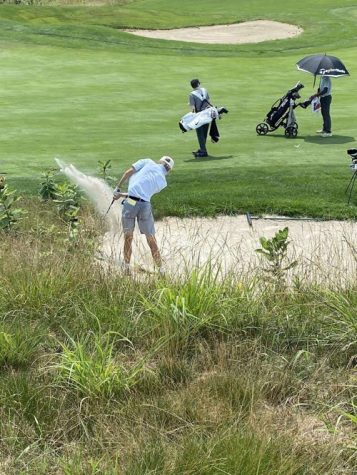 One record that he set was becoming the first freshman from NA to qualify for the WPIAL individual championship. About this he said, "It was a great feeling to know that and I hope that in the future I can keep feeling that by going back to the WPIAL finals." Hoffman has three more years to play in the finals again, but that alone is not enough to satisfy him.
"In 2022, I'm looking forward to all the new competition and how I can improve my game even more," he said. He hopes that with these improvements, he can achieve his main goal of qualifying for states next year. It is a lofty goal, but Hoffman's ambition and raw talent will help him attain it. 
Hoffman has an extremely bright future. The North Allegheny golf program has got themselves a star for the next three years.