Fake Vaccination Cards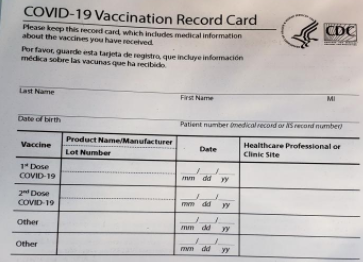 Businesses are encountering a startling level of vaccination card theft now that many employers want their workers to get vaccinated in order to return to work. 
"Similar to fake IDs used by underaged students to obtain alcohol, the Internet seems to have spawned a cottage industry marketing bogus cards," according to Kevin Troutman, a lawyer in Houston. He claims that fake vaccination records may be bought on a number of social networking sites and other Internet platforms. Since President Joe Biden unveiled his vaccination mandate proposal, the price of fraudulent COVID-19 immunization cards has increased, as has the number of dealers selling them.
On September 7, 2021, Customs and Border Protection (CBP) agents in Pittsburgh intercepted the second of two shipments of counterfeit COVID-19 immunization cards. On September 7, US Customs and Border Protection officials in Pittsburgh confiscated 70 counterfeit COVID-19 immunization cards that had been imported from China and were headed for a Beaver County, Pennsylvania address. The Customs and Border Protection (CBP) intercepted counterfeit COVID-19 immunization cards that were being trafficked from China. A total of 70 fraudulent COVID immunization cards were found in the two foreign postal packages. 
On August 24, CBP officials confiscated the first shipment of 20 cards after determining that the cards had a low-quality look and were being imported by a consignee who was not from the Centers for Disease Control and Prevention (CDC) or a qualified medical organization.
In January, the underground market largely remained on the dark web, catering to dealers who could distribute the cards in large quantities. The market has changed in the last nine months to consumers who purchase the cards using Telegram, a popular instant messaging program that provides users with improved privacy and encryption. Telegram has a monthly user base of 500 million people throughout the world.
The state legislature in New York has enacted a measure making it illegal to possess or fabricate fraudulent COVID-19 vaccination cards or digital passports. Similar legislation is being considered by state legislators in New Jersey. Buying, using, or selling counterfeit papers bearing a government agency's seal is already a criminal offense. Violators might face a fine and up to five years in jail if they break the law. Authorities are closely monitoring the situation and trying their best to distinguish facts from fraud.