Journey to Germany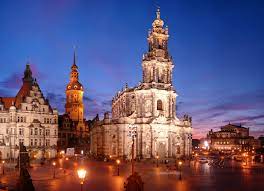 This summer, Sophomore Claire Fiedler is going to spend 3 months studying abroad in Germany. She's the only student in all of NAI to have this opportunity. The NAEYE reached out to her to ask some questions. 
How did you get the opportunity to stay in germany?
I mentioned wanting to study in Germany to my dad, not really expecting anything. He then asked my grandma, who used to be a teacher, if she knew of anyway to make it happen this year. I got lucky and there was a program through my dad's childhood school to be a guest student.
Who are you staying with?
I'm going to be staying with my grandma in Dresden.
How long will you be be there?
I will be there from may 6 to july 22, so just about 3 months.
Are you going to school?
Yes, i will be considered a 'guest student'. I will not get any grades, but I will attend the classes. I will even be going on the class trip they are going to be having.
Did you take finals early?
Either most of my classes either don't have a final, or I'm just exempt from it. I still have to take my Pre-Calc final since we are taking it before I leave. (also, i will be doing the HUG AP test the day before I leave, not very relevant to the question but you could add if u wanted)
Do you know anybody at the school that you're going to?
I have been texting with a girl at the school I will be attending. She's been answering my questions and has been a great resource. but, i've never actually met anybody in person or through a video call.
Are you going to any tourist attractions?
Yes, the place I will be staying is very close to the Zwinger and the Frauenkirche, as well as a bunch of other historic sites. I will also visit different parts of Germany with my grandma and cousins, and will see a bunch of different things.
Are you fluent in the language of German?
No, but I can understand a fair bit. The first few weeks will be a struggle, but I just have to keep trying to hopefully improve my German.
And finally, what's your favorite German word?
Schmetterling, obviously. It means butterfly.