NA Hockey Team Rolling Back Into Action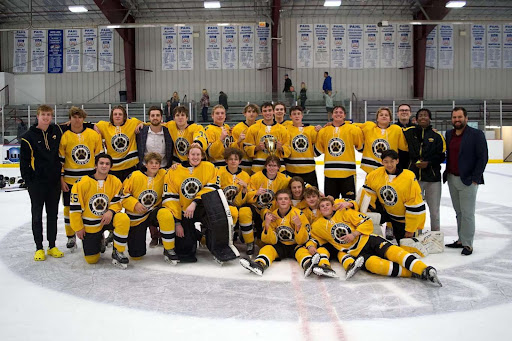 North Allegheny's varsity hockey season is gearing up to return, and the team looks to bounce back this year after a heartbreaking loss last season to Seneca Valley in the PIHL Semifinals. 
Last season the Tigers lost in the semi finals 2-1 after being the number one seed in the Penguin Cup Playoffs. Bouncing back and winning this year will be a challenge, due to the 13 seniors lost from last year's team. Returning sophomore and two sport freshman year starter, Travis Lamark, said, "We still have a great group here with tons of chemistry. When it comes down to it we have the guys to show up when it really matters."
The team has been practicing and having team bonding events since tryouts in the spring. Recently, the team participated in St. Margarets preseason tournament, losing  to Seneca Valley in overtime 5-4. Playing without Senior forward Nate Spak, the team still prevailed against Franklin Regional and Mars in pool play. They defeated Baldwin in the semifinals and defeated Armstrong in the championship game to win the St. Margarets cup.
Returning 9 seniors from last year's Varsity team, Lamark had high words of praise for this group: "They're an amazing group of seniors. They all get along and work well together. They're going to be the guys to lead us to get a ring this year." 
This year the annual Freshman on varsity is young standout forward Luke Walkauskas. "He definitely has a bright future and he gets along great with everyone," Lamark said.  Walkauskas looks to be another star freshman that the team always manages to have. Last year, Travis Lamark was a standout defenseman and ended up in the starting lineup midway through the season.
The team has high expectations and is definitely looking at that number one spot again this year. After last year's season-ending loss, the team is looking for some big time revenge, especially on Seneca Valley, who they will play twice in the regular season this year.
The first official game is at the Baierl Ice Complex on October 6th where the tigers take on Mt. Lebanon.