Pittsburgh's Hidden Horrors and History
Since most of us have lived here our whole lives, it can often seem like you've seen everything there is to see in Pittsburgh. However, from abandoned nuclear tools to a historic McDonald's, there's much more to Steel City than meets the eye.
Local weirdo and NA sophomore Cassandra Donley, who has an affinity for old tech, dreams of visiting the famous Westinghouse Atom Smasher in Forest Hills. According to the Smithsonian magazine, the atom smasher is a particle collider created in 1937, one of the first of its kind. 
"It's really unique. You can't see a giant light bulb that has atoms being smashed inside anywhere else," says Donley. In 2015, the building below the atom smasher was demolished due to its poor condition, according to TribLive. This caused the atom smasher to tip over and it has not been moved since.
It lies on private property, so it must be viewed from afar. However, there are plans to make it into a monument in the surrounding area. It's an intriguing artifact that captures what makes Pittsburgh the city that it is.
"
Many customers see strange figures and the staff sometimes find that the furniture has been moved."
If you're looking for a haunted house to visit this Halloween, or maybe just a hearty meal, look no further than the Harmony Inn in Pittsburgh's historic Harmony district. Harmony's Haunted Inn is a German style restaurant less than half an hour from NAI. Very Local reports that many customers see strange figures and the staff sometimes find that the furniture has been moved.
Donley loves the idea of a haunted restaurant. "I could talk to the ghosts," she says. The building was first built in 1856 by Austin Pierce and is now owned by Bob McCafferty. The hauntings are new to the building, having only started since McCafferty became a regular customer in 1986. The restaurant offers great food and its mysterious history helps it stand out.
North Park's Fountain of Youth is the most accessible option for students looking to explore. The secluded cavern is perfect for a hiking day and is only 5 minutes away from the school. Uncovering PA states that in 1939, the structure was built to surround a natural spring. 
"If it's true that it's actually a fountain of youth, then I could turn into a baby again," says Donley. But unfortunately, the spring failed in 1953, so drinking the water might not be the best idea. Still, it's a must-see spot in North Park.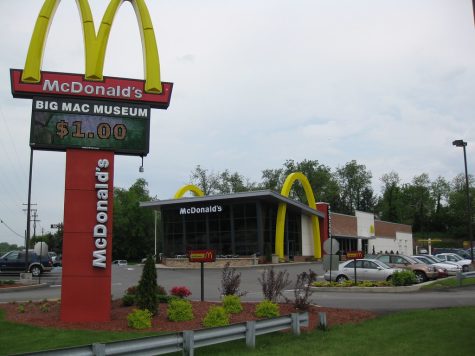 The infamous Big Mac was invented just across the river by Jim Delligatti in Irwin, and a local McDonald's has an entire museum dedicated to it. It's barely 40 minutes away, and a great place for anyone looking for a side of history with their burger. According to PA Bucket List, the exhibits are scattered throughout the McDonald's. 
"I want to go pledge my allegiance to the Big Mac," states Donley. Some of the things one can expect to see at the museum are vintage McDonald's packaging and advertisements, a Big Mac timeline, and a giant Big Mac statue. The entrancing experience makes eating at this McDonald's worth the drive.
There's much more to Pittsburgh than the same inclines and points that we've seen a thousand times. The next time you're looking for something to do on the weekend, why not venture into what seems like a door to nowhere or a haunted German restaurant?