Beyond Shoes: Soles4Souls
NAXC captains continue a tradition of giving and celebrating the human spirit.
A car pulls up to a driveway and parks next to the closed garage. The driver steps out and opens the garage door, revealing a clutter of bikes, tools, and a pile of garbage bags. Then, they open the back of the car, and identical bags are loaded right onto the pre-existing pile. In a few minutes, all of the bags are transferred from car to garage. A mountain of garbage bags like a landfill. But these bags don't contain trash. They contain opportunity.
Seniors and cross country runners Sophie Kollitz and Vincent Rotunno are taking the steps to turn one person's trash into another person's treasure by partnering with Soles4Souls.
Soles4Souls is a non-profit organization that turns unwanted shoes into opportunities by keeping them from going to waste and putting them to good use. 
"[Soles4Souls] mainly focuses on shoes. They will go into underprivileged communities in America and oversee the distribution of the shoes," Rottuno says. "They work with other international organizations and often orchestrate big donations to bigger groups that help a wider array of people specifically in Africa and Asia. Those organizations teach women how to run businesses selling the shoes"
An important part of the organization is not only reusing the in-tact shoes, but also making use out of the more torn-up ones, so they do not end up in landfills.
"We give people the shoes and they can either sell it or if they're really worn out, they will take the soles out of them and remake them into other products or other shoes," Kollitz explains.
With no restrictions to the quality of the shoes, the ambassadors have a goal in mind on the amount of shoes they want to collect from the surrounding community.
"
"We set a goal of 4,000 shoes, but I think we're going to be pretty well over that.
— Rotunno
Rotunno and Kollitz have a very specific process when it comes to handling the shoes. First, they collect shoes from NA and all around the community. Then, they go through a series of steps, preparing the shoes to be sent off.
"We're doing churches, this guy from Target is giving us a bunch of brand new shoes, and just surrounding communities like Cranberry," Kollitz mentions.
After the collection, they load their trunks up with bags full of shoes and take them to their garages. 
"Then we have to rubber band them together by pair and put them into bags and then keep count of them. So I probably have about 50 big industrial sized trash bags full of shoes in my garage right now," Rotunno describes.
Kollitz adds, "And then, at the beginning of November, we're going to take them over to Ohio in a truck."
John Neff, NA's Head Cross Country Coach, had the opportunity to see the organization grow over the past five years. 
"I think it's a great idea. I mean they are helping people not just on the other side of the world, but they're helping people right here in the local area. And so It's a great way to help people by putting shoes on feet but also at the same time keeping shoes out of landfills. And so I think its just fantastic," Neff remarks
He mentioned that former cross country runners, Ethan Sansosti and Leah Mensch, were the first ones to have the idea of becoming ambassadors for Soles4Souls in 2017. 
"The idea of a shoe drive was conceived after I realized that most members of our team would use two pairs of shoes each season, four seasons a year," Sansosti explains. "While we cycled through eight pairs of shoes a year due to technical stress on the structure of the shoe, the shoes were in largely decent shape, and we would often race against athletes that were wearing dress shoes or basketball shoes, given that they could not afford adequate footwear."
Sansosti spent much of his time collecting and refurbishing shoes even before Soles4Souls existed at North Allegheny.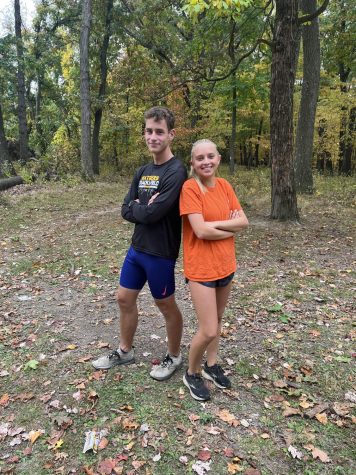 "I started collecting shoes my sophomore year, and I would refurbish them in my garage before donating them to local underprivileged track and XC teams," Sansosti recalls.
Soon enough, Mensch joined forces with Sansosti and she posed the million dollar idea.
"…Leah had the wonderful idea to partner with Soles4Souls, given that they provided women with an opportunity to sell the donated shoes at a steep discount in third-world countries," Sansosti adds. 
Rotunno and Kolitz carry on this legacy to this day, and the organization is more successful than it has ever been. Both are driven by their passion to help people in need, locally and globally. 
"I just think it's going really well. I'm really happy that everybody has donated. I am very thankful for everybody's help," Rotunno says.