NA Fencers Looking Sharp for New Season
Returning in 2021 after almost two years of inactivity, North Allegheny's year round fencing club now finds itself overcoming obstacles, and competition, under its newly elected Team Captain, Junior Wynn Musselman.
The pandemic forced the fencing club to shut down in 2020. Since then, the team and coach have been working hard to make up for lost time. This will be the club's second year back since Covid-19 struck, and they have been immensely successful, even with such a large setback.
"Despite this, our team was still able to grow and overcome the lost year of practice. Our girls' team was still able to get second place in the finals!" says Fencing Team Captain Junior Wynn Musselman. The team made second place in regional playoffs earlier in 2022 by defeating Fox Chapel.
"
The club has been showing huge signs of growth since the pandemic, with increasing numbers of membership in the past couple of years."
The club has been showing huge signs of growth since the pandemic, with increasing numbers of membership in the past couple of years.
The club's revamped social media promotion, morning announcements, and even word of mouth could all play a part in why so many newcomers have been joining the club recently. It seems that after the pandemic the fencing team received a fresh start, with better promotion and more team members.
This year, almost half of the club's fencers are beginners. Coach Iana Dakova had to get an assistant coach for the club because of the influx of new fencers. Musselman explained, "We now have so many new members that our coach had to get an assistant coach in order to teach all of us!" 
The coach and returning fencers alike have expressed shock and excitement for the amount of newcomers. The club is looking forward to a successful season with such a large team.
With a combination of many new and returning fencers, this winter's competition season is looking bright as ever. "For the upcoming competitive season, I think that you can expect our team to get pretty far," said Mussleman.  "Last year, we reached the finals, but this year, I think we can win."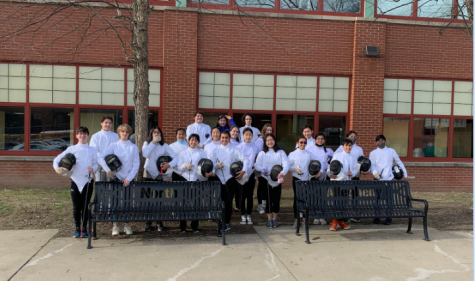 Additionally, the fact that the club will be able to form a competitive boys' high school team for this season is a big milestone.There were only a few  high school boys in the club last year.
With so many positive changes already happening to the club, Musselman also plans to use her new position to enforce plans and ideas to improve the club. She wants to make sure that the entire fencing team enjoys being in and fencing for the club and is looking forward to getting to know new members.
She also wants to increase social media presence to promote the sport more, as many North Allegheny students don't even know about NA's fencing team, or their outstanding competitive performances. Musselman wants to work on drawing more attention to the sport and increase publicity so that students will acknowledge it more.
"A lot of people don't even know that NA has a fencing team or placed second in the finals. I want more people to know of us," she explains.
The  fencing team continues to grow  out of the pandemic and should  perform exceptionally well this year under the guidance of their new captain, Wynn Musselman.