Taylor Swift's "Midnights" Review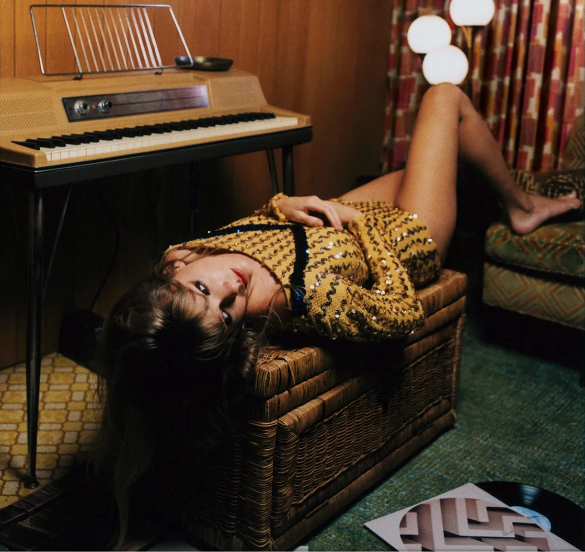 11-time Grammy winner Taylor Swift dropped her highly anticipated tenth studio album, Midnights, on Friday, October 21st at, you guessed it, midnight. The pop album consists of  13 tracks (Swift's proclaimed lucky number) that together tell "the stories of 13 sleepless nights scattered throughout [her] life." 
In the past few years, Swift's music has taken a turn from pop to indie as seen in her last two "sister" albums,  folklore and evermore. Her newest work has returned to her 1989 pop-esque vocals and sounds, also sprinkled with vengeful and love-inspired lyrics from reputation. Midnights marks her first pop album in three years, since 2019's Lover, yet the project sounds like she never took a break from pop, with nostalgia, synth, and catchy reminiscent tunes. 
Lavender Haze ☆☆☆☆
Swift starts the album off strong, singing, "Meet me at midnight" at the start of this bold love song. The track is likely dedicated to Conversations With Friends actor and her boyfriend of six years, Joe Alwyn. 
In a short video, Swift confessed that the track was inspired by Mad Men, where she first heard the phrase lavender haze used. She explained that she looked it up online and discovered that it was a common 1950's phrase used to describe being in that "all encompassing love glow." Swift sings, "No deal/ The 1950s sh*t they want from me/ I just wanna stay in that lavender haze," in a dreamy and breathy yet upbeat pop style, alluding to the phrase's origin.
Maroon ☆☆☆☆☆
In this reminiscent song, a heartbroken Swift describes a complex best-friend type of romantic relationship, with a "the one that got away" type of ending. She recalls, "The lips I used to call home/ So scarlet, it was maroon/ And I wake with your memory over me/ That's a real lastin' legacy." Maroon contains a dark synth beat in the background of Swift's low voice, mirroring songs from her 2017 album reputation. 
Anti-Hero ☆☆☆
In this self-loathing track, Swift confesses feeling like everyone's problem, viewing herself as a narcissistic "monster." In Anti-Hero's 70s inspired and randomly fun music video, Swift can be seen feeling like an outsider, panged with self-doubt and haunted by her ghosts. 
In one scene, she can be seen stepping on a scale labeling her as "fat" and then shaking her head. She sings, "I'll stare directly at the sun, but never in the mirror," anxious of her self-image and appearance. Anti-Hero is one of the most catchy and pop-like tracks from Midnights, both extremely relatable and fun to sing along to.
Snow on the Beach (featuring Lana Del Rey) ☆☆☆☆
Likely the most anticipated track on Midnights, Swift collaborates with another big name in pop and indie music, Lana Del Rey. However, Del Rey's vocals were very faint and in the background, causing the track to be slightly anti-climactic. 
Regardless, Del Rey adds a lot to the song with her songwriting and background vocals. The duo created a soft pop sound influenced by indie, alongside esteemed producer Jack Antonoff. The song's lyrics reflect an almost unnatural yet magical love, using snow on the beach as a metaphor. 
You're On Your Own, Kid ☆☆☆☆☆
One of the most poetically intriguing tracks off the album, Swift recounts the story of a young person yearning for love, slightly mirroring the schoolgirl crush aspect of her 2019 song, It's Nice to Have a Friend. 
The song starts with a faint and simple beat that blooms into an upbeat alternative pop beat as the song progresses. She sings, "I wait patiently/ He's gonna notice me/ It's okay, we're the best of friends," before realizing that her crush "never cared." She continues, singing about body image struggles and turning to songwriting in tough times. The track comes to an end with acceptance and acknowledging that everything she's going through is necessary to grow, telling herself that she has no reason to be afraid and that she can face this.
Midnight Rain ☆☆☆☆
A mix of slow pop and light synth, Midnight Rain is a sonically unique track on the album, even including Swift's pitched down vocals at the beginning of the song. The track, speculated to be written about Twilight star Taylor Lautner, tells the story of a young Swift in a romantic relationship with someone who was as different from her as sunshine is to midnight rain.
Particularly unique compared to her other songs, Swift is the one breaking hearts this time. The song describes a pre-fame relationship in her hometown, which she saw as a "wasteland," that ended due to different interests. She sings, "He wanted a bride/ I was making my own name/ Chasing that fame," later admitting that she feels haunted, thinking of him on "midnights like these." 
Question…? ☆☆☆☆☆
Thought to be about Harry Styles, this song recounts a story of a "good girl" and a "sad boy" in a "big city", making "wrong choices." A heartbroken Swift sings, "I swear that it was something/ 'Cause I don't remember who I was before you" in this regretful song. 
She goes on, blaming situations, circumstances, and miscommunication for the relationship going south. She asks questions throughout the song's lyrics, pondering whether the subject of the song feels the same way as she does. Question…? includes an interpolation and lyrical parallels from Swift's Out of the Woods, also thought to be written about Styles. 
Vigilante Sh*t ☆☆☆☆☆
A dark synth-pop revenge fantasy, Vigilante Sh*t is rumored to be about the star's known enemy, Scooter Braun. Swift sings that she has been "on [her] vigilante sh*t again" and lately "dressing for revenge," possibly referencing Princess Diana's famed revenge dress. 
In the story, Swift explains that she gave "cold hard proof" to the now ex-wife of the man who wronged her. Swift sings, "Now she gets the house, gets the kids, gets the pride/ Picture me thick as thieves with your ex-wife," alluding to Braun's cheating scandal with his wife, ultimately ending in divorce. Vigilante Sh*t is one of the best songs on Midnights, with conniving storytelling and advancing synth and drum beats throughout the track.
Bejeweled ☆☆☆☆
In this sassy and lively pop song, Swift questions, "What's a girl gonna do?/ A diamond's gotta shine." Swift sings about gaining confidence again after being pushed aside and underappreciated. She sings about going out and still having charm as she says, "Best believe I'm still bejeweled when I walk in the room/ I can still make the whole place shimmer" in the chorus of the song. In the sparkly and magical music video, Swift compares herself to Cinderella, finally going out after being shunned and hurt.
Labyrinth ☆☆☆☆
Swift sings about the anxiety of falling in love after experiencing heartbreak. She compares falling in love too quickly to elevators rapidly descending, singing "You know how scared I am of elevators/ Never trust it if it rises fast." One of the most heartfelt songs on Midnights, Labyrinth is a slow but meaningful love song, Swift's undoubted specialty. 
Karma ☆☆☆☆☆
Probably one of the most awaited songs among devoted Swifties, Karma is a fun pop banger with carefree lyrics. Swift sings, "Karma is the breeze in my hair on the weekend/ Karma's a relaxing thought/ Aren't you envious that for you it's not." The reason this song is so significant is because Swift's fans have had a theory \ that she had an unreleased album by the same name. Needless to say, fans were shocked when Swift revealed that it was a track on Midnights. 
Additionally, it is believed that Karma is about the singer's infamous feud with Kanye West and Kim Kardashian, in which #TaylorSwiftIsOverParty was trending on social media. "You're talking sh*t/ For the hell of it/ Addicted to betrayal but you're relevant/ You're terrified to look down/ 'Cause if you dare/ You'll see the glare/ Of everyone you burned just to get there," Swift sings in the song, directed to the couple.
Sweet Nothing ☆☆☆☆☆
In this slow and soft track, mirroring her past indie style, Swift sings about a love that's an easy and beautiful escape from the outside world's scrutiny and in which her lover expects "sweet nothing" from her. Dedicated to her current partner Joe Alwyn, Swift sings, "Outside they're push and shoving/ You're in the kitchen humming/ All that you ever wanted from me was sweet nothing." To make the beautiful ballad even sweeter, Swift wrote the track with Alwyn under his songwriting alias William Bowery.
Mastermind ☆☆☆☆
Another love song, Mastermind is a mellow and soft pop song in which Swift says she's been "scheming like a criminal" and manipulating people into loving her, describing herself as "cryptic and Machiavellian." Later in the song, Swift says that once she told her lover that she planned for the two of them to fall in love, all he did was smile at her because he "knew the entire time."
There's no doubt that Midnights is one of Swift's best and most influential albums to date, allowing her to break records and reach peaks like never before. A week after its release, Midnights is the first album in history to claim all top ten spots on the Hot 100 Billboard chart, and it topped the Billboard 200 albums chart with about 1.5 million copies sold in just a week. 
However, this is no surprise, as Midnights is a catchy pop masterpiece with relatable and poetic lyricism that resonates with many fans. It's hard to say how Swift will ever top her record-breaking Midnights in future works.