'Tis the Season?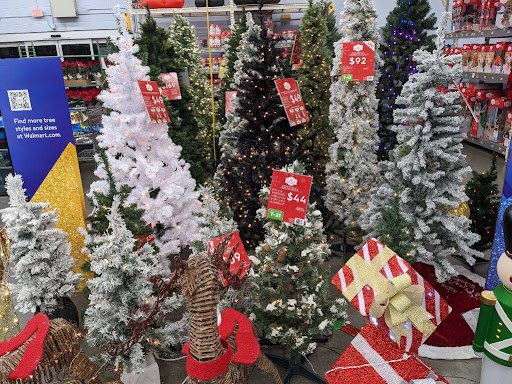 Halloween's over, meaning only one thing…Christmas! Or does it? Some say it's time to put up those holiday lights and let Mariah Carey sing out, but others say no way. 
Most people love Christmas. The movies, songs, baking, decorating a tree and everything else. It's no surprise that people want that as soon as possible. Those activities are great, but it's also the nostalgia of Christmas that makes people so excited. Memories of running downstairs early in the morning to see what presents are under the tree. Spending time with family. It's such a happy day, people want to experience it all the time. 
Freshman Kailyn Marunczak says, "Christmas is definitely a November and December Holiday." In her family they start decorating a few days after Thanksgiving, but she usually does it earlier in her room. 
"A lot of people just like Christmas better because of the things people do and the gifts, Thanksgiving is just kind of there," Marunczak says.
"
A lot of people just like Christmas better because of the things people do and the gifts, Thanksgiving is just kind of there.
— Kailyn Marunczak
For many students, Thanksgiving is just a day and Christmas is a season. There's so much to do and see during Christmas time, but Thanksgiving for most people is just a big meal, and maybe saying one thing you're thankful for. 
Others say that people should wait until December or at least Thanksgiving until they even think about Christmas.
Freshman Kristina Doan says, "It's not even Thanksgiving yet. Why are people so obsessed with Christmas?" For her, she likes Thanksgiving since it's the only time she can see her distant relatives. She agrees that she personally likes Christmas more, but it's expensive and Thanksgiving has less money stress.
Students are busy nowadays. Whether it's sports, homework, or other after school activities, it's nice to have a break and enjoy all the relaxation and fun memories Christmas time can give them.
At Christmas time, people can go to the city and ice skate around the big, decorated tree. They can get matching Christmas pajamas with loved ones, and bake delicious treats. They can do the most relaxing thing of all and watch their favorite Christmas movies and snuggle up close to the fire.  
Maruczak says students should start decorating, " the day after Halloween because why not. I'm doing it and there's no shame in it."  Some like to say Thanksgiving is just a part of the Christmas season. It's just an addition to more Christmas activities. Students get days off of school, so it's just a bonus for them.
A majority of the students here celebrate Christmas. It's a big deal to them. It's definitely the most wonderful time of the year, so hang those lights and let the holiday shopping begin!