Man Down
Injuries are plaguing the NFL. What's the solution?
The NFL season is well underway and star players, young and old, keep going down with every injury imaginable.Teams and trainers are struggling keeping everyone healthy, so many star players are going down with injuries. Who is to blame, the field, the trainers, just bad luck? Whatever it is, the league needs to fix the injury problem. 
The NFL is a sport we all love to watch, a Sunday full of games and excitement, but what ruins that is watching your team's star player or your personal favorite player go down with an upsetting injury. Fans saw this in week 3 when Miami Dolphins quarterback Tua Tagovailoa went down against the Bills with what we thought would be a concussion after Tua got up and was visibly dizzy and unable to stand. He went back to the locker room but would come out after halftime with a "lower back injury". 
He would return to the field again just 4 days later on Thursday night prime-time football against the Bengals. Tua was spun around and harshly taken to the ground just 25 minutes into the game, Tua was taken off in a neck brace and stretcher after having visible effects of concussion and unconsciousness in a scary sight that made the internet instantly question the NFL's concussion protocol after allowing Tua to come back in the game against the Bills and even suit up for the game against the Bengals.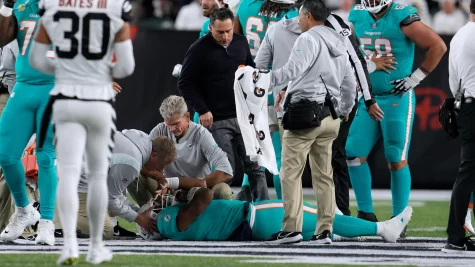 Concussions are a serious and continuously growing problem in the league. Helmet brands are coming out with new and safer helmets and the league always is expanding their rules to keep players safe, but nothing seems to be keeping all players healthy. In weeks 1 and 2 of the season, five players suffered concussions in just 2 weeks. Saints rookie receiver Chris Olave suffered a concussion in a touchdown play that left him unconscious laying on the ground. A scary sight for all teammates and fans. This problem has to be taken into account, as through week 9 of the season, only halfway through, there has been a recorded 69 concussions already. This is a glaring problem that has to be solved.
The NFL tried to come up with a minor solution, implementing the Guardian Caps that all teams and players are allowed to wear in practice and preseason games. An extra padding shell attached to the outside of a helmet to reduce the impact of hits to the head. The NFL saw the lowest amount of concussions in practice and preseason in the past 8 years. The Varsity football team at North Allegheny also implemented these Guardian Caps for all linemen, running backs, linebackers and tight ends to wear. This isn't an immediate solution but it is definitely a step in the right direction.
North Allegheny Sophomore Colin Moore had a take on the new Guardian Caps, as he is a defensive linemen and tight end for the NA football team. Moore  says, "I personally don't like them. They're a good idea but they have some problems like not being used to the impact of real helmet to helmet hits when we take them off for real games on Friday Nights but other than that they're alright." 
Another extreme injury is the ACL tear, one of the most detrimental injuries an athlete can have. The ligament that gives your knee stability and helps movement. You cannot play without this ligament and if you tear it, surgery is needed and requires 6-9 months of recovery, and for some up to a year to get back to your sport. 
This injury has plagued the NFL for as long as we can remember, but it seems that there are more and more tears every year. Last season there was a new record of ACL tears in one season at 71. That's 71 of fans favorite players that are sidelined for the rest of their season and into the next season too. The questions surrounding this injury are apparent, is it because of the newer turf grass? Is there a noticeable  difference from real grass and turf or is it just players bodies not being able to keep up with their movements and play?
"
Last season there was a new record of ACL tears in one season at 71.
Recent studies show that on artificial turf NFL players have a 28% higher chance to have a non-contact injury. Week by week there are players complaining about artificial turf after teammates and other players continue to have season ending ACL tears. 
Green Bay Packers linebacker De'vondre Campbell said in a recent tweet, "This is two weeks in a row we've had players get injured on turf fields. I think it's time y'all take some of the money y'all make off us and invest in grass fields for every team around the league," after injuring his knee in a non-contact injury in week 8. Players and fans hate artificial turf as it does not give as much cushion as real grass. The NFL needs to transition to 100% grass fields for player safety.
During a week 2 matchup between the 49ers and Giants, two of San Francisco's defensive linemen, including pro bowler and former second overall pick Nick Bosa, tore their ACL and running back Raheem Mostert sprained his MCL. And this season, Giants wide receiver Sterling Shepard was simply running down the field, not even at full speed, and his knee popped and he fell to the ground in pain. ACL tear. But surprise surprise they got injured in MetLife Stadium, an artificial turf field.
It's definitely a sad sight to see a star player go down in pain with a non contact injury like Odell Beckham Jr. in 2022's Superbowl. The league must implement better concussion safety and make all fields grass so they can protect their players from these serious non-contact injuries. It's not just on players and trainers, but the whole league. They need to find a solution to these injuries.