"Wrapping" Up Another Year
It's that season again, and Spotify has just unleashed its "Wrapped" for the year. Music is embedded in everything we do, it's behind any great movie, our best memories, and loud road trips. For many people, Spotify Wrapped is the soundtrack of their life. 
Ekua Kwakwa, a sophomore, is a massive Taylor Swift fan, and Swift is her top artist, but "None of my top songs are by her…" Kwakwa remarks. North Hills junior Bethany Osmond, enjoys listening to Latin American pop. Though she doesn't understand the lyrics, it still brings copious amounts of joy to her life. Sophomore Olivia Jung wasn't even aware that Spotify Wrapped existed. She laughs lightly as she shares her top artist, but a smile is shining on her face. 
To me, music is an important part of my life. It accompanies me through hard times and cushions my heart from heavy blows. It highlights the good and bad areas of a year, certain songs marking a sad time and others reminding me of sunshine. I remember long car drives through the dark listening to Harry Styles and lonely walks listening to NF. Conan Gray carried me through tears, crying with me. Alec Benjamin gave me words to say when I couldn't think of anything. Sebastian Yatra puts a grin on my face and a bounce in my step.
It amazes me how much these artists affect me. I can see them in the way my day will brighten after listening to them and the comfort I find when I sing their lyrics. I can even catch pieces of them in my writing. I often listen to NF or Harry Styles while writing because their creativity helps me to find my own. When I hear their deliberate lyrics and soulful melodies, I start thinking of my own. 
I have none of the talent that they do, but hearing their lovely music makes me want to create something similar. Their own experiences are clearly heard in their inflection and verses. I think it is interesting how different people react to their life experiences.
For people like the rapper NF, he will write about his sadness and put it into a fast beat and flowing rhythm. On the flip side, Conan Gray, a pop artist, takes his own heartbreak and writes more indie, slow songs. Both of these artists have had trouble with their family life and depression, but both express their trauma in completely different styles. 
Artists show their own vulnerability in their lyrics, the way they love and how they express it; they write about people who hurt them and how it affects them. Musicians are able to open up and let people into their lives, whether it's musically or lyrically. For most people, it is hard to trust someone with their trauma, but artists are willing to share it with anyone. 
"
[Artists] let anyone in the world listen to their very personal story and their feelings, and people are open to judge or put them down.
I think that doing so presents a different kind of strength. They let anyone in the world listen to their very personal story and their feelings, and people are open to judge or put them down. Artists put themselves in that position willingly, just wanting for people to listen to something they created. 
I love to discuss lines that stood out to me with some of my other friends, or just sit around and listen with them. I think that music is something that is universal and ties everyone together. It creates such a tight community around the artist and their fans, who bond over shared experiences and a love for their genre. 
When I listen to certain songs, it's like I'm hearing some part of me that has been trying to get out and finally is being set free. I once told one of my friends that if my soul was a song, it would be "Fine Line"1 by Harry Styles. To me it's a bittersweet song about things that once were and how they are now, how these two people struggled through their relationship but still love each other, and how because of that love they'll be alright. 
"Fine Line" personally is about my relationship with my own life and certain people I struggle with. I always had to walk this "fine line" of not being myself, not giving away too much, not having deep conversations because of where they would lead. It is a relief to know that someone was able to put a voice to something I didn't recognize as an issue myself. 
I don't appreciate the things I had to do to keep my relationship stable, and in reality it probably wasn't much of a relationship at all; but I still love this person despite how we hurt each other. Though my own song may not end in the same way as Styles', I love it so much and believe that I will always be able to relate to it.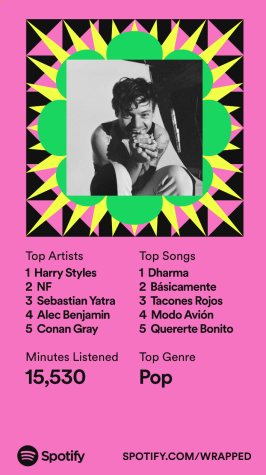 I definitely have a wide range of musical interests, but I think that many people find it easier to relate to more depressing music. I know people would say that their favorite song would be a more peppy, happy song, but people are more impacted by sad songs, at least I am. Whenever I am feeling stressed, I can just listen to one of my favorite artists and it relaxes me so much. 
One of my favorite albums to listen to when I am sad is Walls2, something about it is so comforting to me and it just feels like a hug. Sometimes when no one can help, music can, and I think that a lot of people are able to find their voice through music; whether singing along with an artist or creating their own. Certain songs I listen to and instantly recognize that their lyrics are ones that I was never able to put into words myself. 
It's one of those albums that I would listen to almost everyday for weeks, sometimes multiple times a day. Despite that, neither the artist nor his album was on my Spotify Wrapped. I still want to explore new genres and artists, but I come back to my top artists because I feel guilty if I don't listen to them for a while. 
That's what makes Spotify Wrapped so powerful, because after seeing my Wrapped I find myself wanting to keep listening to the same artists so that they will be there next year. It is reassuring to be able to see a favorite artist's name at the top of your Wrapped.
It's hard for me to find new music that I actually like because I have very high standards for music, so I just tend to circle back to my old favorites. I guess I'll just have to see what winds up on my Wrapped next year.
1(Fine Line Columbia Erskine December 13, 2019) 
2(Syco Music and Arista Records January 31, 2020)