Women's History Month Features: Tove Jansson
Tove Jansson is the creator of the Moomins, a famous character group she made that thrived in the 50's and 60's.
Tove Jansson was born August 9th, 1914 in Helsinki, Finland. She was born into a family of art, her father was a sculptor and her mother was an illustrator, and Tove had three younger siblings later on in life. Growing up Tove had a creative home life helping her parents, specifically her mother, with art projects all the time.
In her early twenties Tove went to study painting in Paris, but she was met with many disappointments of its irrelevant and unimaginative assignments. Tove left University after just two weeks, and later went to a small workshop run by someone much more open-minded to her creativity. 
During the unfolding of World War 2, Tove had difficulty getting her larger, key pieces of art done, and it was during this tough time that the Moomins were born. A close knit family of these hippopotamus-like creatures who had their own lives and personalities, and in the comics she made of them they would see their friends and live peacefully in Moominvalley while also exploring beyond their peaceful home for adventure.
She had forgotten about the Moomins for a while since they were mainly a form of comfort during the scary and uncertain times she was living in. Later in 1945 a friend convinced Tove to publish "The Moomins and the Great Flood", and then another in 1946, "Comet in Moominland". They were a hit!
Moomins became very popular with many more books being published, London Evening News turning them into a comic strip, being globally spread, and lots of merchandise for the Moomins created.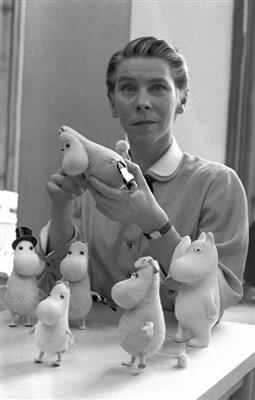 In 1956 Tove had met Tuulikki Pietilä, also known as Tooti. Later on Tooti would become Tove's beloved partner, whom she spent her life with until the end, and they would later live together on a small, peaceful island of their own in 1964, it was described as "a rock in the middle of nowhere."
The Moomins never really left as, when Tove had ended her Moomins career in 1959, she handed the job to her brother Lars. The Moomins were a small ball of light which comforted Tove, and then one day exploded into a beaming stream of hope and happiness to those around the world during such a hard time of war and fear.
Tove Jansson, Moomintroll, died June 27th, 2001 in her place of birth Helsinki, Finland. The Moomins echo out her bright personality in all corners of the world. She lived her life to the fullest, for she only wanted to, in her own words, "live in peace, plant potatoes, and dream!"