Women's History Month Features: Josephine Baker
Josephine Baker, a multi-talented woman, known as a high achieving performer, World War II spy, and an activist fighting against racism and segregation.
Josephine Baker, originally known as Freda Josephine McDonald, was born June 3, 1906. Josephine was born to Carrie McDonald, a washerwoman who once dreamed of being a music-hall dancer, and Eddie Carson, a vaudeville drummer. Josephine's dad left her and her mother soon after she was born, but her mother remarried soon afterwards, having several more children.
With such a large family Josephine started to work, cleaning houses and babysitting, so she could help support her growing family while she herself was only 8 years old. She went to school briefly before running away from home, becoming a waitress, getting married at 13 to Willie Wells, and shortly after divorcing him. 
1919, the year when Josephine began to take up dancing, performing in clubs and doing street performances. She soon after began touring the U.S. with the Jones Family Band and the Dixie Steppers. Josephine later got her last name, Baker, from marrying Willie Baker, and she kept that name even after they divorced a few years after marrying in 1921.
 Josephine Baker in 1923 got a part in Shuffle Along, and she became an audience favorite. After moving to New York, Josephine performed in Chocolate Dandies. 1925, Josephine went to France to perform in La Revue Nègre at the Théâtre des Champs-Elysées. While dancing with her dance partner, Joe Alex, Josephine performed Danse Sauvage, leaving an impression on her audience.
For her performance, La Folie du Jour, Josephine wore a skirt made of 16 bananas, and she wore little more than just that in her performance. Josephine became one of the most popular and hughes-paid performers in Europe, during this time she used her success to boost her start in her singing career as well. 
When World War II started up, Josephine worked for the Red Cross performing for troops in Africa and the Middle East, but she also worked for the French Resistance. She would smuggle messages by hiding them in her sheet music and underwear. At the end of the war, for her brave efforts she was awarded both the Croix de Guerre and the Legion of Honour with the rosette of the Resistance, two of the highest military honors given in France.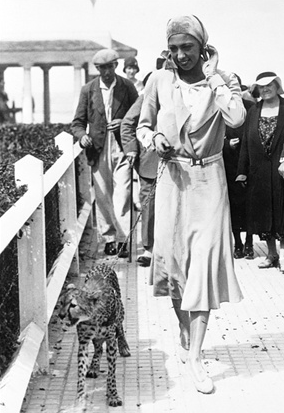 After the war Josephine spent most of her time at Les Milandes, her large estate she bought in 1930, with her family. Her family consisted of Jo Bouillon, a French orchestra leader she married in 1947, and her 12 adopted children from all around the world, whom she called her "Rainbow Tribe".
During the 1950's supported the Civil Rights Movement, boycotting segregated clubs and concert venues, and participated alongside Martin Luther King Jr. in the March of Washington. After decades of being rejected by countrymen and a lifetime of dealing with racism, Josephine performed at the Carnegie Hall in New York. Josephine's performance was met with a standing ovation, for which she cried openly on stage, being moved by the success her show had shown. 
In April 1975, Josephine performed at Bobino Theater in Paris with many other performances celebrating her 50th anniversary of debuting in Paris. Sadly, on April 12th, 1975 she died in her sleep of a cerebral hemorrhage. Her funeral was honored by more than 20,000 people on the streets of Paris and the French government, who honored her with a 21-gun salute. Josephine Baker was the first American woman to receive French military honors. She lived her life with many talents, various accomplishments, and much bravery.