A Staggering Amount of Ignorance and Lack of Compassion
A fifteen year old's perspective and frustrations on the dispassion seen everyday in our government and a look into how we treat each other as Americans.
Hang on for a minute...we're trying to find some more stories you might like.
On its exterior, the United States of America projects ideas of equality, justice, and liberty. Our country has always idolized, acted upon, and cherished these beliefs. Every act the government carries out seems to be justified as long as it is done in the pursuit of one of those ideas.
Those good, ol' American values haven't always won out, however. For centuries, our country encouraged slavery, oppressed women, discriminated against minorities, and committed countless other atrocities. But that was in the past, right? The United States is much more civilized, accepting, and compassionate now… isn't it?
Well, that's a tricky question. I, for one, definitely have a problem believing that everything's all better when I hear the slurs and curses thrown around by our own politicians. I question our country's sense of brotherhood when our leaders call news sources, and those who use their freedom of speech, untrustworthy liars. I certainly question our compassion when I hear about tear gas being used against children at the border.
My problem with the way things are being run has little to do with the actual politics. I'm fifteen, and I'm still figuring out where I stand on a lot of issues. I don't know everything about the political world, nor do I pretend to. Instead, I'm more concerned with the message being projected by this particular brand of government.
When I turn on the news or pull up an article on my phone, I see a lot of bitterness and hatred. I see a lot of verbal ammo. I see a lack of compassion.
Somehow, we've engraved this idea in our heads that to get ahead, or to just succeed in general, as a nation, we need to step on everyone else's backs. We think we need to be firm and cruel to not be taken advantage of. This isn't just the stance taken against other countries or enemies. It's the stance we have taken against our neighbors– against anyone who is slightly different. It's like we've forgotten that everyone here, no matter what ethnicity or orientation, is just as American as the next.
There's a sense of untrust and a feeling of bitterness among people who should be on the same side; and as a young adult, as someone who is watching and paying attention, it's painful to see. It's painful to see that the American values my parents taught me— the equality I was so sure was prevalent here— isn't so crystal clear. It hurts that now I'm at the age where I'm realizing the harsh reality of our country.
"
It's like we've forgotten that everyone here, no matter what ethnicity or orientation, is just as American as the next. "
I grew up valuing kindness, but I see the exact opposite being projected by my government. I see division, vicious ambition, ignorance and, most of all, fear.
Here's the thing: I know it's not all black and white. For example, it's understandable that some believe a warm welcome should not be extended to immigrants trying to get into our country illegally.
But here's the other thing: No matter the circumstance, we're supposed to be the good guys. The United States, as a country, is supposed to set an example and be the bigger person— or at least the country I was raised to believe in is supposed to be.
However, we're using that power, that responsibility that was placed upon us a world leader, to separate families and tear gas children. Crying children. Children of parents who are fearing for their family's safety. People less fortunate than us.
The United States is supposed to, if not take them in, at least be kind. But instead, our reaction was hostile and heartbreaking. I'm disappointed in that, and in the fact that as a nation, we did not possess the empathy to put ourselves in those migrant's shoes.
It's a complicated issue, but we should at least be trying to help these people. Even if a solution is impossible, we should be putting forth some effort to improve their lives and situations. Because that's what the good guys do. They help others no matter what the odds.
"
We're supposed to be the good guys"
I also believe that this utter lack of compassion has stemmed from a sense of fear. We're afraid of other people because they, hypothetically, are going to change our culture, take our jobs, and increase our crimes rates. A small portion of these people may. Just like any group of individuals, there are bad ones. But, to me, it is extremely ironic that we are fearing less fortunate immigrants and ignoring other issues threatening our homeland.
For instance, we're ignoring issues like global warming and gun control and health care. These are pressing concerns. In fact, many scientists believe that unless drastic action is taking, our planet's global warming damage will be irreversible by the year 2030. That's only twelve years away. In 2016, America had the second most amount of gun deaths in the world.  The number of people without health insurance, and therefore proper medical care, is on the rise.
These are traumatic, urgent issues– issues our government is choosing to turn away from. Because, apparently, our government only focuses on the problems it wants to.
Apparently, immigrant groups consisting of poor women and children are enough of a concern that they need to be tear gassed. Apparently, when a wildfire hits California, we can spare the time to blame the victims instead of offering empathy and aide. Apparently, it's okay that when a sexual assault case hits the Supreme Court, our leaders just use harsh and cruel words as ammo to somehow aide their own political agenda. Apparently, when a family tries to illegally cross the border for their safety, it's okay to tear them apart and put toddlers on trial at immigration hearings. 
"
They are only focusing on the problems that they can supposedly solve with harsh acts and call it justice."
But, somehow, we can ignore climate change? We literally are letting our planet die due to greenhouse gas emission. I guess it's okay that we pretend the scientific facts supporting it just don't exist.
And, somehow, we can ignore the fact that Americans are ten times more likely to be killed by gun violence than people in other wealthy countries? It's ironic how we are worried about immigrants coming to harm us when most gun violence occurs on the streets by our own neighbors, and most mass crimes are committed by white men with an insane superiority complex and access to guns.
It's not only illogical but cruel and ignorant. Our leaders are actively neglecting real, threatening problems that the citizens, who they serve, are concerned about and instead focusing their attention of much more insignificant ones. They are focusing on the problems they can blame someone for. They are only focusing on the problems that they can supposedly solve with harsh acts and call it justice.
More than anything, I hate the example and precedent that America is setting right now. If I'm watching and paying attention, I guarantee other teenagers and children are, too. Those kids deserve to live in a place that embodies the United States' supposed values. They deserve to live in a place that actually treats people with equality and freedom and justice– not cruelty and ignorance.
They should not be greeted with such a massive lack of compassion when they turn on the news or when an article pops up on their phone. They should be being taught about empathy and kindness. But, instead, they are listening to mean words and hearing about shootings. They are met with the message that to thrive, we must shut out differences, betray our neighbors, and step on everyone else's backs. That is by far one of the most heartbreakingly wrong lessons we could be teaching them.
Growing up and realizing that the country you once wholeheartedly believed in doesn't actually represent your values is hard. It makes you angry and disappointed. Personally, it makes me want to show the world the America I thought I grew up in, the one that is accepting and kind.
I don't think this country is doomed or a bad place to be. I just believe that it can be better. I believe in being kind and being the good guys, and I think it is our responsibility to lend a hand to others.
I don't want my country to be known as ignorant. I don't want my country to have no compassion. Most people I know here have huge hearts and welcoming arms. I know there is so much good in America. It is just an infuriating, disappointing shame that our supposed democracy doesn't represent that, and it's a real problem that needs to be examined more before this type of dispassion is branded into our culture for good.
About the Contributor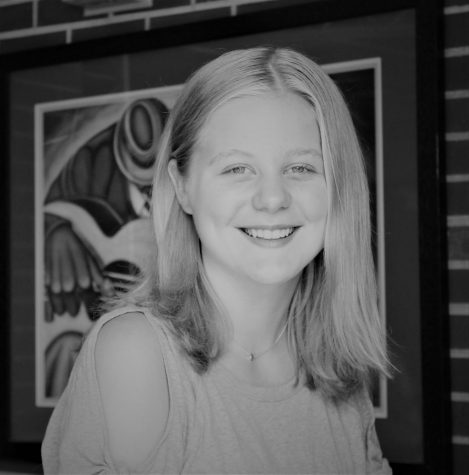 Kristen Kinzler, Staff Writer
Kristen Kinzler is a sophomore at North Allegheny Intermediate High School. This is her first year as a journalist on the newspaper staff. She loves playing...