Sister, Sister: Paige and Abby Miller Help Serve Up Two WPIAL Titles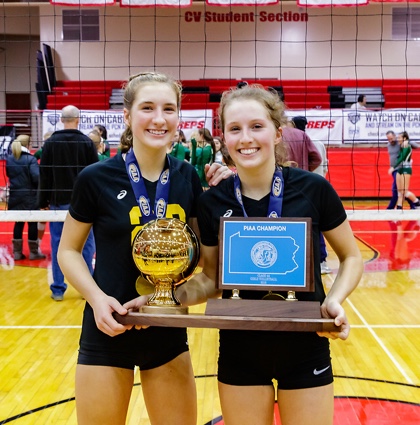 Recently, two sisters, Paige (sophomore) and Abby Miller (junior) won WPIALS and the PIAA championship for girls volleyball team together. Volleyball has been a crucial part of their lives ever since they were little girls. Their family has contributed a lot of time and support to the volleyball team throughout the years. Both sisters train all year round and are very close on and off the court. The following interview is to showcase their hard work and dedication to the team and to each other, along with their family life and how that impacts their competition.
Do you enjoy playing volleyball together even though you are sisters?
Paige: "I've always looked up to Abby. Being so close to her outside of school has allowed us to be able to communicate on the court in a way other people can't. Often times I don't even have to say anything and she knows what I am thinking."
Abby: "It's always been fun watching Paige play, and last year it was a good experience to start playing with her. This year it was even better since we play different positions we are able to help each other on the court and help the overall success of the team."
How do you like having your mom being your coach? Is it harder or does it push the both of you more?
Paige: "I like having her as our coach because we get to spend all day everyday with her. When we are in the gym, she gives us feedback on what we need to work on, but when other kids have to go home, we go home and she continues coaching us. We get to work on what we need to improve and get better on and off the court."
If there was 30 seconds left in a game during a beach volleyball tournament, who would be the best player to win the final point, Paige or Abby?
Abby: "Paige would probably be the best player to win the final point because we play different positions. She often passes and hits, and so in the last rally that would be more helpful than setting, which is what I do."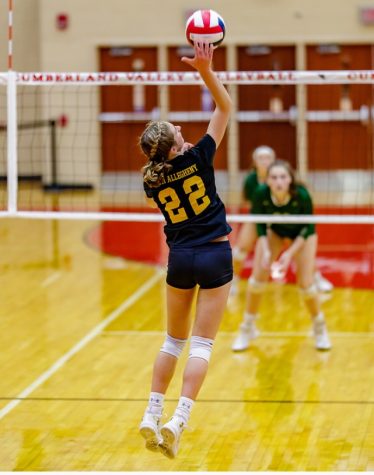 What positions to each of you play?
Paige: "I'm an outside hitter and I also play back row. We rotate around the court, but I just stay on it all the time and play back row and front row."
Abby: "I'm a setter, but this year I had the unique opportunity to set and hit because we were in a 6-2, which means I set some of the time and Paige Morningstar set the other times. When she was setting, I would hit, and when I was setting she would hit."
How long have you both been playing volleyball?
Paige: "I've been playing volleyball for six years."
Abby: "I've been playing for eight years."
Your grandfather has been with North Allegheny for a long time, what does he do to help the volleyball team now?
Paige: "My grandpa was the North Allegheny football, volleyball, and wrestling coach for 50 years, so now he is retired, but he comes to every single practice, he sets the nets up every day, and he is just like another coach. He is the more slow-paced coach and talks to us about the nitty-gritty stuff."
You both have won many titles as being volleyball players, was winning states the most rewarding?
Paige: "I thought states this year was the most rewarding because last year I had a smaller role on the team, but this year I played all the time. Knowing that I contributed to the team and how we won the match really helped my confidence. I worked so hard in practice over the season and it payed off."
Abby: "I think it was really a great experience to win states again because defending a title is harder than earning a title. Getting the win two years in a row is even better."
Who is better at playing volleyball, your mom or your dad?
Abby: "Guys volleyball is really different from girls volleyball. In terms of how they played when they were at Penn State, they both went to Penn State, my dad was definitely better and he probably still is because he works out all the time. My mom is also really good, but she is better on the coaching side of things."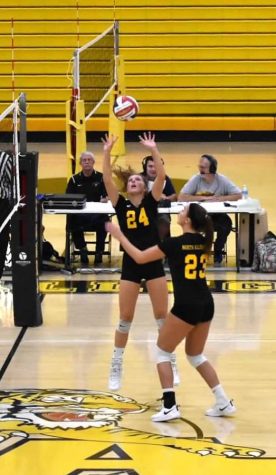 How many times have you won WPIALS? Describe the experience.
Paige: "We have won the last two years. Last year we played Armstrong, and they were really good because they had a really good senior. The environment that we played in was so different because at our normal section matches we don't have much of a student section, but at the WPIAL finals the gym was packed wall to wall, and it was wild and crazy. You really have to be able to focus in and used the skills you've worked for in practice."
Do you play for any other volleyball teams or clubs other than NA?
Abby: "We both play for the club team Revolution, which is a team both of our parents and other coaches run."
Paige: "Last year I played up in Revolution, which means I played up in age groups, so I was with Abby on the club team. I think that helped us even more to build the connection between us for whenever we are on the court for the NA season. That has really helped for the team. When we play club, the practices aren't as often, but it's extremely competitive for the age groups and it is really fun, and I am excited for the tournaments this year."
About the Writer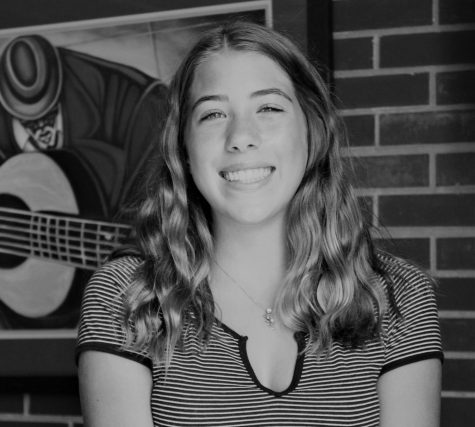 Emma Meyhofer, Staff Writer
I am currently a sophomore and NAI, and this is my second year on staff being a staff writer. I spend most of my time watching any movie ever made, listening...