NAI's Reviews on Netflix's New Movie "Bird Box"
The popular film has been a smash hit for Netflix, but has also generated chaos with the "Bird Box challenge"
Hang on for a minute...we're trying to find some more stories you might like.
Anthony Durzo
Sandra Bullock starred in movie recently released by Netflix, Bird Box. On December 13th, 45 million Netflix subscribers watch the film the day of its releasing.
Since then, ratings have skyrocketed in less than a month of i's releasing although some students at NAI disagreed with the positive ratings. Meanwhile, some students enjoyed the Netflix film.
NAEye talked to 7 students and got a mix of answers. Andrew Smith (freshman) thought the movie was "boring". "The worst part of the movie was the ending because I felt like they didn't try to kill the monster. They just ran away", Smith explained. Along with Smith, Thomas Tyndall (sophomore) was not amused with Bird Box but he said some parts met his standards.
Sophia Caruso and Lily Courville (sophomores) thought of the film not as a thriller but more of  a psychological piece. "I think the whole concept of not being able to see was more of the scarier part, but it was definitely more psychological,"said Caruso.
Ava Brodbent, John Marunczak, and Kevin West (freshman) was impressed with the movie. Brodbent enjoyed the suspense throughout the movie while Marunczak enjoyed the transitions between the boat scenes and the house scenes. Along with Marunczak, West was impressed with the connection between the boat and house scenes and was also impressed by the acting.
Additionally, after a month after the releasing, there have been reports of people doing the Bird Box challenge.
The popular challenge consists of kids blind folding themselves and going outside to do normal outdoor activities but do it very wrong. According to The Washington Post, a 17 year old was driving blindfolded and crashed into a car in Layton, Utah.
A google search of Bird Box shows that 88 percent of google users were pleased with movie; compared to other Netflix films, Bird Box was a success.
About the Writer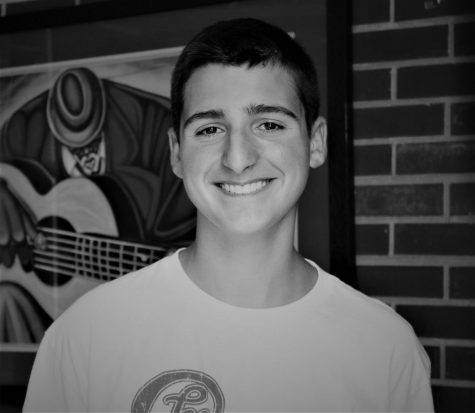 Anthony Durzo, Staff Writer
Anthony Durzo has always wanted to be a journalist ever since he was at the age 5. He has always watched the local news where he found his passion for...