"You Play Like a Girl"
At the NHL All-Star skills contest, Brianna Decker and other female athletes made history and provoked a lot of thoughts about gender equality in sports. This piece looks into how our society undervalues women's sports and the struggles these athletes face to this day.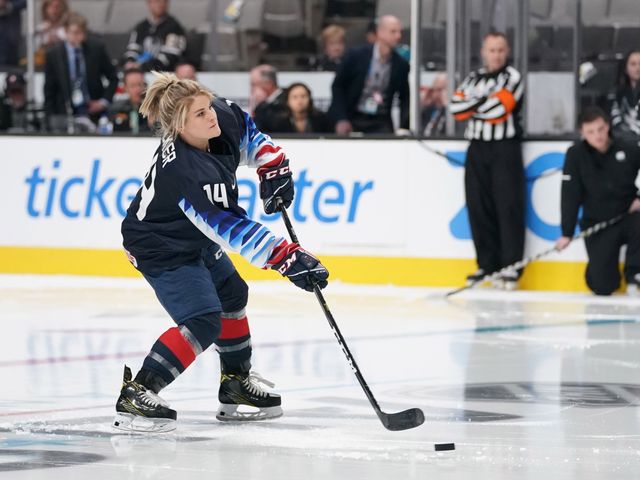 On January 25th and 26th, the National Hockey League hosted the 2019 All-Star Game in San Jose. Friday evening consisted of a skill contest and, on Saturday night, the four divisions in the league went head to head in a 3v3 tournament-style of play.
Most headlines from the annual event include details about Pittsburgh Penguins, Sidney Crosby and Kris Letang. After all, they both had spectacular performances. Letang and Crosby combined for a total of thirteen points in their two games and helped the Metropolitan Division win the championship. Pittsburgh's own captain was actually named MVP.
However, there's another headline that is also important— and it has to do with an equally impressive female hockey player, Brianna Decker.
One of the events in the skills contest involved a passing drill where players attempted to complete it with the fastest times. The winner would receive a cash prize of $25,000.
In an attempt at inclusion and promotion of women's hockey, the league brought Decker to demonstrate the event and go before the other eight men competing. Decker completed the passing drill in one minute and six seconds, an impressive feat. The NHL didn't bother televising it, but many fans present were able to take videos and post them online.
Well, then the eight other male All-Stars had their turns. And no one beat Decker's time.
Six of the competitors didn't even come close, taking at least a minute and twenty-five seconds to finish the drill. Leon Draisaitl, from the Edmonton Oilers, got first place with a time of 1:09. He also received the prize money.
But, wait, didn't Decker technically get first place?
Many asked that same exact question and voiced their concerns, bashing the league and claiming that Decker should be the one walking away with the prize. The hashtag #PayDecker soon became a trend on social media, and the NHL began getting some criticism.
Here's the thing: Decker wasn't officially a competitor. She was supposedly demonstrating the event. But, at the same time, the NHL did absolutely nothing to promote her. They did not television the demonstration and refused to acknowledge her accomplishment. In fact, they refused to comment on the situation at all. Some have said they don't want to be embarrassed by their male players losing to Decker.
Most importantly, the prize money is symbolic. It could be an empowering symbol of a female athlete dominating in a field more famously known for its male players. But, when given to Draisaitl, it is instead a symbol of a man getting automatic credit in a questionable situation. It's a symbol of the patriarchy that runs deep in sports.
Credit would be enough of a prize. Inclusion would be enough. Further promotion of women's hockey and female professional sports in general would be more than enough.
For reference, Brianna Decker currently plays with Calgary Inferno in the Canadian Women's Hockey League and also is a forward on the United States women's national hockey team. While playing college hockey at the University of Wisconsin, she was recognized as the best female ice hockey player in NCAA Division I play. In 2017, she helped Team USA win gold at the IIHF Women's World Championship.
So, does Decker even need a pat on the back from the NHL? With her list of achievements, probably not. But the principle still stands.
Another factor that has people angry is the huge pay gap between women's and men's hockey. Female ice hockey players make anywhere from $10,000-$22,000 a year. The average male player makes $2.4 million. Based on those numbers, the prize money from the skills contest could have a much bigger impact for a female winner.
Decker wasn't the only talented woman highlighted on Friday. Kendall Coyne Schofield, another United States national team star, gold medalist and world champion, actually competed in a speed competition. She became the first woman to compete in the NHL All-Star skills contest. While she ranked seventh out of the eight contestants, she performed impressively and surely paved the way for many future female athletes.
Coyne Schofield and Decker were joined by fellow hockey stars Rebecca Johnson and Renata Fast in San Jose.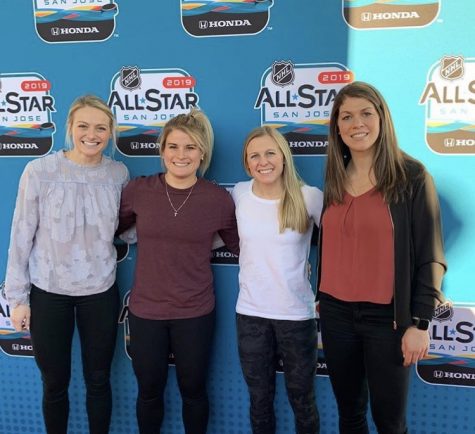 But here's the main issue. Many believe that if the NHL wanted to do anything more than use these women as a publicity stunt, they would have received much more credit. Decker would have been praised, if not paid, for her impressive time. The lack of this leads many to believe that the league only included women to be able to claim that they did just that— to give themselves a pat on the back and to look good in front of the media.
So, while having these women at the All-Star Game was a step in the right direction for women's ice hockey and female athletes, some would say it was most likely done with ulterior motives.
Fortunately, the company CCM Hockey decided that Brianna Decker deserved the prize money. They will be awarding her the $25,000. Decker made a statement on Twitter thanking them for supporting men's and women's hockey equally.
It's inspiring to see these women and athletes breaking barriers for themselves and the next generation, and it's great that the NHL is creating such opportunities. No one is saying otherwise. However, it is just as important to support and back these athletes when they deserve it. It's all anyone expects the NHL to do.
And in this particular situation, they failed in that aspect. They continue to advertise Leon Draisaitl as the winner of the passing contest without even mentioning Decker's name.
Give credit where credit is due. It's that simple.
A larger problem tied to this event is the struggle that women's sports are continuously forced to endure in all the differing levels. First, there's that awful wage gap mentioned earlier that exists in every sport. Additionally, male college athletes receive $180 million more in annual scholarships than their female peers, despite the fact that nearly half of those athletes are women. Male athletic programs at Division I colleges also are granted two and a half times the funding that women's programs at the same level get.  
On the professional scale, women makeup 40% of pro athletes, but only receive about 4% of the media coverage. Male athletic programs at Division I colleges receive two and a half times the funding that women's programs at the same level get.
While some say the financial differences are caused by a disinterest in female sports, it's simply not true. Women's athletics increasingly growing in popularity, but their pay is not. In fact, the Women's Soccer World Cup Final in 2015 was the most watched soccer match ever— men's or women's. However, the ladies were paid much less than what the male athletes would be compensated for playing in the same game.
A major part of this issue is the prejudice against female athletes. A steady stream of hate, misogyny, and doubt in these incredible women is unfortunately still a common part of our culture.
While #PayDecker was trending on Twitter, a sexist man was insisting the hashtag should be #HaveDeckerMakeMeASandwich. When our young girls are playing sports, they are told by male referees that they need to be more "ladylike" and not so rough. Some girls who play and condition are shunned for being too muscular and not skinny enough. Others are told they aren't strong enough and can't compete. These kinds of attitudes aren't displayed by everyone, of course, but they're common enough to discourage some girls from continuing their sport.
At the age of fourteen, girls are one and a half times more likely to drop out of sports than boys. And it's because they're discouraged by the male-dominated field. 46% of teenage girls who quit said it was because they didn't see a future for themselves in the sport. Another 32% said it was because they didn't think they were good enough. 
A lack of focus on girls' youth sports is also a factor. While it may be hard to believe in a place like North Allegheny, where both boys' and girls' sports are so prevalent, nationwide, girls have about 1.3 million fewer opportunities to play school sports than their male peers.
But when girls are encouraged in their sport, amazing things happen. In fact, 96% of female C-suite executives, which are the positions such as CEO and CFO, played a sport as a teenager. It teaches confidence, leadership, teamwork and hard work. Sports help girls create a good self-image. It teaches them skills they can use to succeed.
How much better would our world be if we showed our girls they could dominate in such a field?
Well, that's exactly what Decker and the other phenomenal women athletes were doing over the weekend.
But it wasn't even televised. It was brushed aside.
Clearly, there is a lot of work to be done to ensure equality for all athletes. That's why people are taking this event at the skills contest so seriously. It's bringing attention to phenomenal female athletes, and unfortunately, highlighting some of the issues they face and the barriers they have yet to break down.
No matter what, Coyne Schofield and Decker delivered on Friday. It was undoubtedly amazing, jaw-dropping, and admirable. Thanks to their huge accomplishment, there are sure to be many more female athletes recognized at larger-scale sporting competitions. They also shattered some glass ceilings and empowered young girls watching all over the country.
At the end of the day, that's the biggest win of them all.
About the Contributor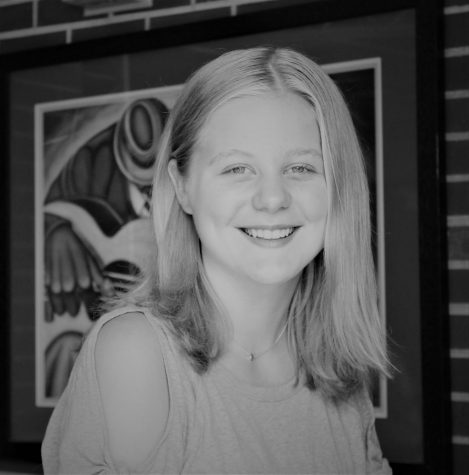 Kristen Kinzler, Staff Writer
Kristen Kinzler is a sophomore at North Allegheny Intermediate High School. This is her first year as a journalist on the newspaper staff. She loves playing...